GINISANG MANOK AT PAPAYA RECIPE
AJI-NO-MOTO® UMAMI SEASONING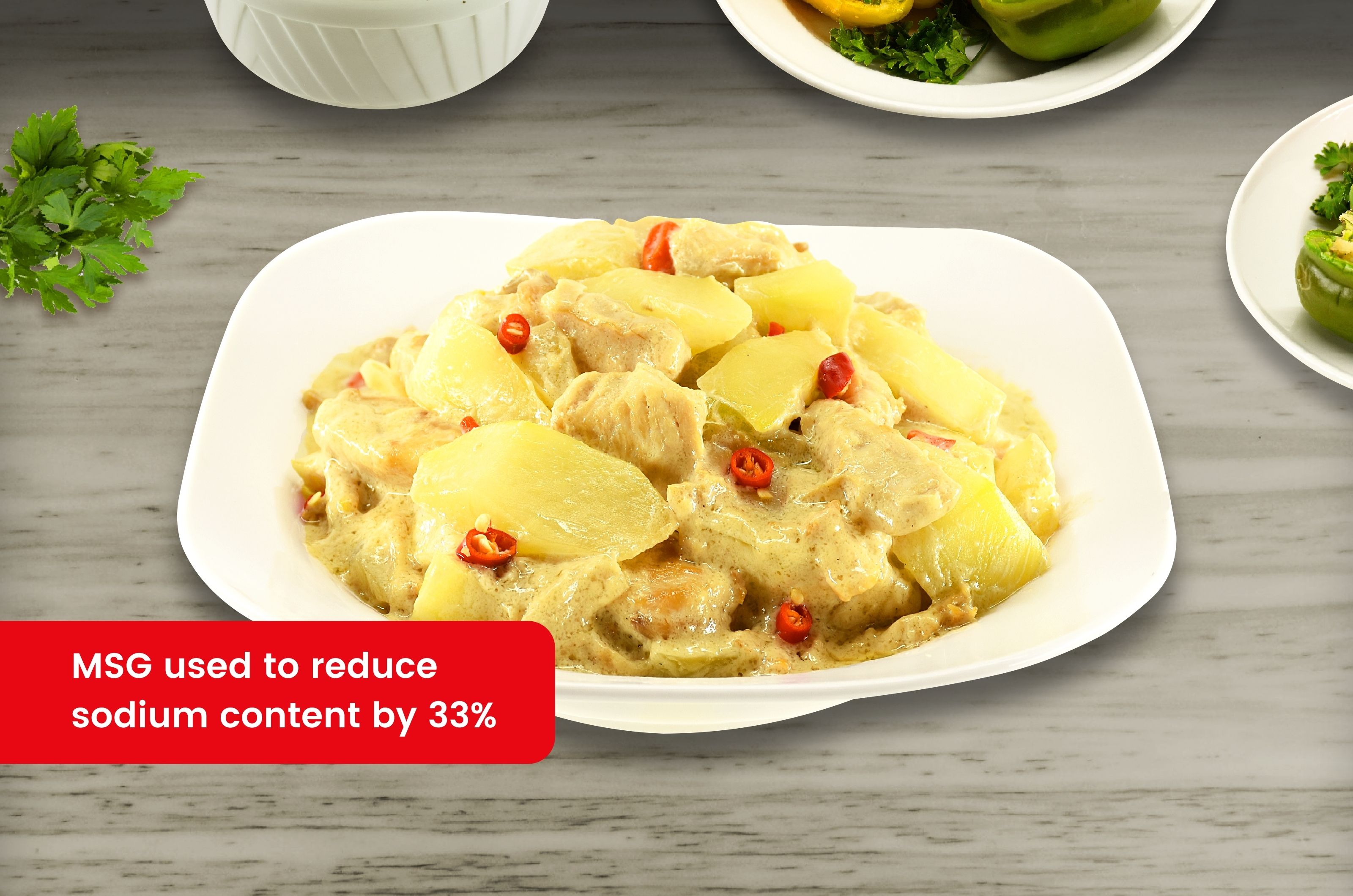 Ingredients
3 Tablespoons (45 ml) Cooking oil
1/4 cup (60 grams) Red onion, chopped
3 Tablespoons (45 grams) Garlic, minced
1/4 cup (60 grams) Ginger, sliced
1/2 kilo (500 grams) Chicken, cut into serving pieces
1 cup (200 grams) Papaya, green, small wedges
2 cups (500 grams) Coconut milk
1/4 teaspoon (0.5 grams) Pepper, ground, black
1 Tablespoon (15 ml) Fish sauce
1 pack (11 grams) AJI-NO-MOTO® Umami Seasoning
1 cup (100 grams) Spinach leaves, well-cleaned
Reduced sodium by 33%
Original sodium content: 1 1/2 teaspoons (7.5 grams) Salt
NUTRITION INFORMATION
Nutrition Facts
Calories per serving (kcal)
299.3
Carbohydrates (g)
5.5
Proteins (g)
17.0
Fat (g)
23.3
Dietary Fiber (g)
1.1
Calcium (mg)
53.9
Iron (mg)
5.8
Sodium (mg)
334.3
Good to Know Nutrition Facts!
Chicken being a lean meat has a lower content of saturated fat thus it is a healthier option vs other available meat in the market such as beef and pork.
Preparation time: 10 minutes
Cooking time: 30 minutes
Procedure
SAUTÉ. In a pan, heat oil. Sauté onion, garlic, and ginger. Add chicken and continue cooking for 5-10 mins.
SIMMER. Add green papaya and saute' for another 5 minutes, then add coconut milk. Simmer for 10 minutes.
SEASON. Season with pepper, fish sauce, and AJI-NO-MOTO®. Simmer for 5 mins. Add spinach and turn off the heat.
SERVE. Transfer to a serving plate, serve and enjoy.
Makes 8 servings
Serving size: 3/4 cup (185 g)
Cooking Tips
Keep chicken from drying out in the refrigerator by wrapping it tightly with a plastic , aluminum foil or any vacuum packed container. If the chicken dries out, it will become tough even after cooking.
Product Used