GINISANG TOGUE RECIPE
AJI-NO-MOTO® UMAMI SEASONING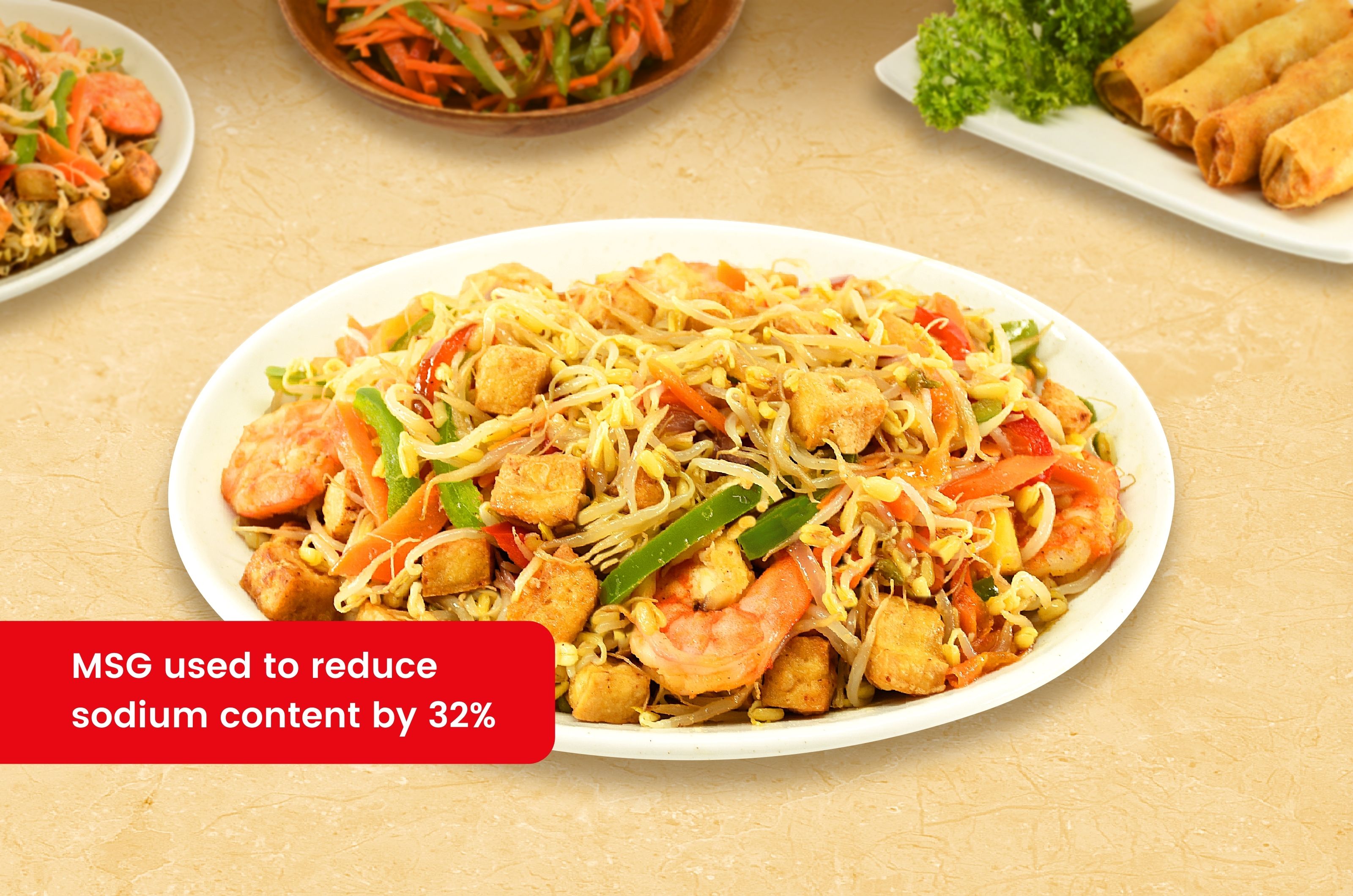 Ingredients
2 Tablespoons (30 ml) Cooking oil
1/4 cup (60 grams) Red onion, chopped
2 Tablespoons (30 grams) Garlic, minced
3 Tablespoons (45 grams) Tomato, sliced
3 Tablespoons (45 grams) Red bell pepper, sliced
3 Tablespoons (45 grams) Green bell pepper, sliced
1/4 cup (60 grams) Carrots, strips
1/2 cup (100 grams) Shrimps, shelled and deveined
1 1/2 cups (350 grams) Bean sprouts, washed and drained
2 Tablespoons (30 grams) Soy sauce
1 Tablespoon (15 grams) Oyster sauce
1 pack (11 grams) AJI-NO-MOTO® Umami Seasoning
1/2 teaspoon (2.0 grams) Salt
1/4 teaspoon (0.5 grams) Pepper, ground, black
1/2 cup (100 grams) Tofu, cubed, fried
Reduced sodium by 32%
Original sodium content: 1 1/2 teaspoons (7.5 grams) Salt
NUTRITION INFORMATION
Nutrition Facts
Calories per serving (kcal)
134.7
Carbohydrates (g)
9.8
Proteins (g)
9.2
Fat (g)
6.4
Dietary Fiber (g)
2.5
Calcium (mg)
393.1
Iron (mg)
4.3
Sodium (mg)
367.1
Good to Know Nutrition Facts!
Mung bean sprouts are low in calorie, Fiber, B-Vitamins, and also a good source of Vit. C for the skin and Vit. K for blood clotting and wound healing.
Preparation time: 10 minutes
Cooking time: 15 minutes
Procedure
SAUTÉ. In a pan, heat oil. Sauté onion, garlic, tomato, red and green bell pepper, and carrots. Add Shrimp and cook for another 3 minutes. Add bean sprouts and sauté for 3 minutes.
SEASON. Add soy sauce, oyster sauce, AJI-NO-MOTO®, salt, and pepper. Mix and toss to incorporate.
MIX. Add fried tofu and mix well.
SERVE. Transfer to a serving plate, serve and enjoy.
Makes 8 servings
Serving size: 1/2 cup (110 g)
Cooking Tips
To keep bean sprouts fresh longer,  stored in a container with cold water prior to cooking.
Product Used