GINISANG TOKWA AT PECHAY RECIPE
AJI-NO-MOTO® UMAMI SEASONING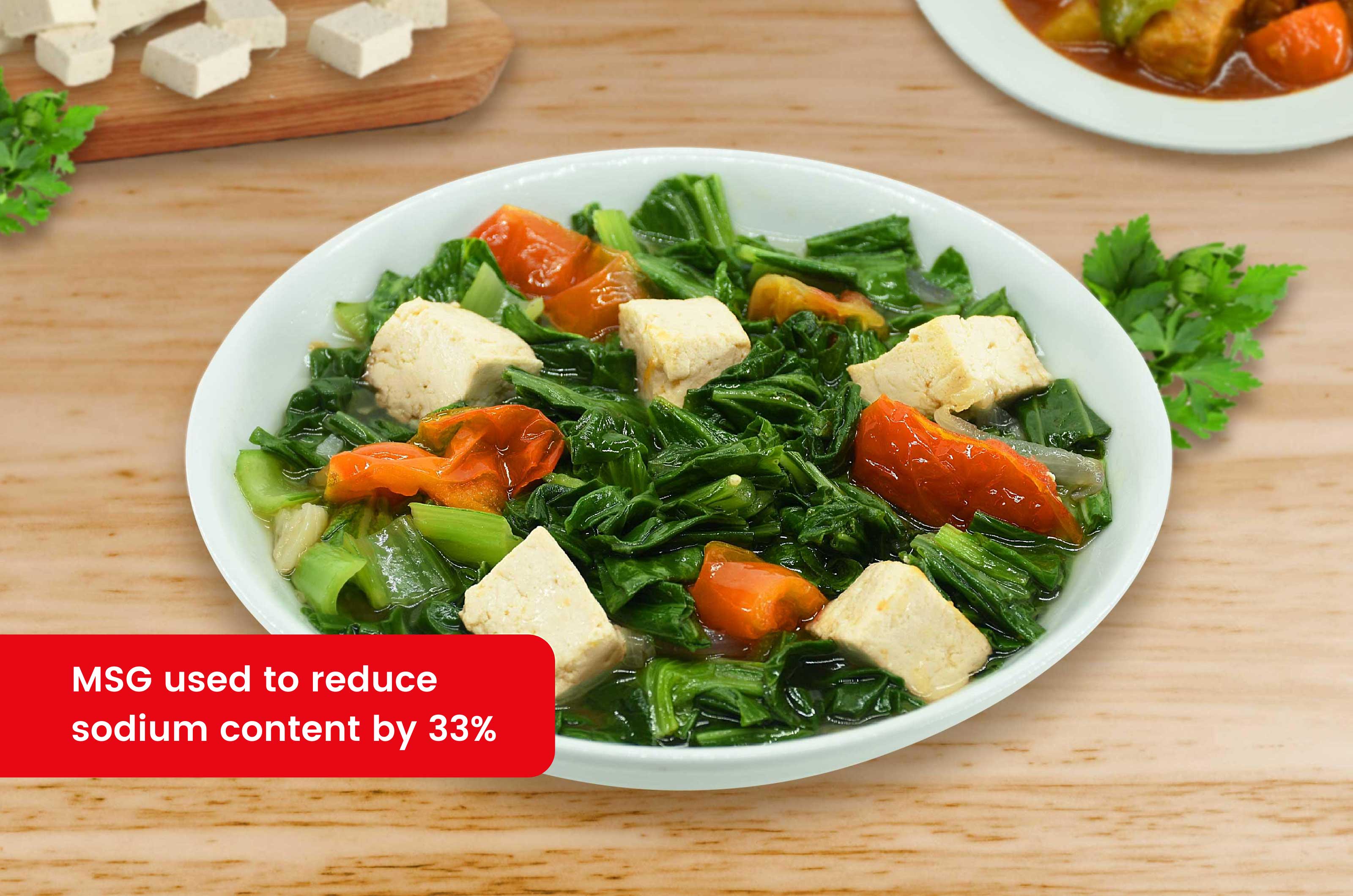 Ingredients
1/4 kilo (250g) Tokwa, cubed
2 Tablespoons (30ml) Cooking oil
1/2 cup (120g) Onions, chopped
1 Tablespoon (15g) Garlic, crushed
1 Tablespoon (15g) Ginger, julienne cut
1/2 cup (120g) Tomatoes, chopped
1 liter (1000ml) Water
1 pack (11g) AJI-NO-MOTO® Umami Seasoning
1 1/2 teaspoons (8ml) Fish sauce
1/2 teaspoon (0.5g) Ground pepper
2 cups (80g) Pechay, leaves separated
Reduced sodium by 33%
Original sodium content: 3.5 Tablespoons (55 ml) Fish sauce
NUTRITION INFORMATION
Nutrition Facts
Calories per serving (kcal)
121.5
Carbohydrates (g)
6.0
Proteins (g)
6.5
Fat (g)
8.2
Dietary Fiber (g)
3.4
Calcium (mg)
103.6
Iron (mg)
1.8
Sodium (mg)
349.3
Good to Know Nutrition Facts!
Tofu has less cholesterol compared to meat and is good for people who want to lower their risk of cardiovascular disease and high blood pressure (hypertension).
Preparation time: 15 minutes
Cooking time: 15 minutes
Procedure
SAUTÉ. In a pan heat oil, sauté onion, garlic and ginger. Toss in tomatoes and sauté everything until soft and fragrant.
SIMMER. Add tokwa ,cook until it renders out its own liquid. Add water and simmer for a few minutes.
SEASON. Sprinkle AJI-NO-MOTO® then add fish sauce and ground pepper. Mix well. Add pechay leaves and simmer for another minute. Turn off fire.
SERVE. Transfer to a serving plate and serve, Enjoy!
Makes 6 servings
Serving size: 1/2 cup (121 g)
Cooking Tips
You can use rice washing instead of water for a creamier soup taste.
Product Used