GINISANG TUNA AT TOKWA RECIPE
AJI-NO-MOTO® UMAMI SEASONING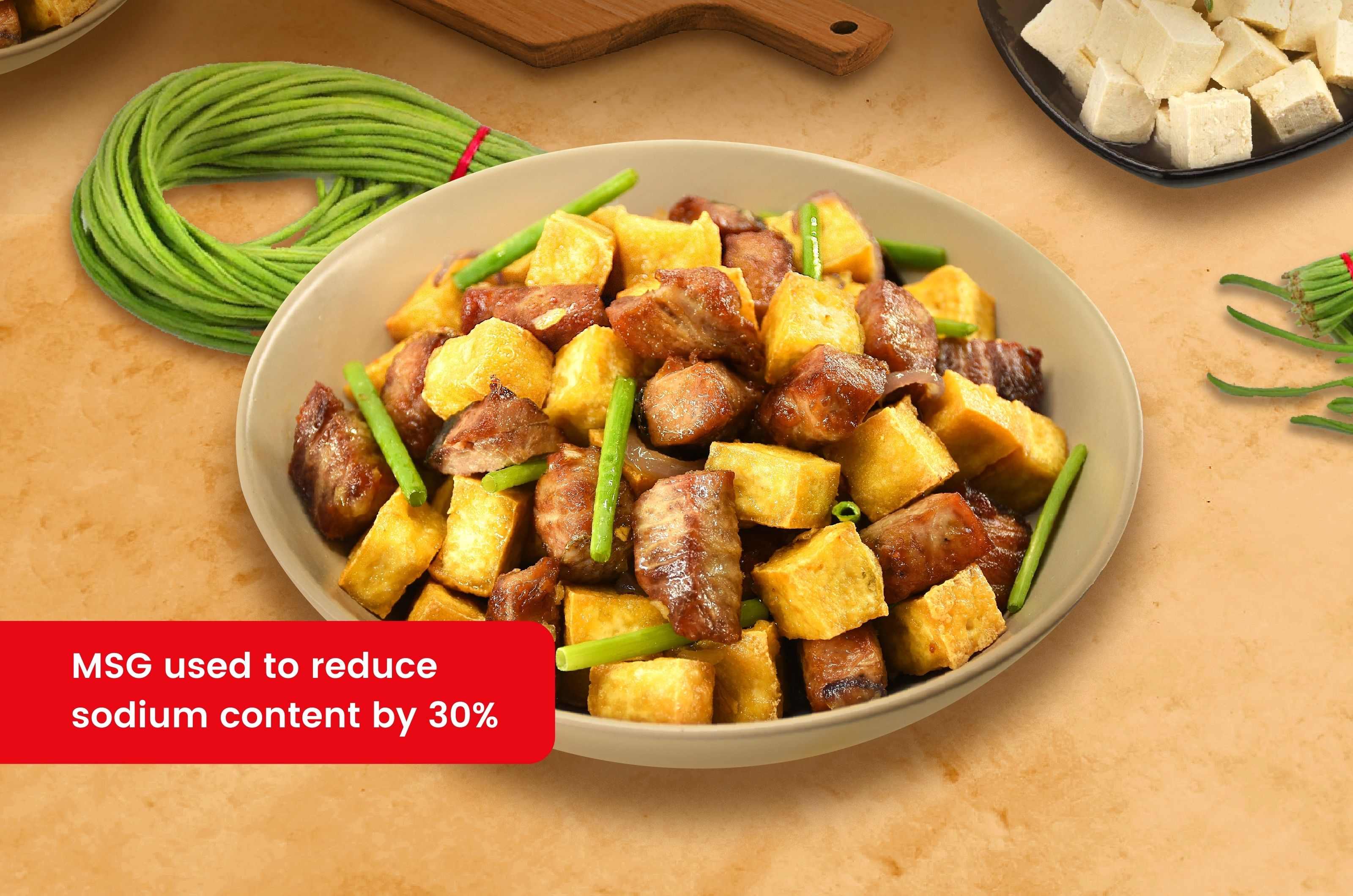 Ingredients
2 Tablespoons (30 ml) Cooking oil
1/4 cup (60 grams) Onions, chopped
2 Tablespoons (30 grams) Garlic, chopped
1/4 kilo (250 grams) Tuna, cubed
2 blocks (400 grams) Tokwa, fried cubed
4 teaspoons (20 ml) Calamansi juice
1/2 pack (5.5 grams) AJI-NO-MOTO® Umami Seasoning
4 teaspoons (20 ml) Fish sauce
1/8 teaspoon (0.2) Pepper, black, ground
1 cup (30 grams) Spring onions, chopped
Reduced sodium by 30%
Original sodium content: 1/4 cup (55 ml) Fish sauce
NUTRITION INFORMATION
Nutrition Facts
Calories per serving (kcal)
162.6
Carbohydrates (g)
4.0
Proteins (g)
16.6
Fat (g)
8.9
Dietary Fiber (g)
1.3
Calcium (mg)
119.5
Iron (mg)
1.9
Sodium (mg)
352.6
Good to Know Nutrition Facts!
Tofu is rich in Calcium and Vitamin D that is good for bone's health.
Preparation time: 15 minutes
Cooking time: 15 minutes
Procedure
SAUTÉ. In a pan, heat oil, sauté onion and garlic. Add tuna, tokwa and calamansi juice . Cook for 1-3 minutes.
SEASON. Sprinkle AJI-NO-MOTO®, add fish sauce and pepper, mix well.
SERVE. Transfer to a serving plate and top with spring onions. Serve and enjoy.
Makes 7 servings
Serving size: 1 cup (100 g)
Cooking Tips
Make sure to drain well the tokwa before frying to achieve better texture.
Product Used