GINISANG UPO RECIPE
AJI-NO-MOTO® UMAMI SEASONING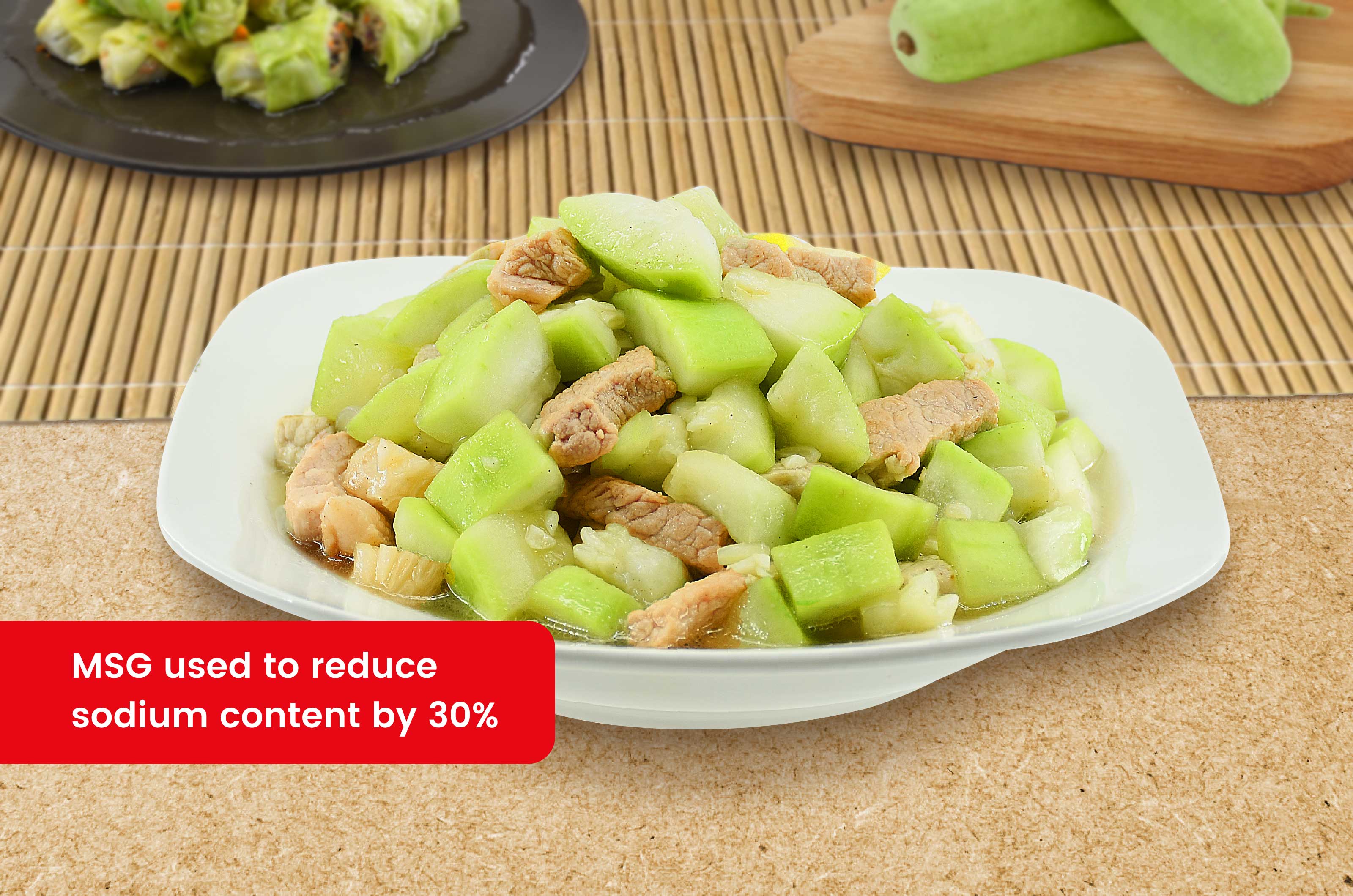 Ingredients
2 Tablespoons (30ml) Cooking oil
2 Tablespoons (30g) Onion, chopped
2 Tablespoons (30g) Garlic, chopped
1 cup (250g) Pork, thin strips
4 cups (500g) Upo, medium cubes
1/2 cup (125ml) Water
1 teaspoon (5g) Salt, rock
1/8 teaspoon (0.3g) Pepper, powder
1/2 pack (5.5g) AJI-NO-MOTO® Umami Seasoning
1/2 teaspoon (2.5g) Fish sauce
1 teaspoon (5g) Salt, rock
Reduced sodium by 30%
Original sodium content: 2 teaspoons Salt, 5 teaspoon Fish sauce
NUTRITION INFORMATION
Nutrition Facts
Calories per serving (kcal)
150.4
Carbohydrates (g)
4.4
Proteins (g)
6.0
Fat (g)
12.0
Dietary Fiber (g)
0.6
Calcium (mg)
17.5
Iron (mg)
0.6
Sodium (mg)
341.6
Good to Know Nutrition Facts!
Bottle gourd is a rich source of vitamin C, K and Calcium. It helps in maintaining a healthy heart and brings down bad cholesterol levels.
Preparation time: 10 minutes
Cooking time: 15 minutes
Procedure
SAUTÉ. Heat oil in a pan. Sauté onion and garlic until fragrant. Add pork strips then cooked until tender and golden brown. Add upo, mix well and cooked until half cooked.
SIMMER. Add water and let it simmer for at least 5 minutes.
SEASON. Sprinkle with salt, pepper and AJI-NO-MOTO®. Mix well. Add fish sauce and salt , mix well and cook for another minute.
SERVE. Place in a platter and serve hot.
Makes 8 servings
Serving size: 1/3 cup (80 g)
Cooking Tips
You can also chop the upo into small cubes for faster cooking.
Product Used