GINISANG UPO NA MAY HIPON RECIPE
AJI-NO-MOTO® UMAMI SEASONING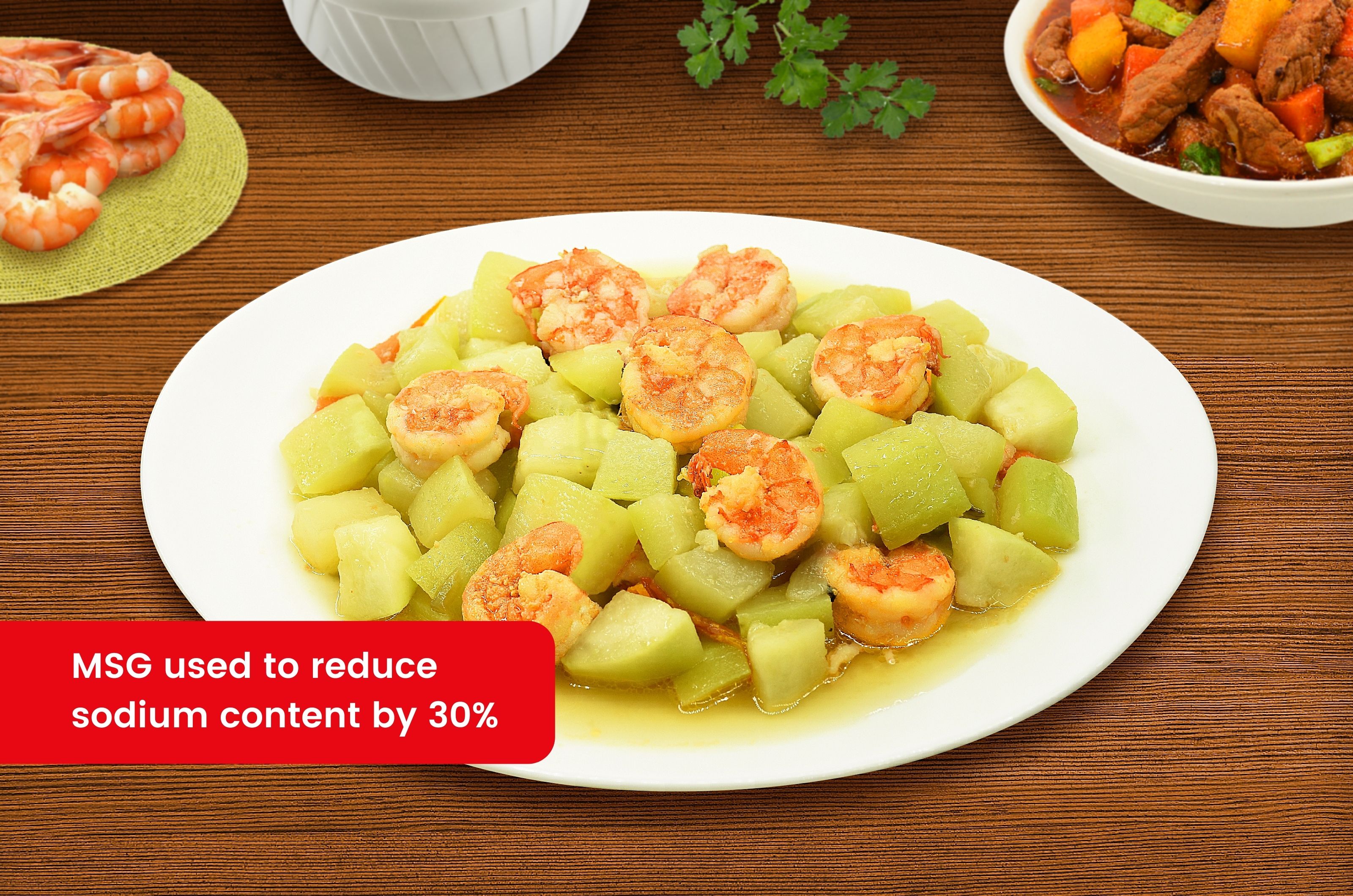 Ingredients
2 Tablespoons (30 ml) Cooking oil
1/4 cup (60 grams) Onions, thinly sliced
2 Tablespoons (30 grams) Garlic, finely chopped
1 cup (119 grams) Tomatoes, chopped
1/3 cup (80 grams) Shrimps, peeled, deveined
3/4 cup (187 ml) Water
3 cups (360 grams) Upo, sliced
1/2 pack (5.5 grams) AJI-NO-MOTO® Umami Seasoning
1 teaspoon (5 grams) Salt
1/8 teaspoon (0.3 grams) Pepper, black, ground
Reduced sodium by 30%
Original sodium content: 2 teaspoons (10 grams) Salt
NUTRITION INFORMATION
Nutrition Facts
Calories per serving (kcal)
65.3
Carbohydrates (g)
4.8
Proteins (g)
2.6
Fat (g)
3.9
Dietary Fiber (g)
1.0
Calcium (mg)
31.6
Iron (mg)
0.5
Sodium (mg)
393.9
Good to Know Nutrition Facts!
Bottle gourd is rich in Fiber that helps in preventing constipation and other digestive disorders.
Preparation time: 15 minutes
Cooking time: 15 minutes
Procedure
SAUTÉ. In a pan, heat oil. Sauté onion, garlic and tomatoes. Add shrimps and continue cooking for 3-5 minutes.
SIMMER. Add water and upo, simmer for 5 minutes.
SEASON. Season with AJI-NO-MOTO®, add salt and pepper, mix well.
SERVE. Transfer to a serving plate, serve and enjoy.
Makes 8 servings
Serving size: 1/2 cup (100 g)
Cooking Tips
Cut the bottle gourd few minutes before cooking to avoid discoloration.
Product Used