GINULAY NA MAIS
AJI-NO-MOTO® UMAMI SEASONING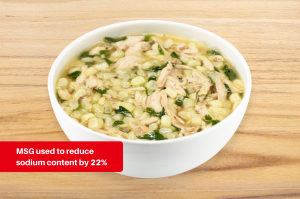 Ingredients
2 tablespoons (30ml) Oil
1 1/2 tablespoons (23g) Onion, chopped
1 tablespoon (15g) Garlic, crushed
2 cups (250g) Chicken breast, cooked, shredded
2 cups (312g) Corn, shredded
1/2 teaspoon (2.5g) Ground black pepper
1 liter (1000ml) Water
1/2 pack (5.5g) AJI-NO-MOTO® Umami Seasoning
1 1/2 tablespoons (23ml) Fish sauce
2 cups (44g) Malunggay
NUTRITION INFORMATION
Nutrition Facts
Calories per serving
148.0 Calories
Carbohydrates (g)
13.8 grams
Proteins (g)
8.7 grams
Fat (g)
6.5 grams
Dietary Fiber (g)
2.5 grams
Calcium (mg)
31.0 milligrams
Iron (mg)
1.3 milligrams
Sodium (mg)
214.4 milligrams
Good to Know Nutrition Facts!
Corn is rich in Carbohydrates for energy and Fiber that helps promote regular bowel movement and prevents constipation.
Preparation
Makes: 9 servings
Procedure:

SAUTÉ. In a pan heat oil, sauté onion and garlic until fragrant.
BOIL. Add chicken, corn, pepper and water and let it boil until corn is cooked.
SEASON with AJI-NO-MOTO® Umami Seasoning and fish sauce to taste, then put malunggay leaves .Cook for another minute. SERVE while it's hot; enjoy.
Note:  Fish Sauce from original recipe is equal to 3 tablespoons
Cost
Recipe Cost: Php 88.29
Cost per Serving: Php 9.81
Cooking Tips
If the husks are bright green in color , tightly wrapped against the corn and is slightly damp, you can be sure that it is fresh and of good quality.
Product Used