GOURMET TUYO RECIPE
AJINOMOTO AJI-SHIO® SEASONING MIX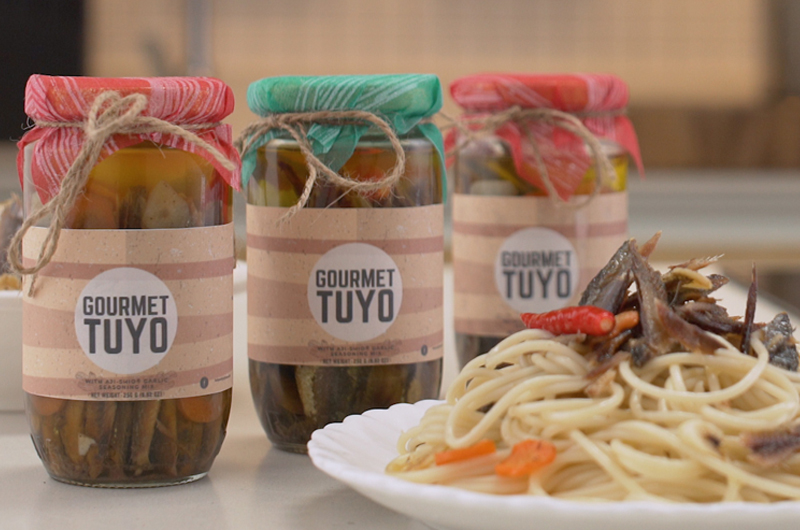 Ingredients
1 cup (250ml) Cooking Oil
30 pcs (322g) Tuyo, fillet
1 1/2 cups (375ml) Olive Oil
1/2 cup (60g) Garlic, thinly sliced
6 pcs (5g) Red chillies, whole
6 pcs (1.3g) Bay leaves, whole
1/4 cup (20g) Carrots, round thin slices
3/4 tsp (6g) AJI-SHIO® Garlic Seasoning Mix (18g)
3 pcs Glass Bottles with lid
NUTRITION INFORMATION
Nutrition Facts
Calories per serving
1904
Carbohydrates (g)
6.5
Proteins (g)
6.1
Fat (g)
207.7
Dietary Fiber (g)
0.8
Calcium m(g)
59.3
Iron (mg)
2.7
Sodium (mg)
838.5
Good to Know Nutrition Facts!
Olive oil is a plant – based oil making it a healthier type of fat when taken in moderation.
Preparation time: 15 minutes
Cooking time: 30 minutes
Procedure
FRY. Heat oil in a pan and fry Tuyo until cooked. Remove excess oil then set fish aside.
SLOW COOK. On the separate pan, combine olive oil, garlic, red chillies, bay leaves, carrots and AJI-SHIO® Garlic. Over low heat, slow cook your mixture until garlic is fragrant and slightly golden brown then set aside.
STERILIZE. Place glass jars in a large pot of boiling water for 10 minutes then drain upside down on a clean towel to dry. Set aside.
CLEAN & FILLET. Remove the scale, the head and spines of the fish. Once you have the fillets, carefully pack them vertically into the sterilized glass jars then pour olive oil infused mixture. Tightly close the glass jars.
STORE & SERVE. Store your gourmet tuyo for one month before serving.
Makes 3 bottles
Cost
Recipe Cost: Php 303.45
Cost per Serving: Php 101.15
Selling Price per 1 bottle (250g): Php 175.00
Profit: for 3 bottles Php 221.55
% Mark -up: 73%
Cooking Tips
This recipe is not spicy, you can add more chili if you prefer it really spicy.
Crushed the added Red chili a bit while cooking to add more color in oil.
Product Used