GOURMET YUM YUM® SPICY SEAFOOD NOODLE SOUP RECIPE
YUMYUM®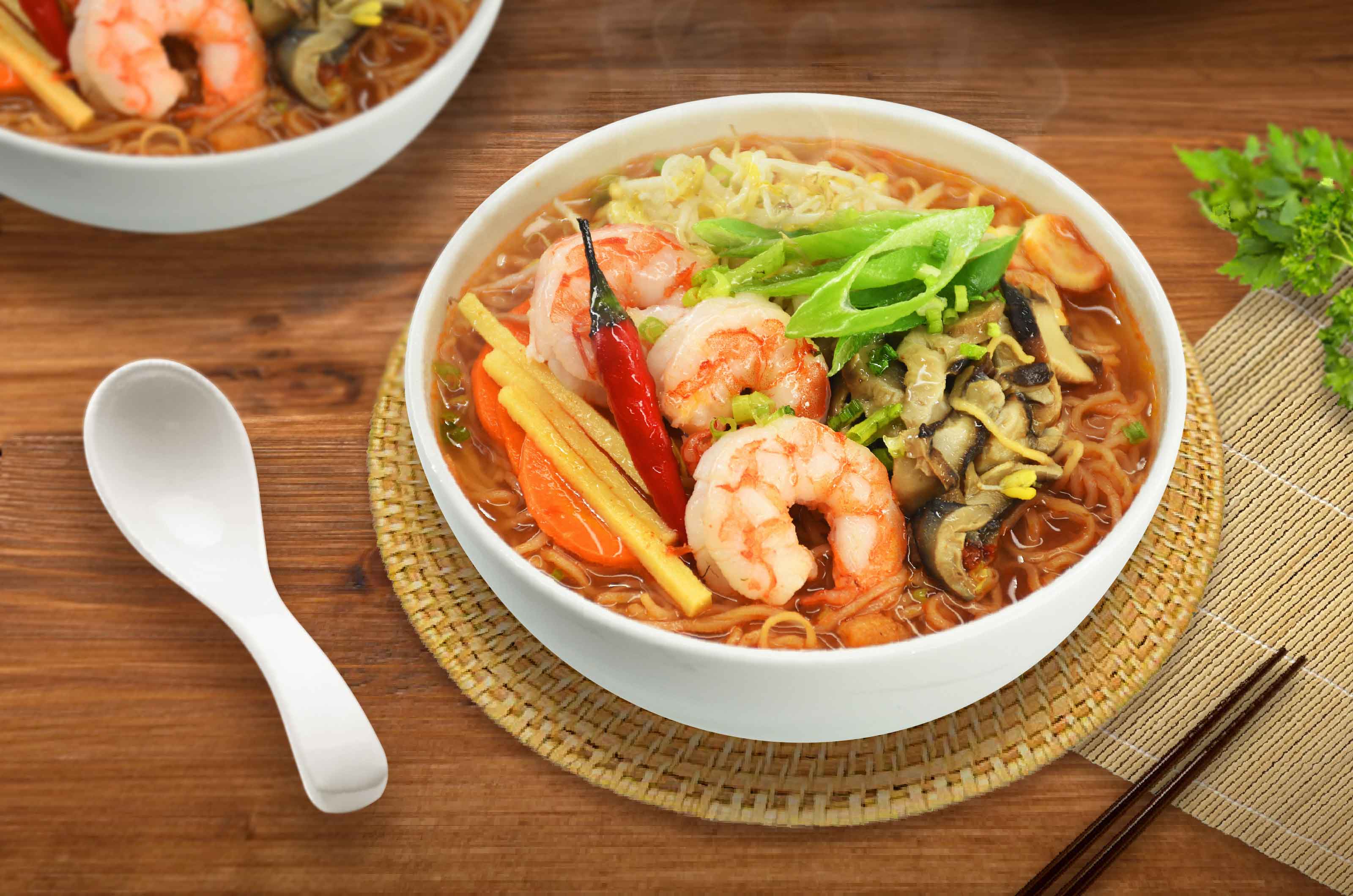 Ingredients
3 cups (750.0 ml) Water
2 packs (140.0 g) YUM YUM® Thai Spicy Seafood Instant Noodles
2 tbsps (30.0 ml) Cooking Oil
1/4 cup (55.0 g) Red Onion, sliced
2 tbsps (30.0 g) Ginger, strips
1 cup (300.0 g) Shrimp, shelled & deveined
1/4 cup (60.0 g) Shiitake Mushroom, sliced
1/2 cup (100.0 g) Bean Sprout, washed
1/4 cup (60.0 g) Carrots thinly, sliced
1/4 cup (40.0 g) Spring Onion, chopped
6 pcs (20.0 g) Red Chili
NUTRITION INFORMATION
Nutrition Facts
Calories per serving
149.1
Carbohydrates (g)
12.9
Proteins (g)
7.9
Fat (g)
6.9
Dietary Fiber (g)
0.9
Calcium (mg)
56.5
Iron (mg)
1.1
Sodium (mg)
669.0
Good to Know Nutrition Facts!
Adding vegetables to your instant noodles promotes intake of vegetables that are sources of fiber, minerals and vitamins needed by the body.
Preparation time: 15 minutes
Cooking time: 20 minutes
Procedure
PREPARE. Cook YUM YUM® Thai Spicy Seafood Instant Noodles as instructed in the packaging. Place noodle soup in a serving bowl once done.
COOK. In a pan, heat oil. Sauté onion and ginger. Add shrimp and cook for another 3 minutes. Add mushroom, bean sprout , and carrots. Cook for another 3 minutes. Set aside.
ASSEMBLE. Top noodles with sautéed shrimp and vegetables.
SERVE. Garnish with spring onion and red chili. Serve and enjoy.
Makes 9 servings
Serving size: 1 cup 200g
Cooking Tips
You can explore different toppings for this noodle recipe. You can add egg, cabbage, garlic chips, and other toppings that you prefer.
Product Used