GRILLED PINEAPPLE TUNA RECIPE
SARSAYA® OYSTER SAUCE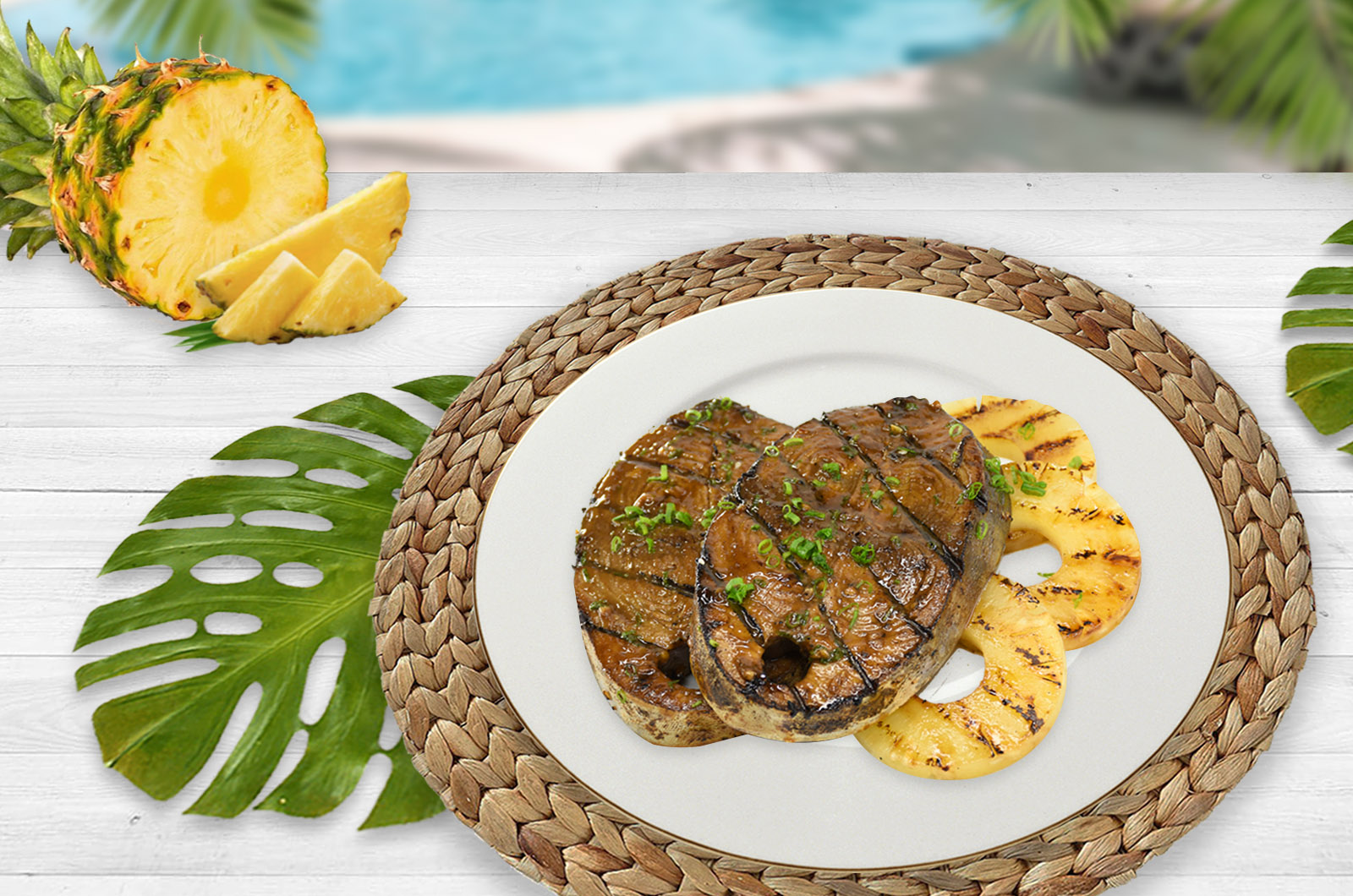 Ingredients
1/4 cup 60ml Soy Sauce
3 Tbsps 45ml Rice Vinegar
1 pack (30g) SARSAYA® Oyster Sauce
1 Tbsp 15g Garlic, minced
1 tsp 2.5g Ground Black Pepper
1 Tbsp 15ml Sesame Oil
6 slices 600g Tuna Steak
6 slices 180g Pineapple, sliced
NUTRITION INFORMATION
Nutrition Facts
Calories per serving
163.3
Carbohydrates (g)
7.3
Proteins (g)
24.2
Fat (g)
4.0
Dietary Fiber (g)
0.7
Calcium (mg)
77.8
Iron (mg)
1.5
Sodium (mg)
533.9
Good to Know Nutrition Facts!
Tuna is a good source of protein and omega-3 fatty acids that's essential heart's health. This tuna and pineapple tandem is packed with manganese, zinc, selenium and vitamins that are important in strengthening the immune system.
Preparation time: 5 minutes (plus marination time)
Cooking time: 20 minutes
Procedure
MIX. In a bowl, mix soy sauce, rice vinegar, SARSAYA® Oyster Sauce , garlic, pepper, and sesame Oil. Mix Well.
MARINADE. Add Tuna in the marinade mixture. Marinate for at least 30 minutes to 1 hour in the refrigerator.
GRILL. In a heated grill pan, grill tuna steak on both sides and set aside. Grill pineapple slices. Brush the tuna and pineapple with the excess marinade mixture.
SERVE. Arrange on a platter, serve and enjoy.
Makes 6 servings
Serving size: 1pc (100g) Tuna & 1 slice (30g) Pineapple
Cooking Tips
Whole fish should have firm flesh and red gills with no odor. Its flesh should spring back when pressed and its meat should have reddish or pinkish color and not brown or dull color.
Product Used