HAM AND EGG SUSHI RECIPE
AJI-NO-MOTO® UMAMI SEASONING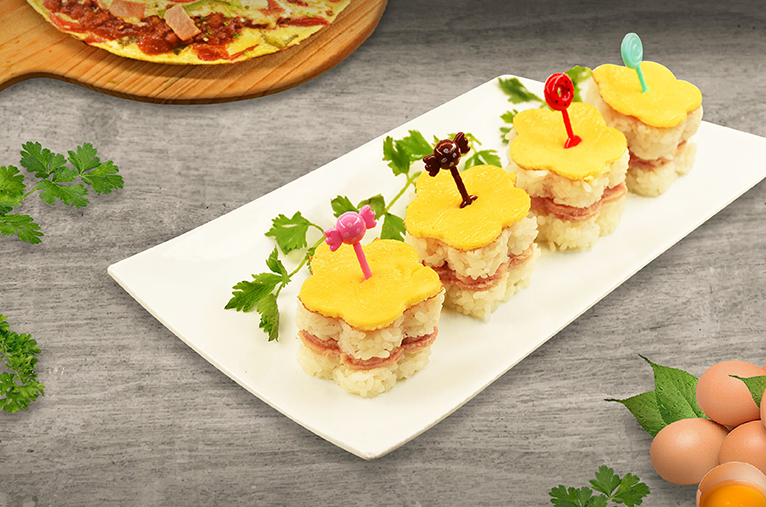 Ingredients
1 cup (170 grams) Rice, cooked
1 pack (4 grams) AJI SAVOR™ Rice Topping Mix (Chicken)
2 Tablespoons (30 ml) Cooking oil
2 pieces (120 grams) Eggs, beaten
1/2 pack (125 grams) Ham, sweet
NUTRITION INFORMATION
Nutrition Facts
Calories per serving (kcal)
150.0
Carbohydrates (g)
6.9
Proteins (g)
4.9
Fat (g)
11.6
Dietary Fiber (g)
0.5
Calcium (mg)
65.5
Iron (mg)
0.8
Sodium (mg)
244.7
Good to Know Nutrition Facts!
Eggs are one of the few foods that are naturally a good source of vitamin D which helps build strong bones with the help of calcium.
Preparation time: 20 minutes
Cooking time: 10 minutes
Procedure
MIX. In a bowl, add rice and AJI SAVOR® CHICKEN. Mix well. Set aside.
PAN FRY. In a pan with heated oil, separately pan-fry beaten eggs and ham. Drain excess oil then set aside.
CUT. Using a flower-shaped puncher, mold rice mixture, ham and egg separately to produce a 4 -petalled flower shape sushi. Set aside.
ASSEMBLE. Using the flower molder assemble rice mixture, ham, then rice mixture again and the egg. Unmold in one plate and secure with party toothpicks. Serve and enjoy.
Makes 8 servings
Serving size: 1 piece (50 grams)
Total recipe cost: Php 95.52
Cooking Tips
When molding ham and egg sushi, apply enough pressure to compact the components, and to avoid crumbling rice.
Product Used