HIKER'S LUNCH (PORK ADOBO MEAL) RECIPE
SARSAYA® OYSTER SAUCE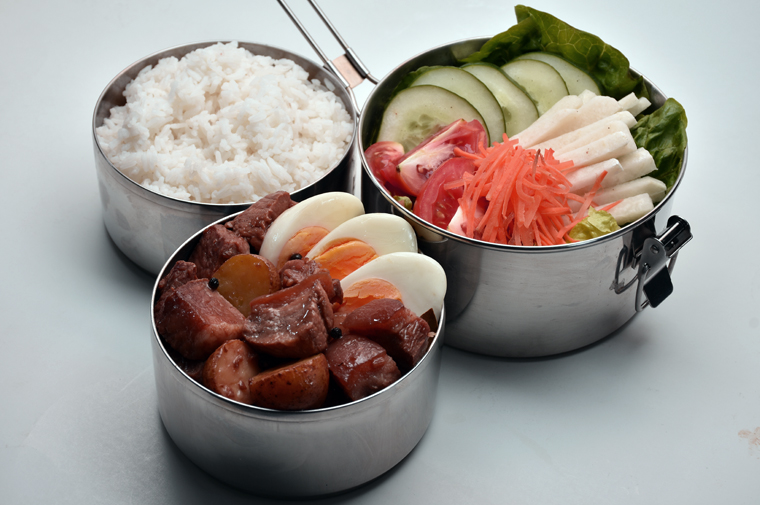 Ingredients
Adobo:
1/4 kilo 250g Pork liempo
1/4 kilo 250g Pork kasim
1 tbsp 15ml Soy sauce
6 cloves 12g Crushed garlic
1/3 cup 90ml White vinegar
2 tbsps 30ml Cooking oil
2 cups 270g Marble potatoes
2 cups 500ml Water
1/3 cup 90ml SARSAYA® Oyster Sauce (30g)
1 tsp 3g Black peppercorn
2 pcs 1g Dried bay leaf
3 pcs Eggs
Salad:
5 cups 250g Romaine lettuce
1 1/2 cups 200g Turnip
1 1/2 cups 180g Cucumber
1 1/2 cups 240g Carrots
1/2 cup 75g Red onion
1 cup 120g Tomato
1/2 pack 9g AJI-SHIO® Pepper Seasoning Mix (18g)
Rice:
6 cups 1020g Cooked Rice
NUTRITION INFORMATION
Nutrition Facts
Calories per serving (kcal)
644
Carbohydrates (g)
25.3
Proteins (g)
16.8
Fat (g)
32.1
Dietary Fiber (g)
4.4
Calcium m(g)
171.6
Iron (mg)
4.7
Sodium (mg)
832.8
Good to Know Nutrition Facts!
Turnips and Cucumber are good regulator of body functions. It supplies our body with necessary vitamins and minerals such as iron. They are also packed with water perfect for hydration after a long day hike.
Preparation time: 20 minutes
Cooking time: 35 minutes
Procedure
MARINADE. In a bowl, marinate pork liempo and kasim in soy sauce, garlic and vinegar for 1 hour. Drain pork and garlic. Save the marinade for later use. Set aside.
SEAR & SIMMER. In a pan, heat oil. Add pork liempo, pork kasim and potatoes. Cook until golden brown. Pour in the marinade mixture, water, and SARSAYA® Oyster Sauce. Add peppercorns and dried bayleaf. Add eggs and simmer for 20 minutes. Set aside.
TOSS. In a bowl, toss lettuce, turnip, cucumber, carrots, red onion and tomatoes. Season with
AJI-SHIO® Pepper.
 ASSEMBLE & SERVE. In a plate (or lunch containers), assemble Adobo, Turnip and Cucumber Salad, and rice. Serve and enjoy.
Makes 6 servings
Cooking Tip
To avoid bitter taste , let your vinegar boil well and avoid stirring while boiling it.
Product Used