HONEY LEMON CHICKEN RICE BOWL RECIPE
AJINOMOTO AJI-SHIO® SEASONING MIX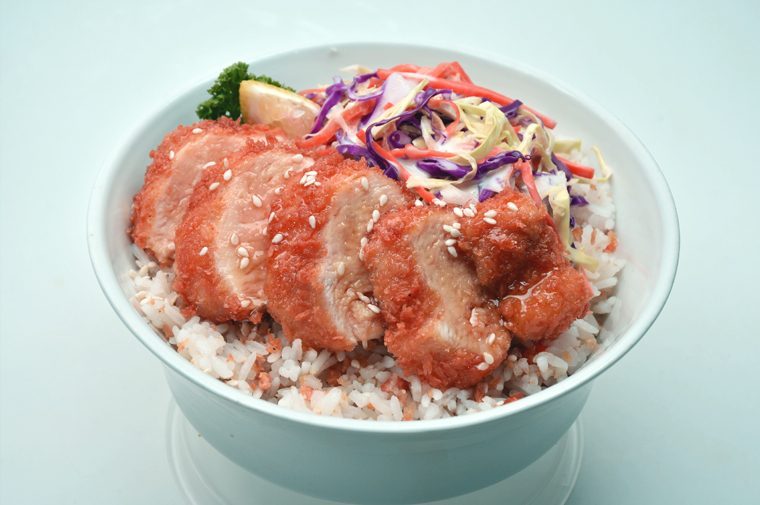 Ingredients
Rice:
6 cups 1020g Cooked rice
4 Tbsps 21g Toasted garlic
1 1/2 packs 9g AJI-SHIO® Garlic Seasoning Mix
Coleslaw:
1 cup 60g Purple cabbage, chopped
1 cup 60g Green cabbage, chopped
1 cup 180g Carrots, strips
1/3 cup 96ml Real mayonnaise
1/2 cup 120ml Non Fat Milk
1/2 pack 9g AJI-SHIO® Pepper Seasoning Mix
1/4 cup 60g White sugar
Chicken:
6 pcs 540g Chicken breast fillet
1 tsp 3g Black pepper, powder
1 pack 50g CRISPY FRY® Seasoned Crumbs
2 cups 500ml Cooking oil
1 cup 300ml Honey
3 Tbsps 45ml Soy sauce
2 Tbsps 30ml Lemon, juiced
NUTRITION INFORMATION
Nutrition Facts
Calories per serving (kcal)
930.3
Carbohydrates (g)
115.5
Proteins (g)
31.1
Fat (g)
37.8
Dietary Fiber (g)
2.5
Calcium m(g)
382.1
Iron (mg)
6.4
Sodium (mg)
1,578.1
Good to Know Nutrition Facts!
Chicken Breast Fillet is a lean type of protein providing muscle and tissue repair and recovery after a prolonged exercise.
Preparation time: 20 minutes
Cooking time: 30 minutes
Procedure
MIX. In a bowl, mix cooked rice, roasted garlic, and AJI-SHIO® Garlic. Set Aside.
TOSS. In a separate bowl, Add purple, green cabbage and carrots. To make the dressing, mix mayonnaise, milk, AJI-SHIO® Pepper  and sugar in a separate bowl, then set aside.
COAT & FRY. In a plate, season chicken fillet with black pepper powder and coat chicken with CRISPY FRY® Seasoned Crumbs. In a pan, heat oil. Fry chicken breast until golden brown. Drain excess oil and set aside,
GLAZE. In a bowl, mix honey, soy sauce and lemon juice. Brush chicken with honey-lemon glaze. Set aside.
 ASSEMBLE. In a bowl, assemble rice, coleslaw and honey-lemon chicken. Serve and enjoy.
Makes 6 servings
Cooking Tip
You can also use any other type of meats like pork or beef. Make sure it is well coated by Crispy Fry® Seasoned Crumbs to ensure its crispiness.
Product Used