IGADO
AJI-NO-MOTO® UMAMI SEASONING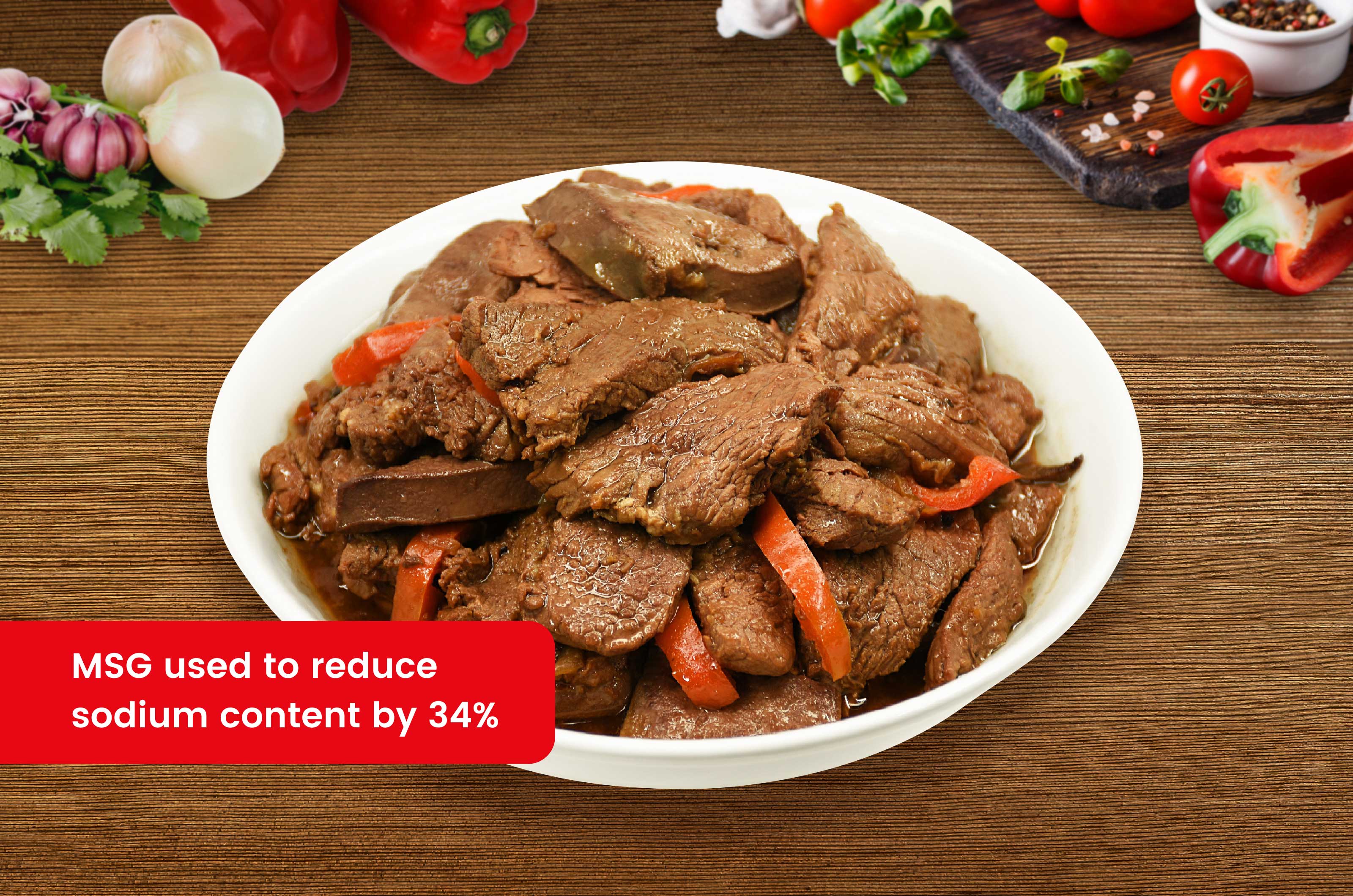 Ingredients
1/2 kilo (500g) Pork tenderloin, strips
4 Tbsps. (40g) Garlic, minced
1/4 tsp. (1.25g) Pepper, ground, black
1 cup (125ml) Vinegar
1/2 cup (125ml) Soy sauce
1/4 kilo (250g) Pork liver, strips
2 Tbsps. (30ml) Cooking oil
1 cup (70g) Onion, sliced
1/2 pack (5.5g) AJI-NO-MOTO® Umami Seasoning
1/2 cup (60g) Red bell pepper, strips
Reduced sodium by 34%
Original seasoning/condiment: 3/4 tsp. (3.75g) Salt, 3/4 cup (187.5ml) Soy sauce
NUTRITION INFORMATION
Nutrition Facts
Calories per serving (kcal)
196.3
Carbohydrates (g)
5.6
Proteins (g)
13.7
Fat (g)
13.2
Dietary Fiber (g)
0.5
Calcium (mg)
27.5
Iron (mg)
5.7
Sodium (mg)
375.5
Good to Know Nutrition Facts!
Liver is a good source of Iron which is eseential for healthy red blood cells.
Preparation time: 30 minutes
Cooking time: 45 minutes
Procedure
MARINATE. In a bowl, put pork tenderloin and add 2 tablespoons garlic, ground black pepper, 1/4 cup vinegar and 1/2 cup soy sauce. On a separate bowl, put liver and add another 1/4 cup vinegar. Marinate both pork tenderloin and liver for at least 30 minutes.
SAUTÉ. In a hot pan with oil, sauté onion and remaining garlic.
BOIL. Add the marinated pork and its marinade and let it boil until meat is tender, sauce is reduced and natural fat of pork has started to render.
SIMMER. Discard the vinegar used to marinate the liver. Add the liver and simmer for 5 minutes.
SEASON. Add AJI-NO-MOTO®.
SIMMER. Add red bell pepper and simmer for one minute.
SERVE. Transfer to a serving bowl and serve.
Makes 10 servings
Serving size: 1/2 cup (90g)
Cooking Tips
To reduce the off odor and taste of the liver, marinate it in vinegar for at least 30 minutes and discard the vinegar before cooking. Do not overcook the liver to prevent it from having a tough and rubbery texture.
Product Used