JAPANESE BREAKFAST RECIPE
AJI-NO-MOTO® UMAMI SEASONING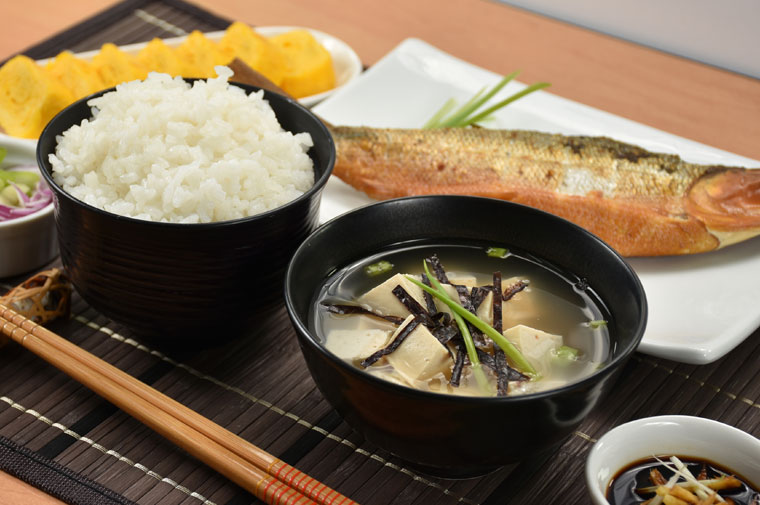 Ingredients
2 cups, 400g Gohan ( Steamed Japanese Rice)
1 liter, 1000ml Water
1 tablespoon, 30ml Fish Sauce
1/2 pack, 6g AJI-NO-MOTO® Umami Seasoning
1 pc, 150g Smoked Fish, flakes
1 tablespoon, 30g Miso Paste
1 cup, 200g Tofu, small cubes
2 tablespoons, 10g Spring Onion, chopped
4 pcs Eggs, beaten
1/2 teaspoon, 2.5ml Soy Sauce
1 tablespoon, 15g Sugar
1/2 pack, 6g AJI-NO-MOTO® Umami Seasoning
1 tablespoon, 15ml Cooking Oil
1 pc, 150g Smoked Fish, whole fried
NUTRITION INFORMATION
Nutrition Facts
Calories per serving (kcal)
664.8
Carbohydrates (g)
74.8
Proteins (g)
64.4
Fat (g)
11.9
Dietary Fiber (g)
3.0
Calcium m(g)
584.4
Iron (mg)
12.0
Sodium (mg)
3818.4
Nutrition Tips
Improved digestion — Miso's probiotic properties play an important role in balancing gut microbiome, which is one of the most important components of health. Improved microbiome may help support proper digestion, nutrient absorption in the gut and energy regulation.
Better immune function — Studies show that probiotics may support the immune system by signaling immune pathways. The better balance of bacteria in your gut may also help combat common illnesses like the flu.
Support for cardiovascular health — While miso soup has been observed to contain high amounts of sodium, studies show that this soup does not cause problems in the cardiovascular system. In fact, regular consumption of miso soup may lower heart rate, which is one of the indicators of autonomic balance. 9 However, more studies are required to prove this function.
Reference: https://recipes.mercola.com/how-to-make-miso-soup.aspx
Preparation and Cooking time: 1 hour
Procedure
BOIL water in fish sauce,add AJI-NO-MOTO® and smoked fish flakes. Add Miso paste, tofu and spring onions, cook for 5 minutes then set aside.
PREPARE Tamagoyaki by mixing eggs with soy sauce, sugar and AJI-NO-MOTO®. Fry eggs ,titling the pan occassionally in order to make a big omellete.Gently roll egg to form a log , add some egg mixture and repeat the process until you achieve the desired size of the rolled omellete. Transfer to a plate, cool and slice.
SERVE Tamagoyaki together with steamed japanese rice, miso soup, and smoked fish.
Makes 10 servings
Serving size: 1 cup (195g) Gohan, 1 sliced (75g) Smoked Fish, 1 cup (120g) Miso Soup, 1/2 cup (80g) Tamagoyaki
Cooking Tips
 If you can't make Dashi stock or you find it too costly , try making your own local version out of Tinapa Flakes, water , fish sauce and AJI-NO-MOTO®Umami Seasoning.
Product Used