KALABASANG OKOY NA MAY HIPON RECIPE
AJI-NO-MOTO® UMAMI SEASONING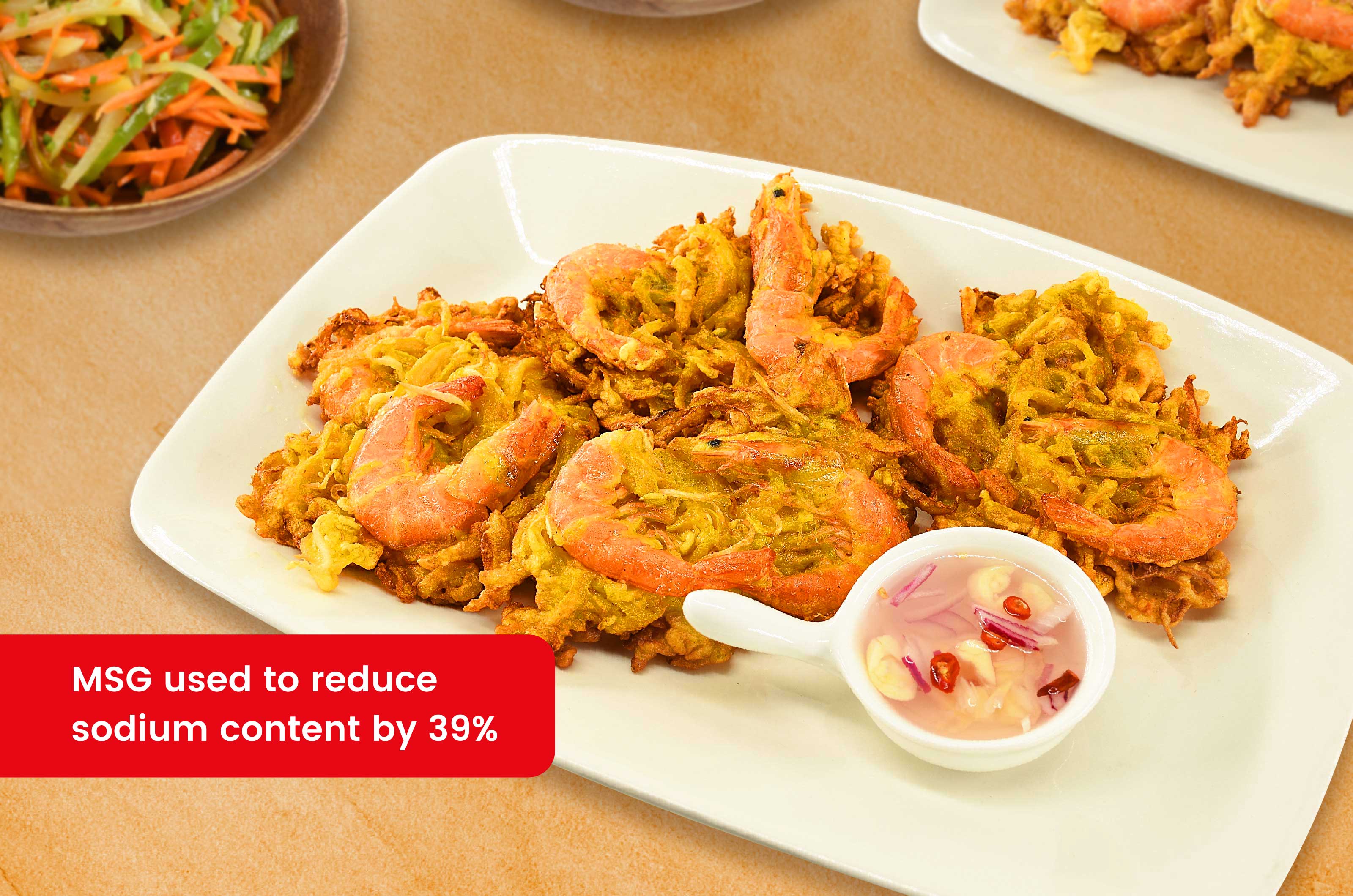 Ingredients
1 cup (110g) Cornstarch
1/4 cup (25g) All purpose flour
1 teaspoon (5g) Salt
1 pack (11g) AJI-NO-MOTO® Umami Seasoning
1/4 teaspoon (1g) Baking powder
1/4 cup (65ml) Water, cold
2 pcs (120g) Egg
2 cups (250g) Kalabasa
2 cups (140g) Bean sprouts
1/4 kilo (250g) Shrimps
1/2 cup (120ml) Vegetable oil
Reduced sodium by 39%
Original sodium content: 1 Tablespoon (15 grams) Salt
NUTRITION INFORMATION
Nutrition Facts
Calories per serving (kcal)
246.1
Carbohydrates (g)
17.8
Proteins (g)
8.9
Fat (g)
15.5
Dietary Fiber (g)
1.5
Calcium (mg)
708.8
Iron (mg)
5.5
Sodium (mg)
373.8
Good to Know Nutrition Facts!
Squash is high in vitamin A which is important to maintain normal vision.
Preparation time: 15 minutes
Cooking time: 30 minutes
Procedure
MIX. In one container mix cornstarch, flour, salt AJI-NO-MOTO®, baking powder and cold water. Blend well to make a smooth batter. Stir in beaten eggs, kalabasa, bean sprouts and shrimps. Mix well.
DEEP FRY. Carefully drop 1/4 cup of the mixture in preheated oil and deep fry until golden brown. Drain excess oil and serve with spiced vinegar.
SERVE. Transfer in a serving platter, serve with vinegar.
Makes 9 servings
Serving size: 1 piece (75 g)
Cooking Tips
For crispy texture, use enough oil to cover the patties at least halfway. Do not overcrowd the pan; cook in batches as needed.
Product Used