Kamote Fries
TASTY BOY® All Purpose Breading Mix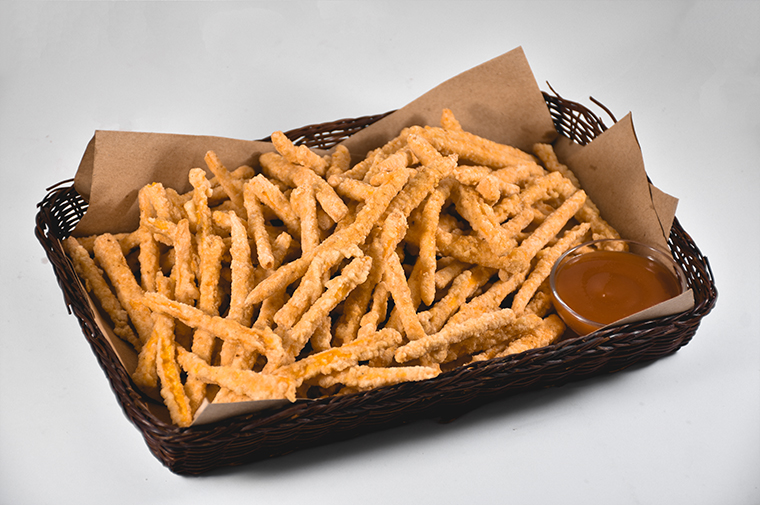 Ingredients
2 cups (300 grams) Sweet Potato, shoe string cut
1 pc Egg, beaten
1 pack (67 grams) Tasty Boy® All Purpose Breading Mix
3 cups (750 ml) Oil, palm
NUTRITION INFORMATION
Nutrition Facts
Calories per serving (kcal)
572.0
Carbohydrates (g)
36.2
Proteins (g)
0.9
Fat (g)
47.0
Dietary Fiber (g)
2.0
Calcium m(g)
42.4
Iron (mg)
1.0
Sodium (mg)
886.9
Good to Know Nutrition Facts!
Sweet potatoes are incredibly rich in beta-carotene, the antioxidant responsible for the vegetable's bright orange color that helps in improving vision. Sweet potatoes are rich in fiber promoting regular bowel movement.
References: United States Department of Agriculture (USDA) – Food Composition Database, Philippine Food Composition Tables (Phil FCT) and Philippine Food Exchange List (Phil FEL)
Preparation
Makes: 4 servings
Procedure:

DIP and COAT sweet potatoes in beaten egg and Tasty Boy® All Purpose Breading Mix.
DEEP FRY in hot oil until golden brown. Drain and cool down for a few minutes.
SERVE and enjoy!
Cost
Recipe Cost: Php 131.2
Cost per Serving: Php  32.80
Cooking Tips
You can replace sweet potato with cassava or saba for other variety of healthy fries.
Product Used