KANI CANAPE
AJI-NO-MOTO® UMAMI SEASONING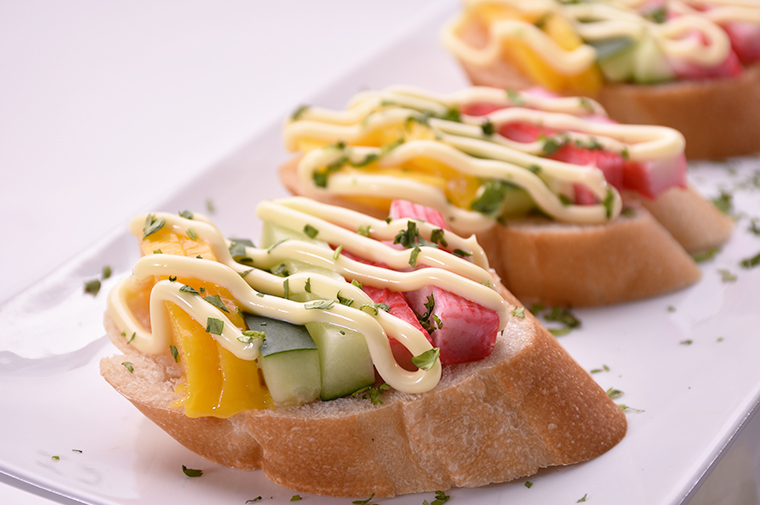 Ingredients
1 pc (300g) French bread, sliced into 30 pcs
1 pc (300g) Ripe mango, seeded, sliced
10 pcs (120g) Kani (Crabstick), sliced
1 pc (150g) Cucumber, sliced
1 1/4 cups (300g) Japanese mayonnaise
1 pack (11g) AJI-NO-MOTO® Umami Seasoning
NUTRITION INFORMATION
Nutrition Facts
Calories per serving
333.1 Calories
Carbohydrates (g)
23 grams
Proteins (g)
4.2  grams
Fat (g)
24.4  grams
Dietary Fiber (g)
1.4 gram
Calcium m(g)
36.2 milligrams
Iron (mg)
1.1  milligrams
Sodium (mg)
565.2 milligrams
Good to Know Nutrition Facts!
Crabsticks or Kani are low calorie and low fat alternatives of crab meat.
Preparation
Makes: 10 servings
Procedure:

TOAST. In a tray, place sliced French bread. Toast for 3-5 minutes. Set aside.
ASSEMBLE. Top the toasted bread with mango, kani, and cucumber. Then drizzle with Japanese mayonnaise and AJI-NO-MOTO® Umami Seasoning.
SERVE. Serve and enjoy.
Cost
Recipe Cost: Php 145.07
Cost per Serving: Php 14.51
Cooking Tips
You may use local breads such as pandesal (but into halves), crackers, or biscuits as an alternative to french bread.
Product Used