KILAWING TANIGUE
AJI-NO-MOTO® UMAMI SEASONING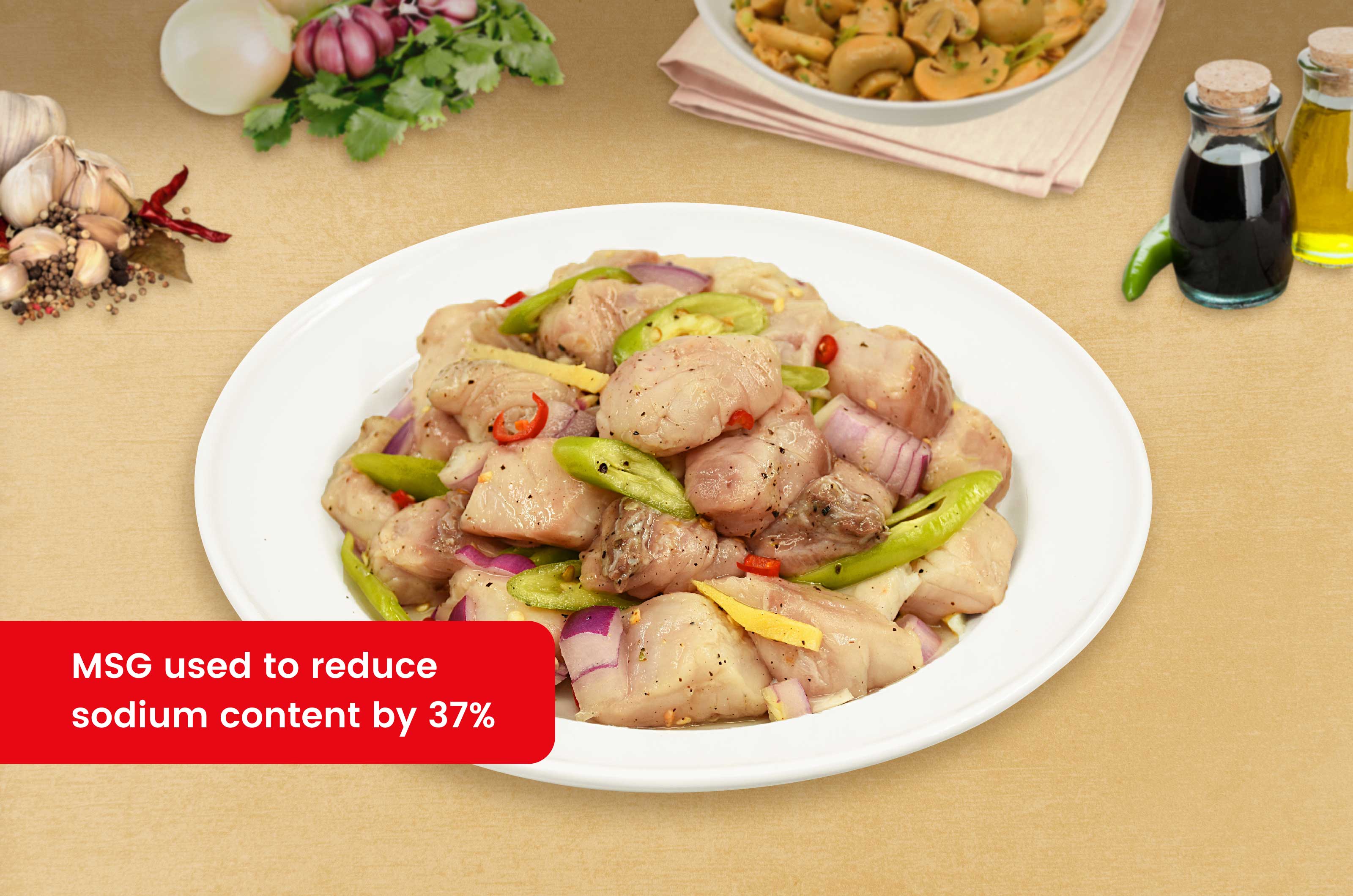 Ingredients
1/2 kilo (500g) Tanigue, fresh, filleted, deboned, cubed
1 cup (250ml) Vinegar
1/2 tsp. (2.5g) Salt
1/2 pack (5.5g) AJI-NO-MOTO® Umami Seasoning
1/4 tsp. (1.25g) Pepper, ground, black
5 tsps. (25ml) Calamansi juice
1/2 cup (40g) Onion, chopped
4 Tbsps. (32g) Ginger, small diced
1 pc. (10g) Green chili, chopped
Reduced sodium by 37%
Original seasoning/condiment: 1 1/2 tsps. (7.5g) Salt
NUTRITION INFORMATION
Nutrition Facts
Calories per serving (kcal)
93.4
Carbohydrates (g)
2.7
Proteins (g)
17.8
Fat (g)
1.3
Dietary Fiber (g)
0.3
Calcium (mg)
42.5
Iron (mg)
1.4
Sodium (mg)
361.9
Good to Know Nutrition Facts!
Tanigue is a lean Protein source that helps in buidling our bodies.
Procedure
MARINATE. Place the tanigue fillets in a bowl and add 1/2 cup of vinegar. Marinate for at least 30 minutes.
RINSE. After 30 minutes, discard the vinegar used to marinate the fish. Pour another 1/2 cup of vinegar to rinse the fish and let it sit for about 5 minutes before discarding the vinegar.
SEASON. Add salt, AJI-NO-MOTO®, pepper and calamansi juice. Stir to combine.
MIX. Add onion, ginger and green chilli. Stir to combine. Place in the refrigerator for at least 15 minutes.
SERVE. Transfer on a serving platter. Serve and enjoy.
Makes 5 servings
Serving size: 1/2 cup (160g)
Cooking Tips
Make sure to use only fresh Tanigue when making Kilawin.
Product Used