KIWI CHICKEN SALAD TOAST RECIPE
AJINOMOTO AJI-SHIO® SEASONING MIX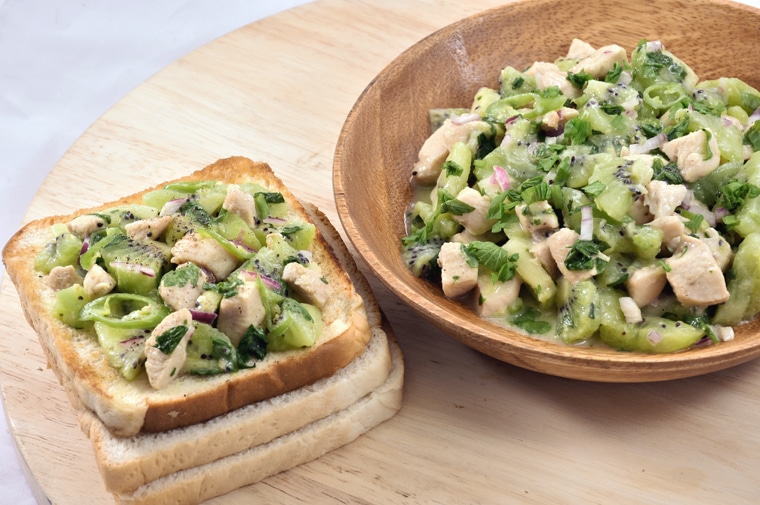 Ingredients
4 pc Kiwi, cubed
1/4 cup Plain Yogurt
1 tablespoon Lime juice
1 pack AJI-SHIO ® Garlic
1/2 teaspoon Black Pepper, ground
1 teaspoon Salt
1/4 cup Red Onion, small diced
1/4 cup Celery, diced
1 tablespoon Jalapeño, diced
2 cups Chicken Fillet, cooked, cubed
10 pieces White Bread, toasted
Sriracha Sauce on top (optional)
Cilantro (optional)
Preparation and Cooking Time: 30 minutes
Preparation
Procedure
MIX. In a medium bowl, combine kiwi, yogurt, lime, AJI-SHIO ® Garlic, black pepper, and salt. Mix well. Then add onion, celery, jalapeño, and chicken into the kiwi mixture and mix evenly.
SERVE on toast with an optional topping of sriracha and cilantro.
Makes 5 servings
Serving size: 2 pcs (40g) Toasted Bread & 1/2 cup (90g) Kiwi Chicken Salad
Cooking Notes
Don't like onions? You can decrease the amount of onions based on your preference!
NUTRITION INFORMATION
Nutrition Facts
Calories per Serving
334
Carbohydrates (g)
56.8
Proteins (g)
17.4
Fat (g)
3.9
Dietary Fiber (mg)
2.3
Calcium (mg)
138
Iron (mg)
2.7
Sodium (mg)
781.2
Good to Know Nutrition Facts!
Due to kiwi fruit's high water content, a 100 grams kiwi would be equivalent to a teaspoon of sugar on its effect to blood glucose, thus it has a low glycemic impact and is suitable for people with diabetes. But don't forget to always eat in moderation.
Product Used