KOREAN BRAISED BEEF RECIPE
SARSAYA® OYSTER SAUCE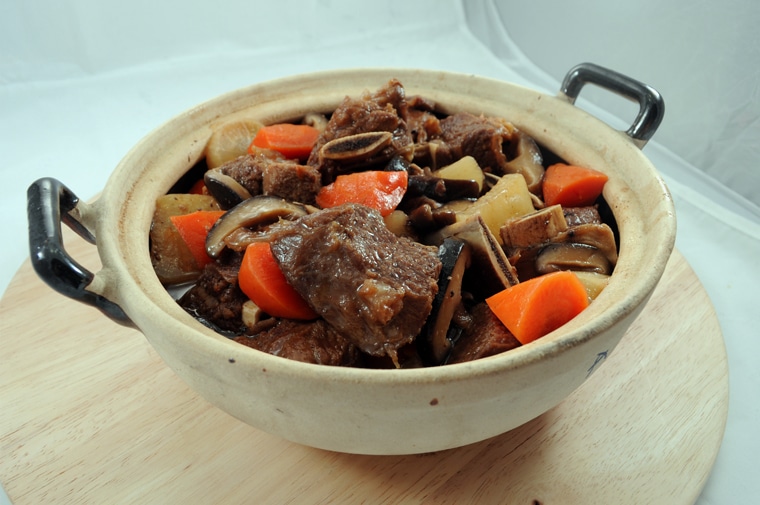 Ingredients
2 tablespoons 24g cooking oil
1 kilogram  beef, short ribs
5 cups water
3/4 cup 75ml soy sauce
2 tablespoons 30ml cane vinegar
3 tablespoons 36g sugar, brown
1 pack 30g SARSAYA® Oyster Sauce
1 tablespoon 15g ginger, strips
1 tablespoon 12g sesame oil
1 cup 150g radish, big diced
1 cup 150g carrot, big diced
1/2 cup 70g shitake mushroom
1/8 cup 10g garlic, minced
NUTRITION INFORMATION
Preparation and Cooking Time: 30 minutes
Preparation
Procedure
MIX. On a mixing bowl, pour water and add in cane vinegar, soy sauce, SARSAYA® Oyster Sauce, and sugar, mix until dissolved.
SEAR. On a deep hot pan/casserole, add oil and sear the beef short ribs until brown.
SAUTE. Add in garlic and ginger, saute well.
BOIL and SIMMER. Mix in the sauce mixture and let it boil then turn down to simmer. When the sauce is already reduced by half, mix in carrot, radish, and shitake mushroom. Continue cooking until the beef is tender and sauce is thick. Lastly, finish with sesame oil and serve hot.
Makes: 4-5 servings
Serving size: 1 cup (240g) Braised Beef
Cooking Notes
1. If the beef short ribs are still tough, you may add in more water and let it continue boiling.
2. Make sure to sear the beef with a very hot casserole/pan.
Nutrition Facts
Calories per Serving
597
Carbohydrates (g)
17.3
Proteins (g)
42
Fat (g)
39.8
Dietary Fiber (g)
2.4
Calcium (mg)
119
Iron (mg)
4.0
Sodium (mg)
1491.6
Good to Know Nutrition Facts!
Beef is an excellent source of various vitamins and minerals such as B12, zinc, selenium, iron, niacin, and vitamin B6.
Product Used