LASAGNA ROLL UPS
CRISPY FRY® BREADING MIX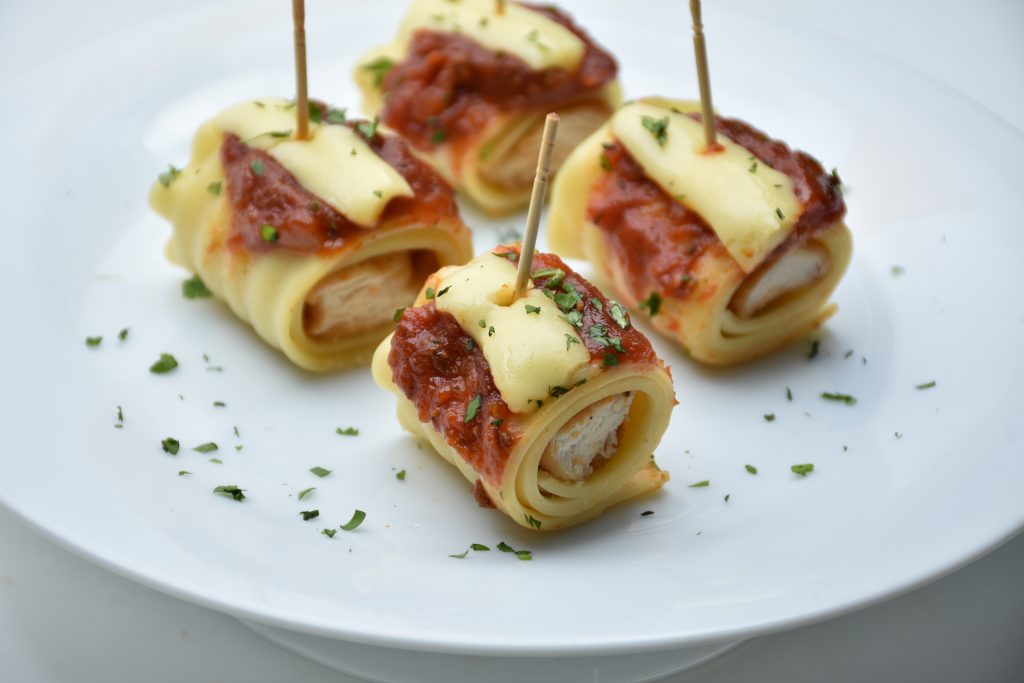 Ingredients
20 pcs 250g Chicken Breast Fillet, strips
1/4 pack 15g Crispy Fry® Breading Mix
20 pcs 400g Lasagna Sheet, boiled
1/4 cup 100ml Spinach Dip, bottled
1/4 cup 100ml Tomato Salsa, bottled
1/4 cup 50g Cheese, strips
NUTRITION INFORMATION
Nutrition Facts
Calories per serving
111.1 Calories
Carbohydrates (g)
16.4 grams
Proteins (g)
5.9 grams
Fat (g)
2.8 grams
Dietary Fiber (g)
0.9 gram
Calcium m(g)
29.9 milligrams
Iron (mg)
0.5 milligrams
Sodium (mg)
127 milligrams
Good to Know Nutrition Facts!
Chicken breast is a leaner meat but still a good source of protein.
Preparation
Makes: 20 servings
Procedure:
1. COAT. In a bowl, coat chicken breast fillet with Crispy Fry® Breading Mix.
2. FRY. In a pan, heat oil. Fry chicken until golden brown. Drain well. Set aside.
3. ASSEMBLE. In a plate, place lasagna sheet. Place 1 tbsp of Spinach dip and chicken on one end then roll tightly. Secure with toothpicks.
4. GARNISH. Place 1 tbsp of Tomato Salsa and strip of cheese.
5. SERVE. Cut into bite size pieces and enjoy.
Cost
Recipe Cost: Php 269.52
Cost per Serving: Php 13.48
Cooking Tips
You can heat these on a toaster or heat using kitchen torch to melt the cheese.
Product Used