LAUYA
AJI-NO-MOTO® UMAMI SEASONING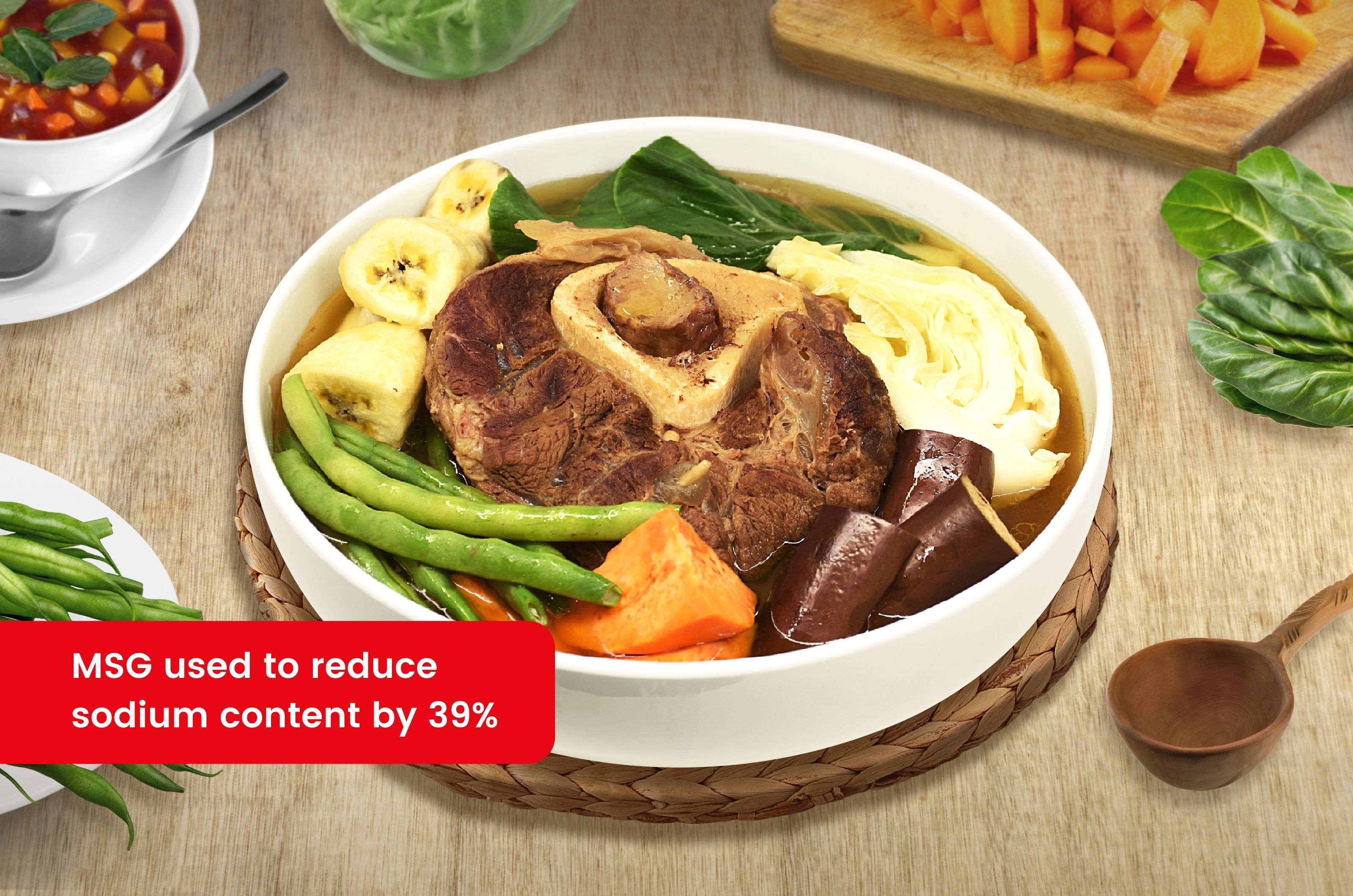 Ingredients
8 cups (2000ml) Water
1 Kilo (1000g) Beef shank
1 cup (190g) Sweet potato, wedged
7 tsps. (35g) Fish sauce
1 pack (11g) AJI-NO-MOTO® Umami Seasoning
3 pcs. (40g) Banana, saba, sliced 1/2-inch thick
1/2 cup (60g) Eggplant, sliced 1/2-inch thick
1/2 cup (60g) Baguio beans, cut into 1-inch long
1/2 bunch (60g) Pechay Tagalog, base removed
1/2 pc. (200g) Cabbage, core removed, quartered
Reduced sodium by 39%
Original seasoning/condiment: 2 tsps. (10g) Salt, 3 Tbsps. (approx. 40ml) Fish sauce
NUTRITION INFORMATION
Nutrition Facts
Calories per serving (kcal)
157.8
Carbohydrates (g)
9.0
Proteins (g)
22.7
Fat (g)
3.4
Dietary Fiber (g)
1.4
Calcium (mg)
80.4
Iron (mg)
2.8
Sodium (mg)
376.0
Good to Know Nutrition Facts!
Banana is rich in potassium that helps regulate fluid balance, muscle contraction and nerve signals.
Preparation time: 15 minutes
Cooking time: 45 minutes
Procedure
BOIL. In a pressure cooker, add water and beef. Tightly seal the pressure cooker and cook for 30 minutes. Carefully let the steam escape before opening the pressure cooker. Add sweet potato and boil until it is half tender.
SEASON. Add fish sauce and AJI-NO-MOTO®.
SIMMER. Add banana, eggplant, baguio beans, pechay Tagalog and cabbage. Simmer for 1-2 minutes.
SERVE. Transfer to a serving bowl and serve while hot.
Makes 10 servings
Serving size: 1 bowl (70g Beef + 50g Vegetables + 173g Soup)
Cooking Tips
If pressure cooker is not available, cook the meat at a simmering temperature only until the meat is tender. High temperature and rapid boiling toughen beef.
Product Used