LECHON MANOK SISIG
AJINOMOTO AJI-SHIO® SEASONING MIX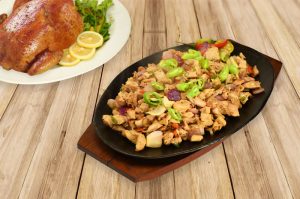 Ingredients
2 cups 400.0 grams Lechon Manok, deboned, cubed
3 tbsps 45.0 ml Soy Sauce
2 tbsps 30.0 ml Vinegar
1/4 cup 60.0 grams Butter
1/4 cup 60.0 grams Red Onion, chopped
2 tbsps 30.0 grams Red Bell Pepper, diced
2 tbsps 30.0 grams Green Bell Pepper, diced
1 pack 18.0 grams Aji Shio® Pepper Seasoning Mix
3 tbsps 45.0 grams Mayonnaise
NUTRITION INFORMATION
Nutrition Facts
Calories per serving
287 Calories
Carbohydrates (g)
3 grams
Proteins (g)
16 grams
Fat (g)
24 grams
Dietary Fiber (g)
0 gram
Calcium m(g)
30.7 milligrams
Iron (mg)
1.1 milligrams
Sodium (mg)
1674.7 milligrams
Good to Know Nutrition Facts!
Bell peppers are packed with nutrients that maintain eye health, boost immune system and prevent inflammation.
Preparation
Makes: 6 servings
Procedure:

1. MIX. In a bowl, mix Chicken, Soy Sauce, and Vinegar. Set aside.
2. SAUTE. In a pan, heat butter. Saute Onion and Bell Peppers. Add Chicken Mixture.
3. SEASON. Season with Aji Shio® Pepper Seasoning Mix
4. STIR. Add Mayonnaise and stir to coat sisig evenly.
5. SERVE. Serve and enjoy.
Cost
Recipe Cost: Php 137.61
Cost per Serving: Php 22.94
Cooking Tips
Get chunky sisig by slicing chicken into bigger cubes
Product Used