Longsilog
AJI-NO-MOTO® UMAMI SEASONING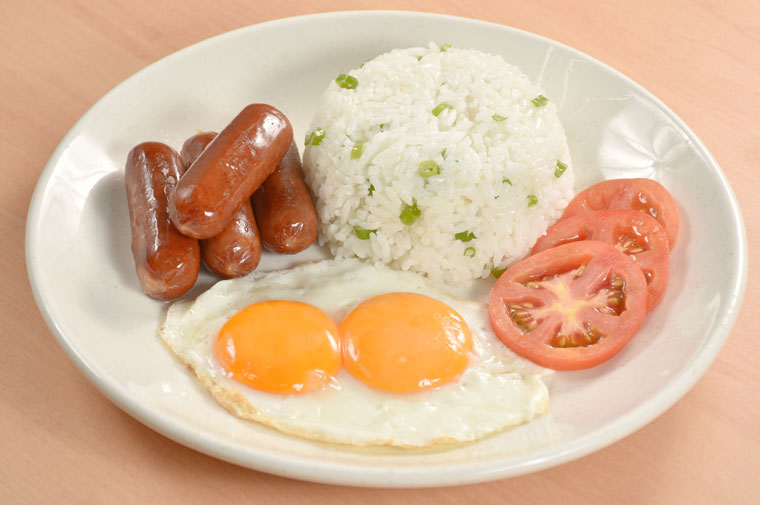 Ingredients
2 tablespoons, 30g Cooking Oil
2 cups, 400g Rice, cooked ( preferrably 1 day old rice)
1 pack, 6g AJI-SHIO® Seasoning Mix (Garlic)
1 cup, 240ml Water
6 pcs, 127g Longganisa
2 tablespoons, 30g Cooking Oil
4 pcs Eggs, sunny side up
NUTRITION INFORMATION
Nutrition Facts
Calories per serving
 909.0 Calories
Carbohydrates (g)
69.2 gram
Proteins (g)
30.8 grams
Fat (g)
56.4 grams
Dietary Fiber (g)
1.3 milligrams
Iron (mg)
4.6 milligrams
Sodium (mg)
1462.2 milligrams
Nutrition Tips
Native sausage contains protein and it provides essential amino acids that you need in your diet. Your body uses protein to maintain lean muscle mass and hormone balance, it aids in brain function and keep your other tissues healthy and functional.
Reference:
https://healthyeating.sfgate.com/good-health-benefits-sausage-bacon-8236.html
Preparation
Yield: 646 grams
Makes: 2 serving 200g ( fried rice), 63g (longganisa), 2pcs ( eggs,sunny side up)
Procedure:

HEAT the pan, add oil, rice and AJI-SHIO® Seasoning Mix(Garlic). Mix well until cooked then set aside.
BOIL longganisa and wait until the water is dried up and begin to cook on its own fat. Set aside.
FRY eggs over high heat within 4-5 minutes or until whites are set and yolks achieved desired doneness.
TRANSFER the garlic fried rice on a plate alongside with longganisa and sunny side up eggs . Serve and enjoy!
Cost
Recipe Cost: Php 122.25
Cost per Serving: Php 61.13
Cooking Tips
Make sure Longganisa is thawed at room temperature before cooking to avoid uneven cooking.
Product Used