LUMPIANG BABOY AT CARROTS RECIPE
AJI-NO-MOTO® UMAMI SEASONING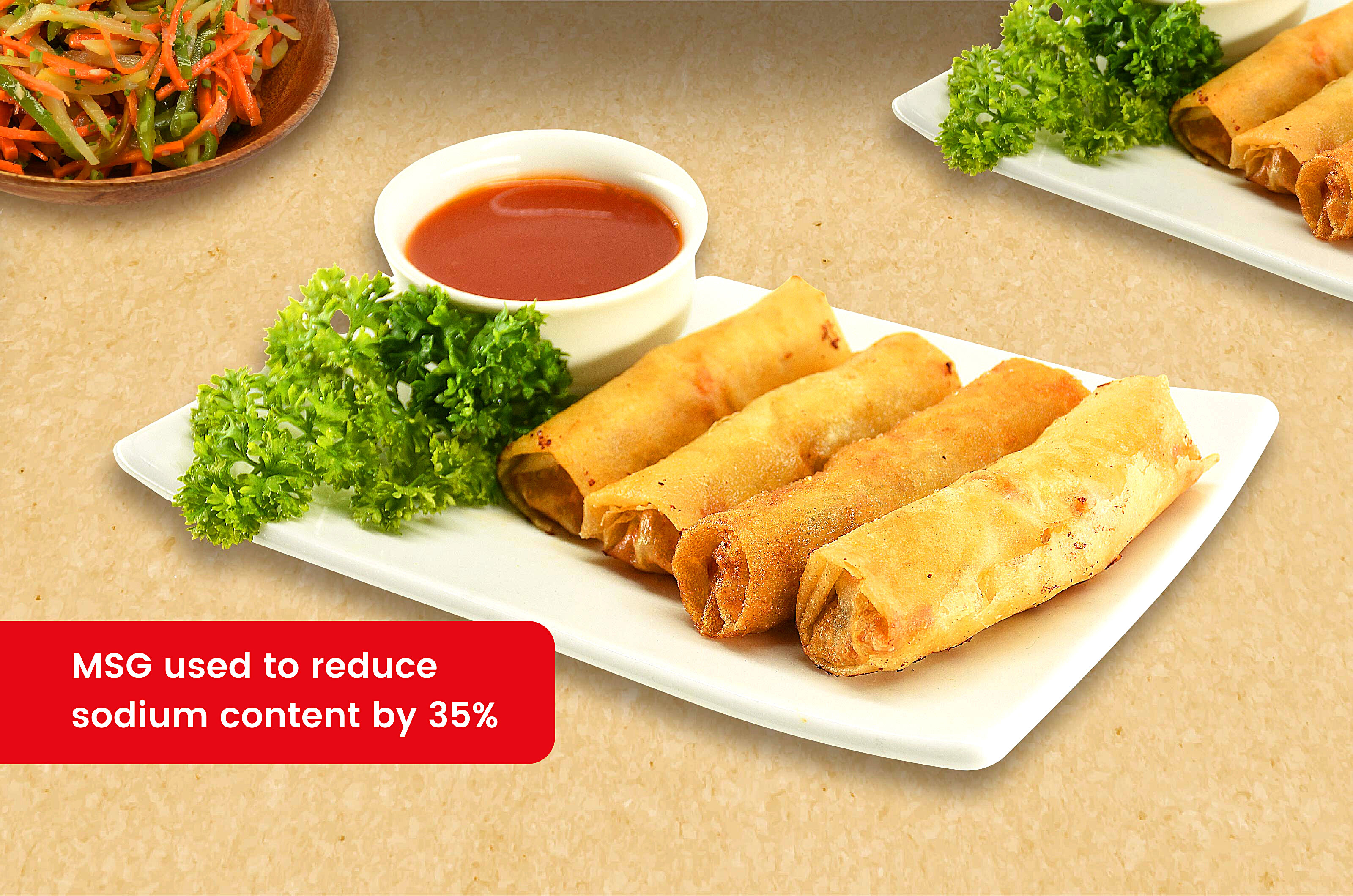 Ingredients
1/2 kilo (500 grams) Pork, ground
1 1/2 cups (225 grams) Carrots, grated
1/4 cup (60 grams) Onions, chopped
1/8 cup (34 grams) Garlic, chopped
1 piece (60 grams) Egg
2 Tablespoons (14 grams) Cornstarch
1/2 pack (5.5 grams) AJI-NO-MOTO® Umami Seasoning
3 Tablespoons (45 grams) Soy sauce
1/2 teaspoon (0.3 grams) Pepper, ground, black
1 Tablespoon (15 grams) Sugar, refined
40 pieces (240 grams) Lumpia wrapper
1 cup (250 grams) Cooking oil
Reduced sodium by 35%
Original sodium content: 1 1/2 teaspoons (7.5 grams) Salt
NUTRITION INFORMATION
Nutrition Facts
Calories per serving (kcal)
328.7
Carbohydrates (g)
23.2
Proteins (g)
12.8
Fat (g)
20.3
Dietary Fiber (g)
1.6
Calcium (mg)
46.0
Iron (mg)
2.7
Sodium (mg)
352.3
Good to Know Nutrition Facts!
Pork contains high-quality Protein that is useful for muscle growth and maintenance.
Preparation time: 30 minutes
Cooking time: 20 minutes
Procedure
MIX. In one bowl, combine all ingredients and mix well.
WRAP and ROLL. Place one to two (1-2) tablespoons of the mixture on each lumpia wrapper, roll and seal ends with water. Finish all the mixtures by doing this step.
DEEP-FRY. Heat oil in a pan and deep -fry lumpia over medium heat until golden brown.
SERVE. Remove from the pan, drain excess oil, and transfer to a serving platter. Serve and enjoy!
Makes 10 servings
Serving size: 3 rolls (30g/roll)
Cooking Tips
Lumpia is cooked already when it floats in hot oil and there are no more brisking bubbles after several minutes of frying.
Product Used