LUMPIANG HUBAD
AJI-NO-MOTO® UMAMI SEASONING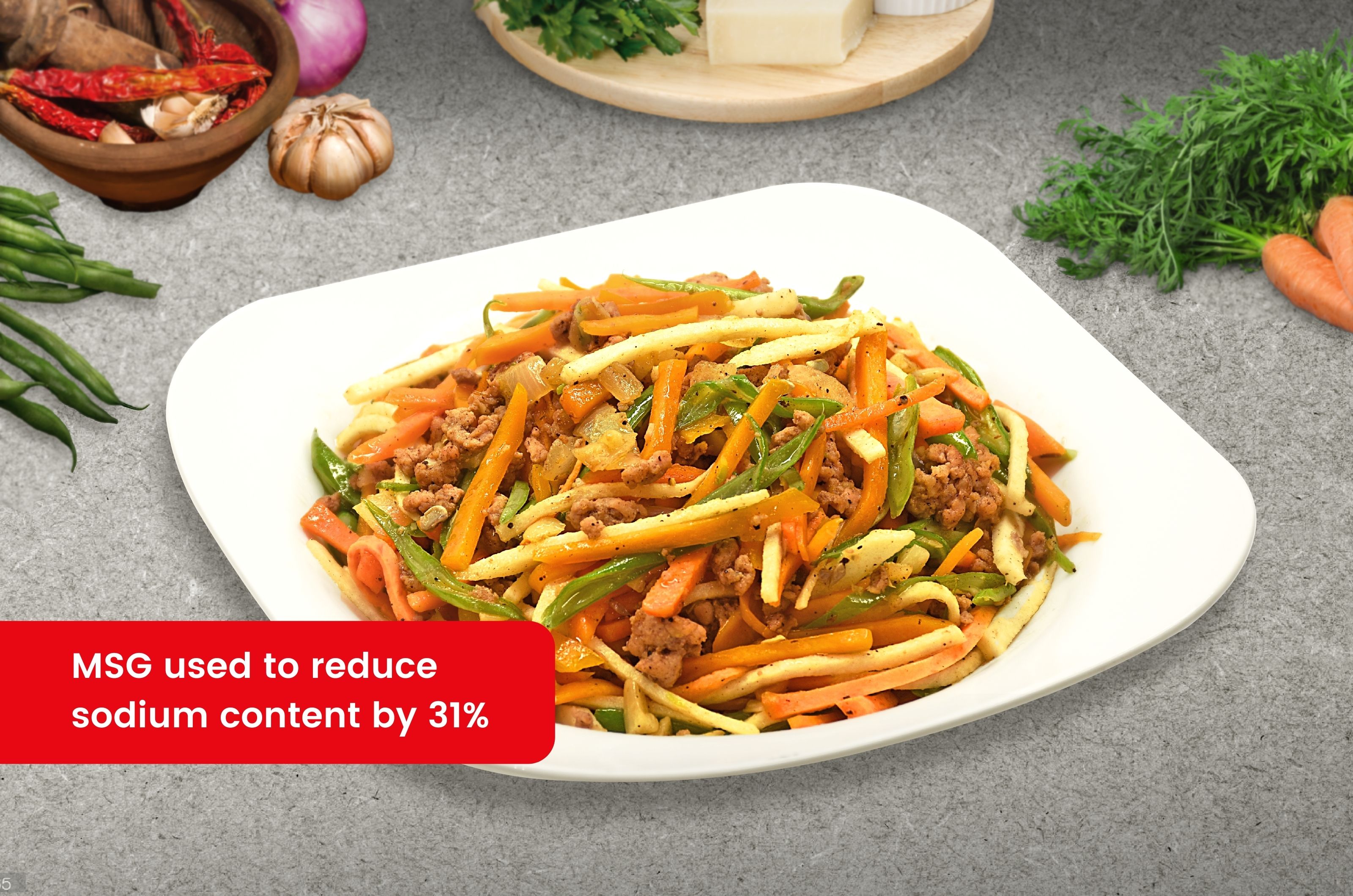 Ingredients
2 Tbsps. (30ml) Cooking oil
1/2 cup (75g) Onion, sliced
2 Tbsps. (20g) Garlic
1 cup (200g) Ground pork
1 cup (100g) Squash, julienne, 1 inch long
1 cup (100g) Sweet potato, julienne, 1 inch long
1 cup (70g) Baguio beans, julienne, 1 inch long
1 cup (100g) Singkamas, julienne, 1 inch long
1/4 tsp. (1.25g) Ground black pepper
2 Tbsps. (30ml) Fish sauce
1/2 pack (5.5g) AJI-NO-MOTO® Umami Seasoning
Reduced sodium by 31%
Original seasoning/condiment: 1 tsp. (5g) Salt
NUTRITION INFORMATION
Nutrition Facts
Calories per serving (kcal)
201.9
Carbohydrates (g)
11.4
Proteins (g)
7.6
Fat (g)
14.0
Dietary Fiber (g)
1.9
Calcium (mg)
43.1
Iron (mg)
1.4
Sodium (mg)
383.6
Good to Know Nutrition Facts!
Vegetables are rich in fiber, nutrients and minerals that help in maintaining a healthy immune system.
Preparation time: 20 minutes
Cooking time: 20 minutes
Procedure
SAUTÉ. In a hot pan with oil, sauté onion, garlic, ground pork, squash, sweet potato, baguio beans, and singkamas.
SEASON. Add pepper, fish sauce and AJI-NO-MOTO®. Mix well and simmer for a few seconds.
SERVE. Transfer to a serving platter and serve while hot.
Makes 6 servings
Serving size: 1 cup (94g)
Cooking Tips
Do not overcook your vegetables to preserve its natural crispness and nutrients.
Product Used