LUMPIANG SHANGHAI
AJI-NO-MOTO® UMAMI SEASONING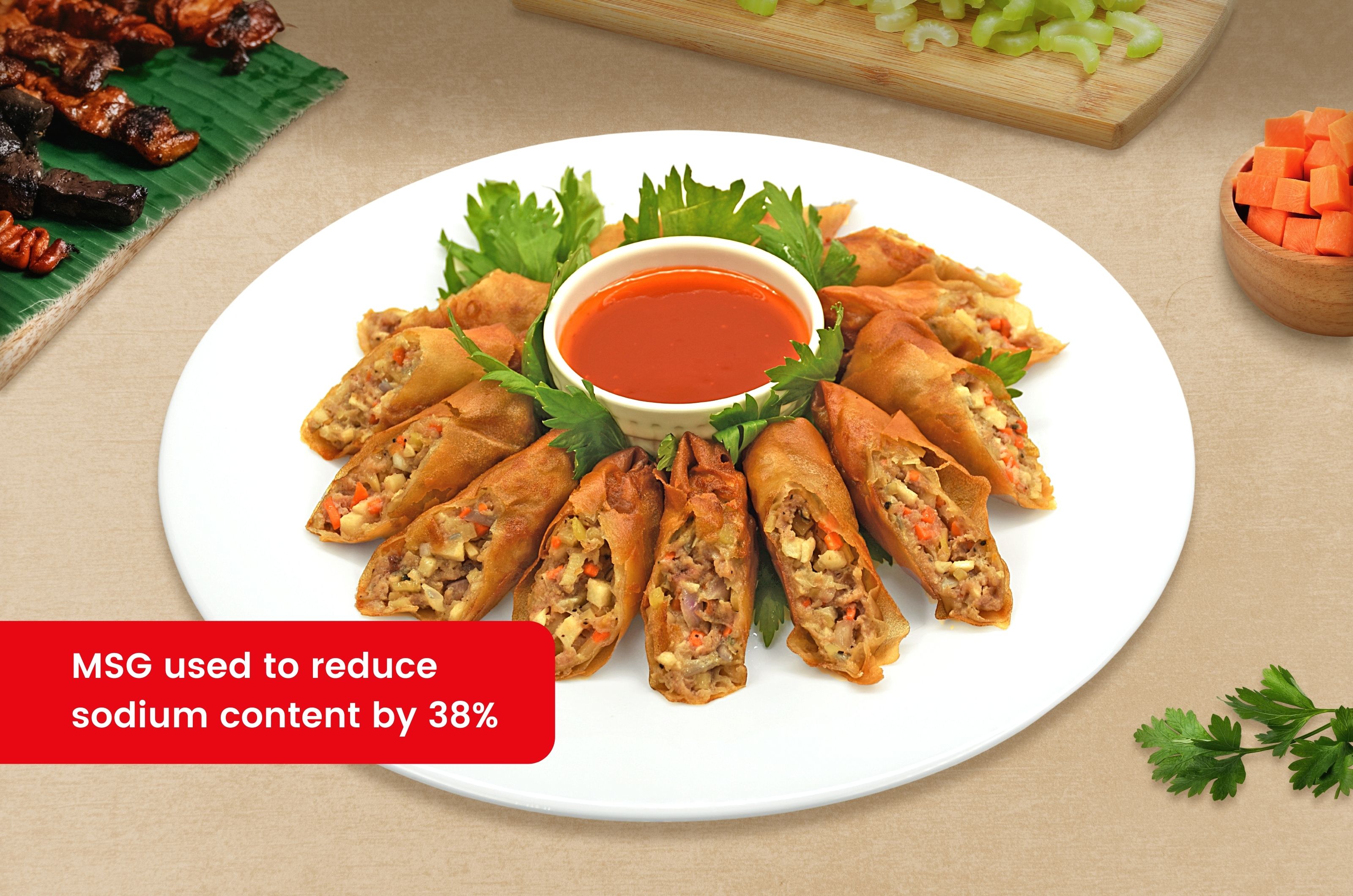 Ingredients
1/2 cup (75g) Onion, minced
2 Tbsps. (20g) Garlic, minced
1/3 cup (30g) Singkamas, grated
1/2 cup (200g) Carrots, grated
2 tsps. (10g) Celery, minced
1/4 kilo (250g) Ground pork
1 pc. (60g) Chicken egg, beaten
2 Tbsps. (30ml) Soy sauce
1/4 tsp. (1.25g) Ground black pepper
1 pack (11g) AJI-NO-MOTO® Umami Seasoning
40 pcs. (80g) Lumpia wrapper
3/4 cup (187.5g) Oil
Reduced sodium by 38%
Original seasoning/condiment: 1/2 tsp. (2.5g) Salt
NUTRITION INFORMATION
Nutrition Facts
Calories per serving (kcal)
205.3
Carbohydrates (g)
7.7
Proteins (g)
5.1
Fat (g)
17.1
Dietary Fiber (g)
0.9
Calcium (mg)
24.8
Iron (mg)
1.1
Sodium (mg)
276.7
Good to Know Nutrition Facts!
The addition of carrots in your lumpia shanghai gives an additional Vitamin A necessary for eye health and a healthy immune system.
Preparation time: 20 minutes
Cooking time: 20 minutes
Procedure
MIX. In a bowl, combine onion, garlic, singkamas, carrots, celery, ground pork, egg, soy sauce, salt, pepper and AJI-NO-MOTO®. Mix well.
WRAP. Spoon 1 tablespoon of the mixture and place it on a lumpia wrapper and wrap.
FRY. In a hot pan with oil, fry the lumpia until it turns golden brown.
SERVE.  Drain and transfer to a serving platter. Serve while hot.
Makes 13 servings
Serving size: 3 pcs. (75g)
Cooking Tips
Brush the sides of your lumpia wrapper with water to ensure that your lumpia mixture is securely wrapped.
Product Used