LUNCHEON MEAT SUSHI RECIPE
AJI-NO-MOTO® UMAMI SEASONING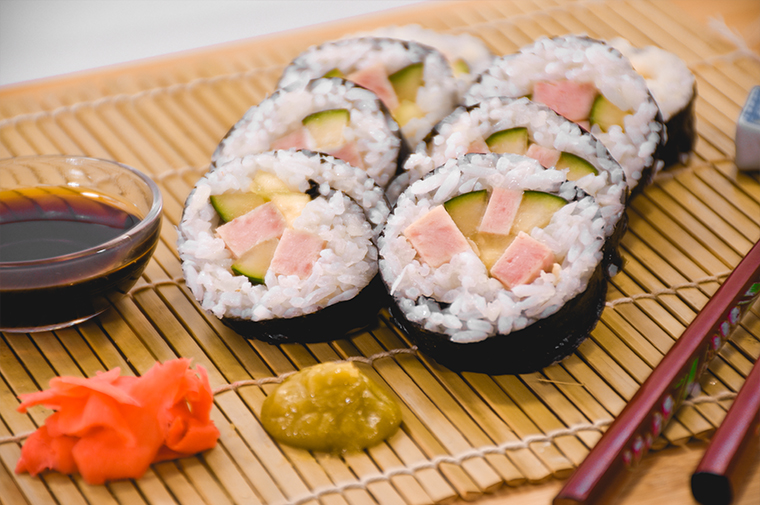 Ingredients
4 cups (680 grams) Rice, regular, cooked
2 teaspoons (10 grams) AJI-NO-MOTO® Umami Seasoning
1/3 cup (100 ml) Soy Sauce, light
1/2 cup (120 grams) Sugar, refined, white
2 grams 2 (grams)  AJI-NO-MOTO® Umami Seasoning
4 sheets (4 grams) Nori (Seaweed sheets)
1/2 cup (70 grams) Cucumber, strips
1/2 cup (161 grams) Luncheon Meat, sliced
5 tablespoons (75 grams) Mayonnaise, real
NUTRITION INFORMATION
Nutrition Facts
Calories per serving (kcal)
412.3
Carbohydrates (g)
56.9
Proteins (g)
6.9
Fat (g)
17.1
Dietary Fiber (g)
0.9
Calcium m(g)
29.2
Iron (mg)
1.7
Sodium (mg)
908.9
Good to Know Nutrition Facts!
To enjoy healthier version of luncheon meat, you can opt to use "lite" luncheon meat which has 33% less calories, with 50% less fat compared to the original luncheon meat.  (USDA)
Preparation time: 30 minutes
Preparation
SEASON cooked rice with AJI-NO-MOTO® and set aside. Mix soy sauce, sugar, and AJI-NO-MOTO® , stir well until dissolved then set aside.
ASSEMBLE AND ROLL sushi starting with the Nori sheet. Spread sushi rice on the Nori sheet leaving 1″ for
sealing. Add cucumber, luncheon meat and mayonnaise. Roll tightly.
SLICE AND SERVE with soy sauce dip.
Makes 6 servings
Serving size: 1 pc (167g) Sushi Roll
Cooking Tips
You can steam or pan fry your luncheon meat for a tastier filling.
Product Used