MEATBALL RICE BOWL RECIPE
SARSAYA® OYSTER SAUCE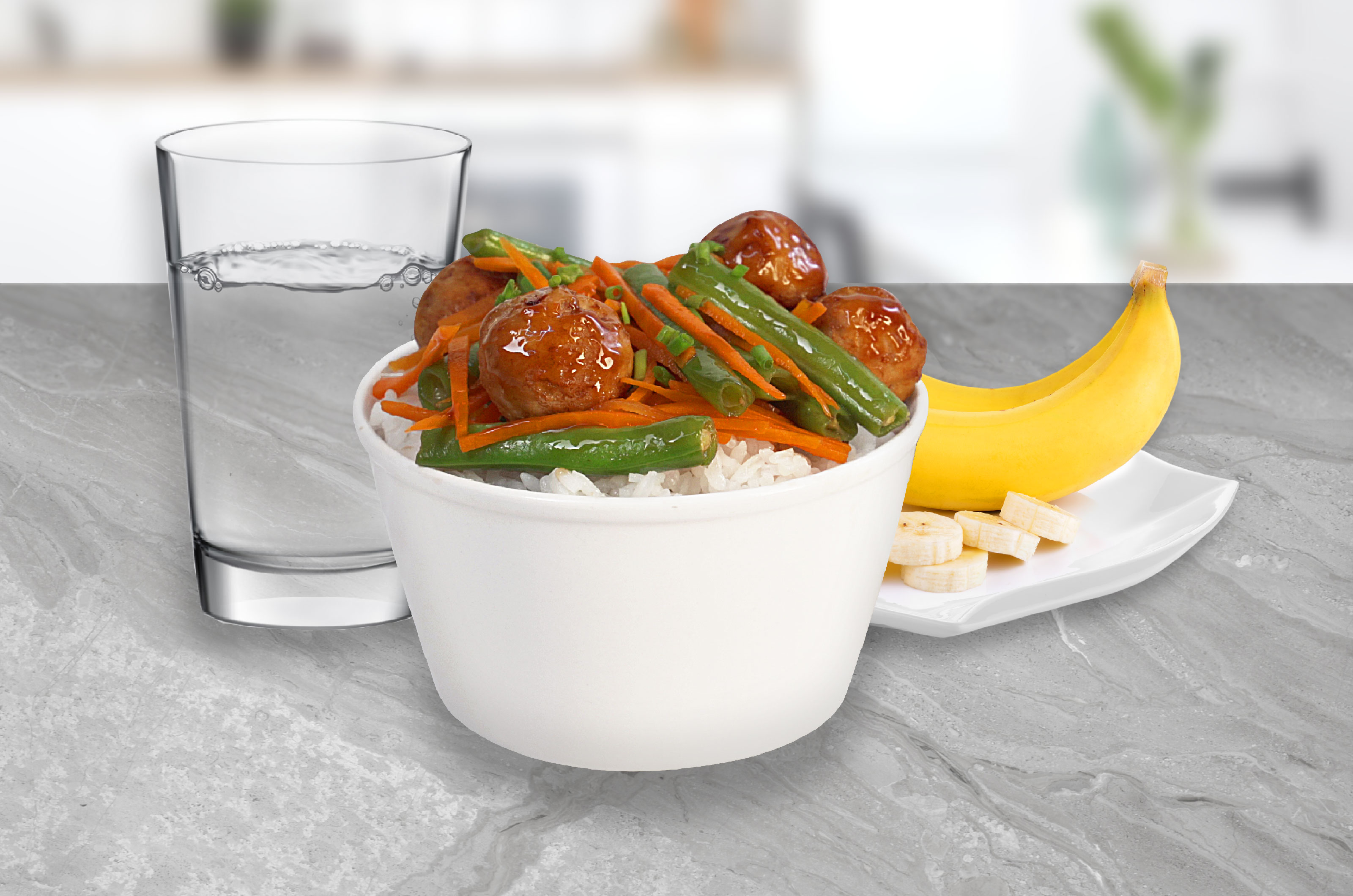 Ingredients
3/4 cup (180g) Ground chicken
3 Tbsps (45g) Red onions, minced
1 Tbsp (15g) Garlic, minced
2 Tbsps (30ml) Cooking oil
3 cups (500g) Carrots, julienned
3 cups (500g) French/green beans, cut into 2″ length
1 Tbsp (15ml) Soy sauce
1 pack (30ml) SARSAYA® Oyster Sauce
1 Tbsp (15g) Brown sugar
1/2 cup (110ml) Water
6 cups (1020g) Rice, boiled
NUTRITION INFORMATION
Nutrition Facts
Calories per serving (kcal)
707.2
Carbohydrates (g)
133.8
Proteins (g)
21.1
Fat (g)
11.0
Dietary Fiber (g)
15.2
Calcium (mg)
391.8
Iron (mg)
7.1
Sodium (mg)
526.5
Good to Know Nutrition Facts!
Adding vegetables to your meatballs helps normalizing bowel movement because of its high fiber content.
Preparation time: 15 minutes
Cooking time: 25 minutes
Procedure
MIX. In a bowl, mix ground chicken, onions, and garlic. Roll into 20g balls and set aside.
FRY. In a saucepan, heat oil. Fry meatballs until brown. Set aside.
SIMMER. In the same pan, toss carrots and french beans. Add soy sauce, SARSAYA® Oyster Sauce, brown sugar, and water. Simmer for 1 minute. Add meatballs and simmer for another 2 minutes.
SERVE. Transfer to a serving bowl. Serve with rice.
Makes 4 servings
Serving size: 4 pcs (60g) Meatballs w/ 3 Tbsps  (40ml) Sauce + 1 1/2 cup (250g) Vegetables + 1 1/2 cup (250g) Rice
Cooking Tips
You can use an ice cream scooper to have uniform-sized meatballs. You may also add 1 pc of Banana (120g) to complete the Pinggang Pinoy® Meal.
Product Used