MISWA PATOLA RECIPE
AJI-NO-MOTO® UMAMI SEASONING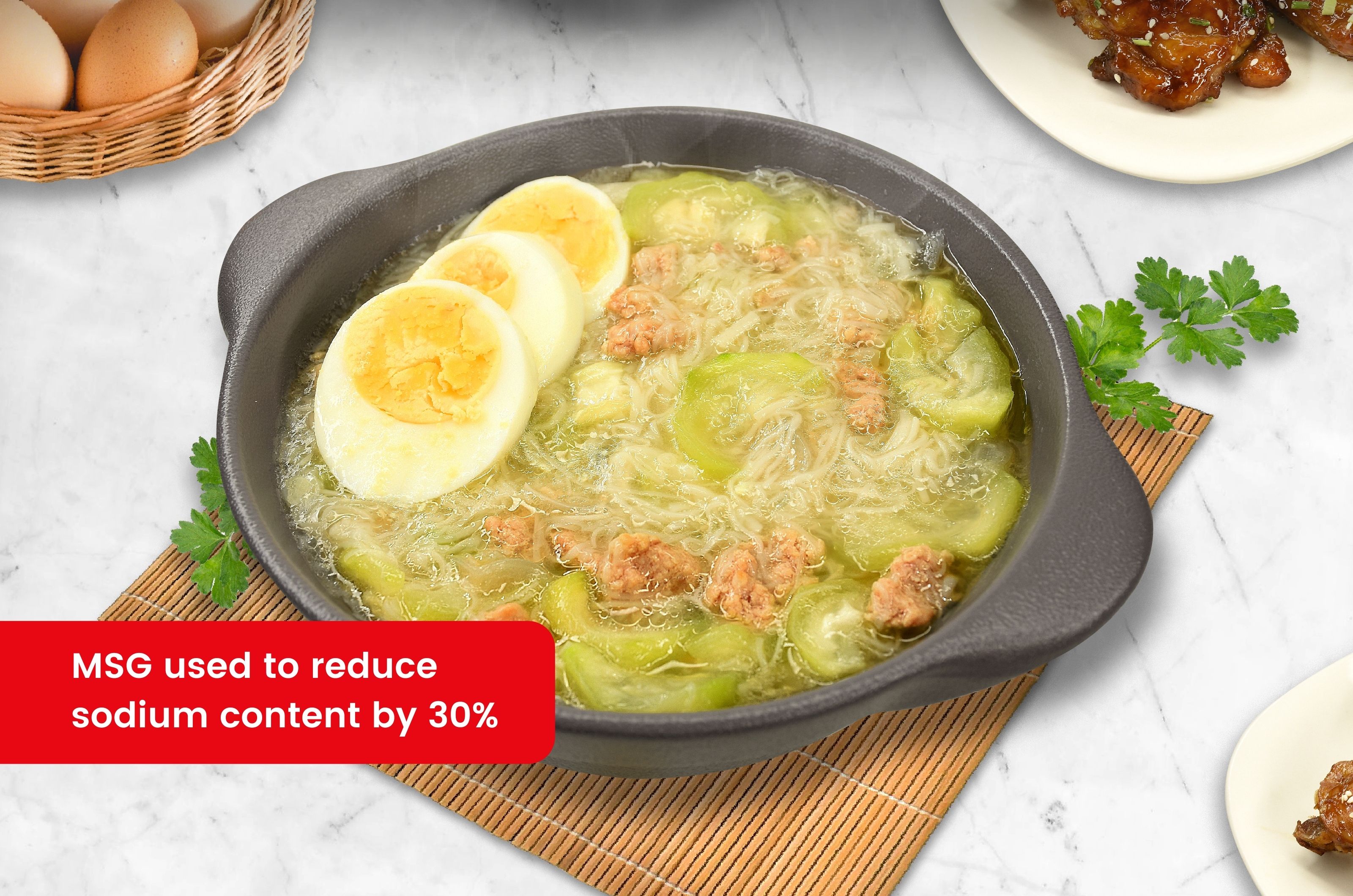 Ingredients
2 Tablespoons (30 ml) Cooking oil
1/4 cup (60 grams) Onions, thinly sliced
2 Tablespoons (30 grams) Garlic, chopped
1/4 kilo (250 grams) Pork, ground
3 cups (750 ml) Water
1 cup (60 ml) Misua
1/4 kilo (250 grams) Patola, sliced
1/2 pack (5.5 grams) AJI-NO-MOTO® Umami Seasoning
2 teaspoons (10 ml) Fish sauce
1/4 tsp (0.5 grams) Pepper, black, ground
6 pieces (360 grams) Eggs, boiled, peeled, sliced
1/4 cup (30 grams) Spring onions, chopped
Reduced sodium by 30%
Original sodium content: 1/4 cup (55 ml) Fish sauce
NUTRITION INFORMATION
Nutrition Facts
Calories per serving (kcal)
154.5
Carbohydrates (g)
5.9
Proteins (g)
8.2
Fat (g)
10.9
Dietary Fiber (g)
0.7
Calcium (mg)
36.1
Iron (mg)
1.7
Sodium (mg)
284.1
Good to Know Nutrition Facts!
Rice noodles (Misua) is rich in Selenium . It acts as an antioxidant in your body to help reduce the risk of chronic diseases such as heart disease and cancer.
Preparation time: 20 minutes
Cooking time: 25 minutes
Procedure
SAUTÉ. In a pan, heat oil. Sauté onion and garlic. Add pork and continue cooking for 5 minutes.
SIMMER. Add water, miswa and patola, simmer for 5 minutes.
SEASON. Season with AJI-NO-MOTO®  add fish sauce and pepper, mix well. Add boiled eggs.
SERVE. Transfer to a serving plate and top with spring onions. Serve and enjoy.
Makes 13 servings
Serving size: 1/2 cup (92 grams)
Cooking Tips
Fry Pork Belly on one side until well browned about 3 minutes, then turn and fry for another 2 minutes, same thing with bacon strips in order to achieve ideal crsipiness of the meat.
Choose pork belly instead of pure lean meat so that you don't need to add oil when cooking your meat. Pork Belly's fats also enhance the taste of the dish.
Product Used