MONGGO GUISADO RECIPE
AJI-NO-MOTO® UMAMI SEASONING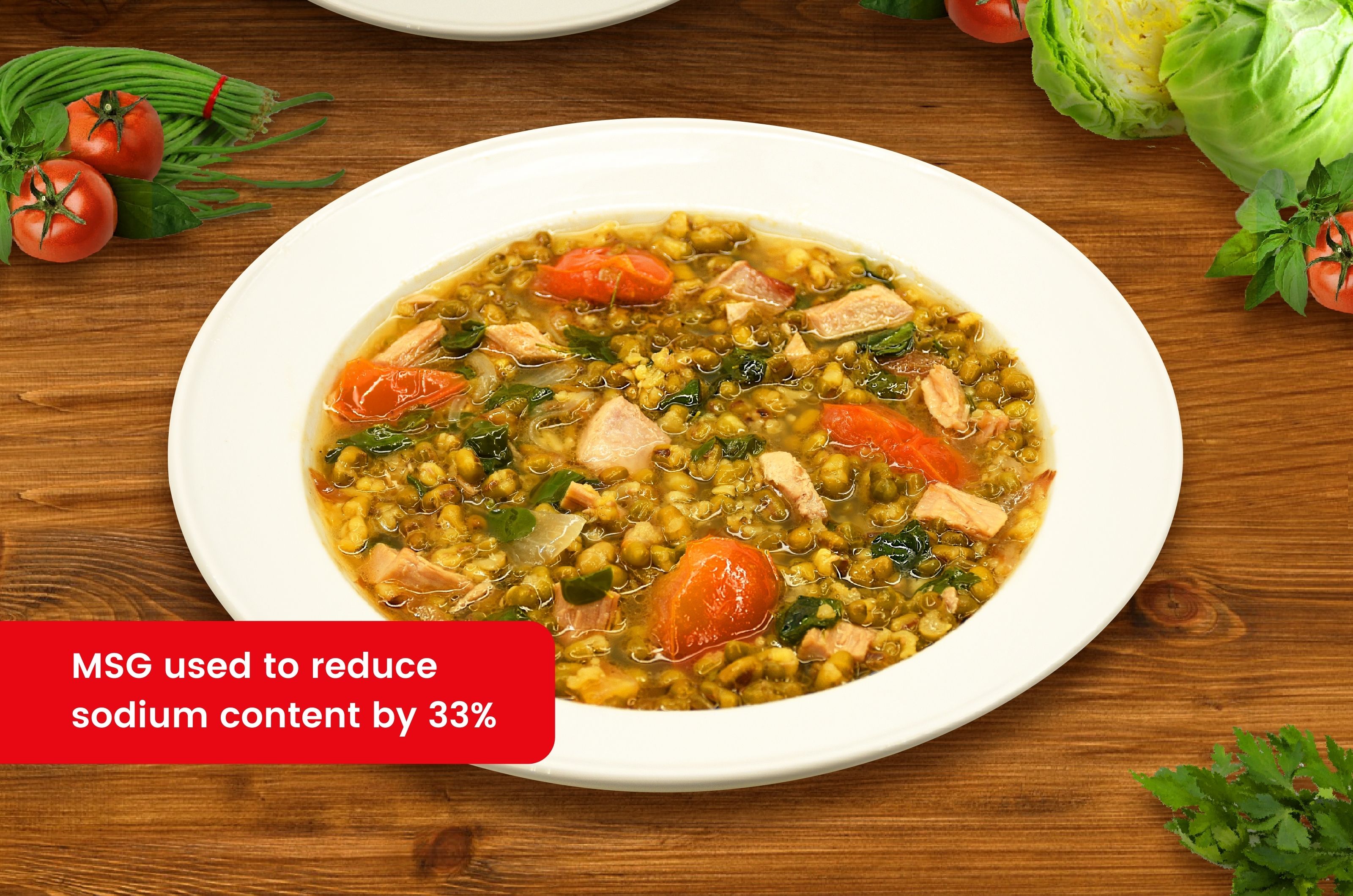 Ingredients
2 Tablespoons (30 ml) Cooking oil
1/4 cup (60 grams) Onions, sliced
1 Tablespoon (15 grams) Garlic, minced
1/2 cup (120 grams) Tinapa, flaked
1 cup (240 grams) Tomatoes, diced
1 1/4 cups (300 grams) Mung beans, soaked in 3/4 cup water
1 Tablespoon (15 ml) Fish sauce
2 cups (500 ml) Water
1/2 pack (5.5 grams) AJI-NO-MOTO® Umami Seasoning
1/8 teaspoon (0.25 grams) Pepper, black, ground
1 bunch (50 grams) Malunggay leaves, well-cleaned
Reduced sodium by 33%
Original sodium content: 1/4 cup (55 ml) Fish sauce
NUTRITION INFORMATION
Nutrition Facts
Calories per serving (kcal)
83.8
Carbohydrates (g)
6.3
Proteins (g)
6.4
Fat (g)
3.6
Dietary Fiber (g)
1.4
Calcium (mg)
64.0
Iron (mg)
1.4
Sodium (mg)
272.8
Good to Know Nutrition Facts!
Mung beans contain soluble fiber and resistant starch, which can promote digestive health.
Preparation time: 15 minutes
Cooking time: 25 minutes
Procedure
SAUTÉ. In a pan heat oil, sauté onion and garlic until onions become soft. Add tinapa flakes and tomatoes continue cooking for another minute.
SIMMER. Add mung beans, fish sauce and water. Cover and cook for 15-18 minutes. Add more water if necessary.
SEASON. Add AJI-NO-MOTO®, pepper and malunggay leaves, mix well and cook for another minute.
 SERVE. Transfer to a serving bowl, serve and enjoy.
Makes 10 servings
Serving size: 1 cup (130 g)
Cooking Tips
To avoid undercooked mung beans, soak them in water for several minutes prior to cooking.
Product Used