NACHO CUPS
AJI-NO-MOTO® UMAMI SEASONING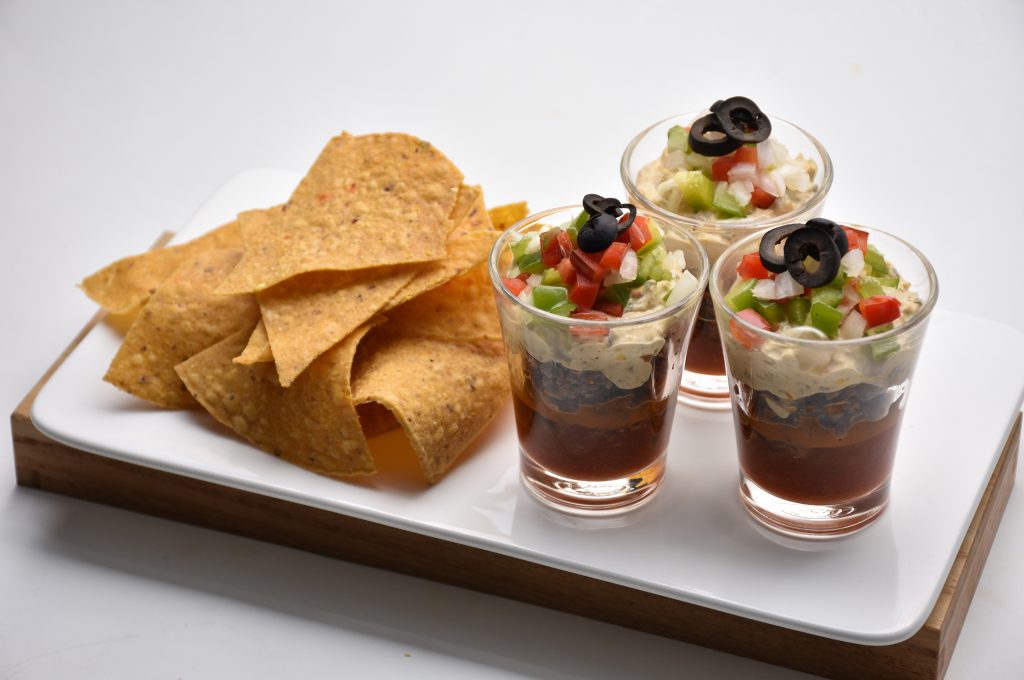 Ingredients
2 Tbsps (30ml) Cooking Oil
1/2 cup (150g) Ground Beef
1 pack (11g) AJI-NO-MOTO® Umami Seasoning
2 tsps (5g) Barbecue Spice Powder
1/2 cup (125ml) Tomato Salsa – bottled
1/2 cup (125ml) Artichoke Dip – bottled
1/4 cup (50g) Red Bell Pepper
1/4 cup (50g) Green Bell Pepper
1/4 cup (50g) White Onion
1 Tbsp (15g) Sliced Olives
10 cups (300g) Nacho Chips
NUTRITION INFORMATION
Nutrition Facts
Calories per serving
307.6 Calories
Carbohydrates (g)
25.2 grams
Proteins (g)
8 grams
Fat (g)
18.8 grams
Dietary Fiber (g)
4.2 gram
Calcium m(g)
100.1 milligrams
Iron (mg)
1.2 milligrams
Sodium (mg)
422.9 milligrams
Good to Know Nutrition Facts!
Beef is rich in protein, iron and Vitamin B12
Preparation
Makes: 10 servings
Procedure:

For the Dipping Sauces: COMBINE red chili paste, pineapple juice, honey, sesame oil, ginger and garlic ,blend well then set aside. On a separate bowl mix in soy sauce, honey, sesame oil, sesame seeds and red chili paste then add onion leeks and set aside.
PREPARE pork belly by rubbing one pack of AJI-NO-MOTO® Umami Seasoning on each meat strips .
HEAT grill pan on medium-high heat or prepare an outdoor grill. Cook the pork until grill marks appear, about 3 minutes per side.
CREATE lettuce cup, spoon some kimchi at the center of a lettuce leaf, top with a few pieces of pork, some chiles sauce, beansprout then sprinkle with onion and fold.
ENJOY
Cost
Recipe Cost: Php 332.20
Cost per Serving: Php 33.22
Cooking Tips
Carefully stack tomato salsa, ground beef and artichoke dip on the glass cup for a more aesthetic appeal.
Product Used