NACHO CUPS RECIPE
AJI-NO-MOTO® UMAMI SEASONING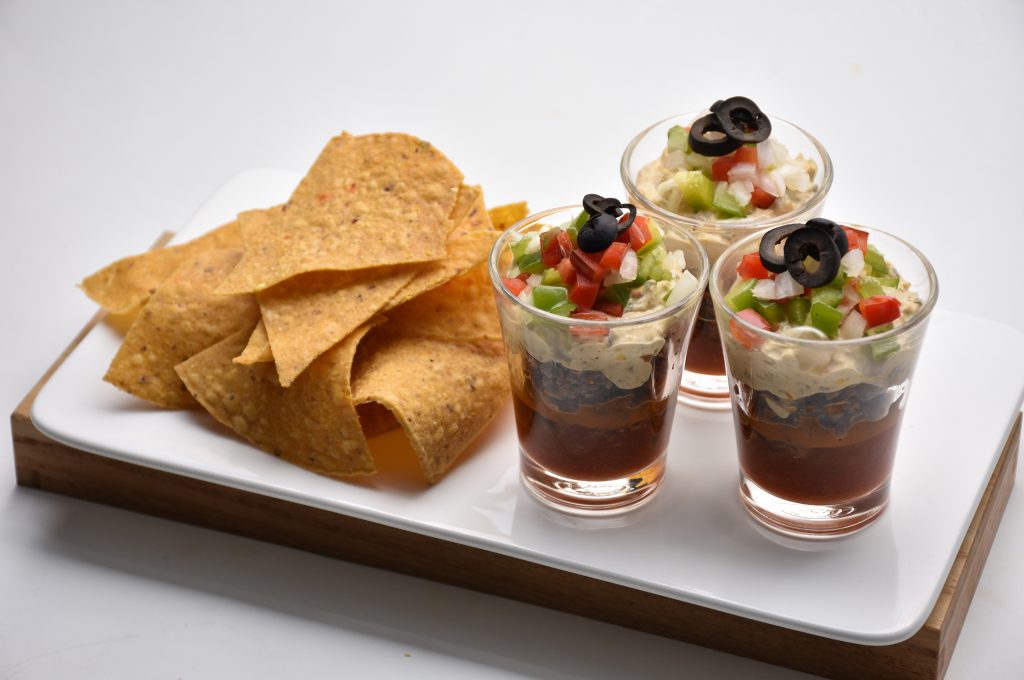 Ingredients
2 Tbsps (30ml) Cooking Oil
1/2 cup (150g) Ground Beef
1 pack (11g) AJI-NO-MOTO® Umami Seasoning
2 tsps (5g) Barbecue Spice Powder
1/2 cup (125ml) Tomato Salsa – bottled
1/2 cup (125ml) Artichoke Dip – bottled
1/4 cup (50g) Red Bell Pepper
1/4 cup (50g) Green Bell Pepper
1/4 cup (50g) White Onion
1 Tbsp (15g) Sliced Olives
10 cups (300g) Nacho Chips
NUTRITION INFORMATION
Nutrition Facts
Calories per serving
307.6
Carbohydrates (g)
25.2
Proteins (g)
8
Fat (g)
18.8
Dietary Fiber (g)
4.2
Calcium m(g)
100.1
Iron (mg)
1.2
Sodium (mg)
422.9
Good to Know Nutrition Facts!
Beef is rich in protein, iron and Vitamin B12
Preparation time: 5 minutes
Cooking time: 10 minutes
Procedure
SAUTÉ. In a pan, heat oil. Saute ground beef. Season with AJI-NO-MOTO® and Barbecue Spice Powder. Set Aside.
ASSEMBLE. In a glass cup, assemble tomato salsa, ground beef, artichoke dip, bell peppers, white onions, and olives.
SERVE. Serve Nachos with nacho cup dip.
Makes 10 servings
Serving size: 1/4 cup (70g) Dip & 1 cup (30g) Nachos
Cooking Tips
Carefully stack tomato salsa, ground beef and artichoke dip on the glass cup for a more aesthetic appeal.
Product Used