NASI LEMAK RECIPE
AJI-NO-MOTO® UMAMI SEASONING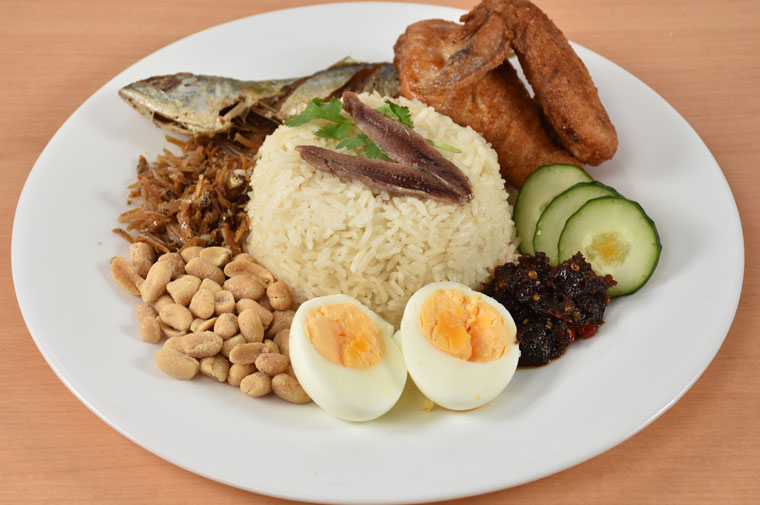 Ingredients
2 cups, 4000g Rice, long grain
1 can, 400ml Coconut Milk
1 pack, 8g CHICKENSAVOR® All-in-one Seasoning Mix
2 pcs, 8g Pandan Leaves
2 stalks, 12g Lemongrass
2 tablespoons, 30g CRISPY FRY® Breading Mix (Original)
1/2 tablespoon, 3g Paprika
4 pcs, 120g Chicken, wings or legs
1 cup, 240ml Cooking Oil
2 pcs, 60g Hasa-hasa
1 cup, 240ml Oil
1/2 cup, 30g Dilis
1/4 cup, 60g Oil
2 tablespoons, 30g Shallots, chopped
1 tablespoon, 15g Shrimp Paste
2 tablespoons, 5g Dried Chillies or Chillie Flakes
1 tablespoon, 15g Garlic, chopped
1 tablespoon, 15g Onion
1/2 tablespoon, 15g Tamarind Paste
2 pcs Eggs, boiled cut into halves
2 tablespoons, 30g Peanuts, adobo
1/2 cup, 52g Cucumber, sliceds
NUTRITION INFORMATION
Nutrition Facts
Calories per serving (kcal)
3394.4
Carbohydrates (g)
86.9
Proteins (g)
39.9
Fat (g)
320.4
Dietary Fiber (g)
3.5
Calcium m(g)
 289.1
Iron (mg)
16.7
Sodium (mg)
2277.7

Nutrition Tips
Spicy food has long been known for its health promoting properties and chilli, reduces inflammation increases metabolism, strengthens the immune system and helps fight diseases thru Capsaicin that it contains.Populations that have more spices in their diet have even shown to have less cases of cancer.Capsaicin is an alkaloid responsible for the spicy, burning taste of chili peppers.
Reference: https://www.purelyb.com/be-nourished/nutrition/the-healthy-truth-about-nasi-lemak
Preparation and Cooking time: 1 hour
Procedure
MIX rice in coconut milk,add CHICKENSAVOR®, pandan and lemongrass,mix well and set aside.
COMBINE CRISPY FRY® (Original) and paprika , coat chicken pieces and deep fry ; set aside.
DEEP-FRY fish and dilis ; set aside.
SAUTÉ shallots, shrimp paste, chilli, garlic, and onion in hot oil . Add tamarind paste,mix well to make a sambal sauce. Set aside.
ASSEMBLE a cup of coconut rice on the center of the plate then surround it with fried chicken, fish, dilis, sambal sauce, hard boiled egg, peanuts and cucumber.
SERVE and enjoy!
Makes 10 servings
Serving size: 1 cup (195g) Rice, 2 pc (60g) Wings, 1 pc (30g) Fish, 1/4 cup (15g) Dilis, 1 pc (45g) Hardboiled Egg, 1 tablespoon (20g) Sambal Sauce, 1/4 cup (26g) Cucumber, 1/4 cup (15g) Peanuts
Cooking Tips
In making your Sambal Sauce,you can adjust the spiciness level according to your taste preference . Soak dried chillies in warm water for 5 minutes to soften and drain.Use as desired.
Product Used