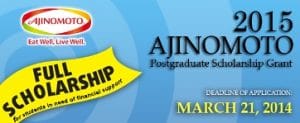 Annually, AJINOMOTO PHILIPPINES CORPORATION (APC) gives deserving Filipino students, who are in need of financial support, a chance to pursue Postgraduate education at the prestigious University of Tokyo in Japan. The chosen candidate can major in any field of science and technology and either: 1) enroll first in a one-year research program and then continue on to a two-year master's program, or 2) directly enroll in a two-year master's program.
APC already sent four (4) Filipino scholars to Japan since the Scholarship Grant was first awarded to Ms. Giselle Grace Lim in the year 2010. Ms. Lim graduated with a Master's degree in applied biological chemistry. The following years, both Ms. Karen Tan and Mr. Melvin Charles Dy were given opportunities to pursue graduate degrees in natural products chemistry and applied computer studies, respectively.
The last Filipino scholar sent to Japan is Mr. Rogie Royce Carandang, a graduate of Industrial Pharmacy and Public Health from the University of Philippines, Manila. Mr. Carandang claims he was indeed blessed to have been admitted in what he considers the best University in Asia. He is now a research student at the University's Graduate School of Agricultural and Life Sciences. Apart from learning from the best instructors, he is also given access to research facilities, exclusive science conferences and other learning opportunities.
For interested applicants, log on to www.ajinomoto.com.ph for more details on the scholarship grant. Deadline for applications is on March 21, 2014. For inquiries, contact Ms. Pinky Yu at telephone numbers (02) 890-6329, 895-6081 to 89 local 346, fax number (02) 897-5766 or email address pinky_yu@ajinomoto.com.