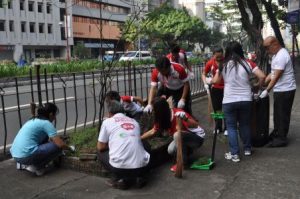 Employee-volunteers from Ajinomoto Philippines Corporation clean the immediate surroundings of their office during the recently conducted Linis Serbisyo ng Ka-Aji 2011.
More than a hundred employees of Ajinomoto Philippines Corporation (APC) Head Office volunteered to be part of the Linis Serbisyo ng Ka-Aji 2011 and clean select areas along Sen. Gil Puyat Avenue and Jupiter Street in Makati City.
Headed by APC President Taro Fujie, the employees swept the streets, picked up litters, and segregated and disposed garbage properly. After the clean-up, a total of 146 kilograms of non-recyclable items and 10 kilograms of recyclable items were collected.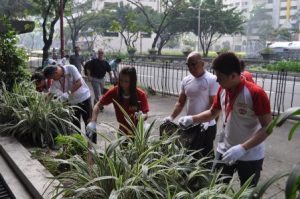 "I volunteered because cleaning up is a simple thing that I can do for the environment, yet it is very important. Clean surroundings can help reduce flooding and it can also prevent diseases from spreading," explained Johnny Urbano from the APC Finance Department.
"Maintaining clean surroundings sounds so simple, but many people find it hard to do. While many of us are aware of the negative effects of climate change, not all of us will do something about it," said President Fujie. "Through the Linis Serbisyo ng Ka-Aji 2011, APC wants to reinforce to its employees the importance of doing our own share of preserving our environment. This activity also teaches us that when we work together, our efforts can have a greater impact to the environment," he continued.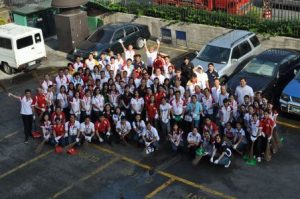 Since 2008, APC has been implementing the Linis Serbisyo ng Ka-Aji program. It is APC's participation to Ajinomoto Group's Smile Earth! Program, a global campaign which addresses issues on environment, with the aim of contributing to the local community and to the society.