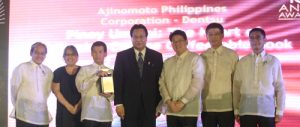 Chief Justice Renato Corona and PRSP Officers Jones Campos (first from left) and Butch Raquel (first from right) presented the Anvil Award to Ajinomoto Philippines President Katsuaki Ogawa (third from left), Director for Marketing and Public Relations Takashi Sakurai (sixth), Pinoy Umami Editor-in-Chief Eugene Imm (fifth) and Dentsu Philippines President Nonna Nañagas (second).
AJINOMOTO PHILIPPINES CORPORATION won an Anvil Award of Excellence and a Bronze Anvil for the coffee-table book Pinoy Umami: The Heart of Philippine Cuisine in the 46th Anvil Awards held on February 18 at the Edsa Shangri-La Hotel.
The coffee-table book was launched in November 2009 to commemorate the 100th year anniversary of AJI-NO-MOTO Umami Seasoning and celebrate the unique and delicious food culture of the Philippines. The book is the first of its kind to explore and document the history, cultural heritage, and diversity of the many regions of Philippine cuisine that give it such distinctly delectable taste. The book boasts of a collection of essays by award-winning Filipino culinary writers such as Corazon S. Alvina, Dez G. Bautista, Alex Castro, etc. and delves into the culture and history of Philippine Cuisine spanning the whole nation.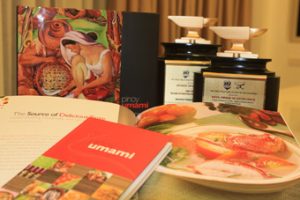 Award-winning Pinoy Umami Coffee Table Book
The book won the Anvil Award of Excellence for "documenting the diverse heritage of Philippine cuisine, creatively highlighting umami-rich recipes through the lens of the Press Photographers of the Philippines and insightful articles of respected personalities."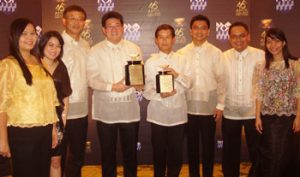 Ajinomoto Philippines Corporation proudly showcased the two Anvil trophies during the awarding ceremony
Moreover, the Pinoy Umami coffee-table book was also awarded the Bronze Anvil, the highest recognition given to PR tools, along with GMA Network's cinematic production of the Lupang Hinirang and ABS-CBN's 10.10.10 Run for Pasig River. Pinoy Umami was chosen "for uniquely chronicling Filipino taste and kitchen, in various culinary regions, highlighting customs and traditions as seen in our culinary heritage, and presenting rich visual illustrations of the Philippines through the lenses of the Press Photographers of the Philippines, thereby contributing to enhancing the image of the Filipino and the Philippines."
The Anvil Awards are presented by the Public Relations Society of the Philippines (PRSP), the country's premier organization for PR professionals. The panel of judges consisted of prominent names in various sectors of the society, with Chief Justice Renato Corona as the Chairman of the Board of Jurors.
Pinoy Umami is available at Powerbooks, FULLY BOOKED and National Book Store. It comes with a recipe book entitled Pinoy Umami Recipes, which has 100 recipes with classic standards like Tinolang Manok to regional delicacies like Tamales.