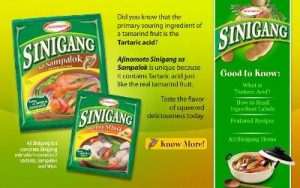 A hot soup is the ultimate companion in this cold December air and so we bring to you the timely release of the new AJINOMOTO SINIGANG Brand Site https://www.ajinomoto.com.ph/sinigang/index.html.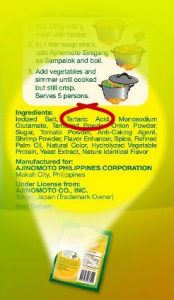 AJI-SINIGANG LabelSinigang is one of the most famous Filipino recipes and is said to be eaten in Filipino households on an average of 66 times a year. Like most Sinigang cooks, you want to harness the fruity and sour flavor of real sampalok/tamarind, this can be achieved through AJI-SINIGANG. While other sinigang mix brands use citric acid, AJI-SINIGANG uses tartaric acid as its primary souring agent, similar to the real sampalok fruit.
AJI-SINIGANG is a complete sinigang mix that comes in two (2) variants Sinigang sa Sampalok and Sinigang na may Miso.
The brand site offers new Sinigang recipes that you and your family will surely love. Aside from classic Filipino recipes, you will discover for yourself more ways to enjoy the sour and fruity goodness of AJI-SINIGANG.
In line with Ajinomoto's culinary nutrition advocacy which promotes cooking with culinary confidence and nutrition alertness, each Sinigang recipe comes with "Eat Well, Live Well." Facts. This portion includes Nutrition Information Per serving (NIP) for the readers to be aware of the food's nutritional value and other helpful hints in preparing deliciously healthy dishes for your family.
Come and have a feast with AJI-Sinigang's Recipes!