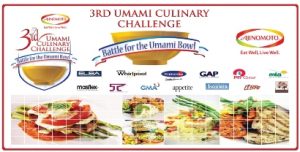 The foremost culinary competition for aspiring Filipino chefs dubbed as "the Ajinomoto 3rd Umami Culinary Challenge (3rd UCC): Battle for the Umami Bowl", welcomed thousands of visitors at the SMX Convention Center last January 20, 2012. The annual event was a big success as it features over 300 student-competitors from universities, colleges and culinary schools in Metro Manila and nearby provinces. Giving credence to the affair are renowned culinary greats who graced the event as judges, speakers and cooking demonstrators.
Food journalist, television host, culinary researcher, and Filipino food promoter, Ms. Nancy Reyes-Lumen, served as the UCC Competition Director for three (3) years. She said "The Umami Culinary Challenge (UCC) continues to be the "first base" for HRA and culinary school students in the field of cooking competitions. The UCC gives them the confidence and added skills they need to be globally competitive. Thus, the trend continues for UCC to combine the elements of fun and competitiveness with education and knowledge in umami. Win or lose, the participants walk away with a big smile and a healthy mind. All in all, the UCC was, is and will always be a big "malinamnam success!"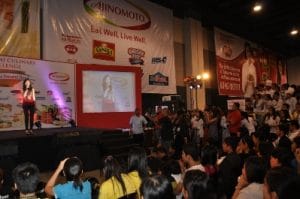 Pop Princess and AJI-GINISA endorser Sarah Geronimo performs before a crowd of culinary students and other guests during the the 3rd Umami Culinary Challenge Awarding Ceremony
The highlight of the whole day event is the Awarding Ceremony hosted by Ms. Suzi Entrata-Abrera. Ajinomoto Executives opened the program with a special recognition to Philippine Culinary Icon, Ms. Nora Daza, for her significant contributions in the Food Industry. Mr. Taro Fujie, President of AJINOMOTO PHILIPPINES CORPORATION, gave his welcome remarks to congratulate all participants. Wild cheers and applause met Ms. Sarah Geronimo's memorable performance as the Popstar delivers inspiration and motivation to all guests and participants.
Miriam College bagged the Umami Bowl Award for garnering the highest average score in major competition categories including the Umami Feature Writing Contest: Dr. Ikeda Award. The school brought home an Elba Kitchen Showcase on top of other prizes courtesy of AJINOMOTO PHILIPPINES CORPORATION. Mr. John Paul Ventura of Jose Rizal University was awarded the Umami Master title after delighting the judges with his umami masterpiece which he named "Pan-Seared Salmon w/ Veggie Rolls and Micro Green Salad in Spicy Coconut Sauce".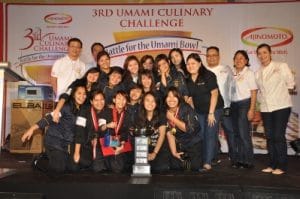 Umami Bowl Winner Miriam College with presenters (from left to right) Ajinomoto Director Mr. Takashi Sakurai, Ajinomoto President Mr. Taro Fujie, 3rd UCC Head Chef Russell Bautista, 3rd UCC Competition Director Ms. Nancy Reyes-Lumen, Judge and Cooking Demonstrator Chef Rosebud Benitez
Mr. John Paul Ventura of Jose Rizal University is the Umami Master 2012 with presenters
Other big winners are Lyceum of the Philippines Manila as it topped the Umami Bento and Mystery Umami Ingredient categories. Centro Escolar University got the first place in the Amazing AJI-GINISA Race and the Umami Buzz Jeopardy Challenge. Trinity University of Asia came out first in the Prep, Shake and TakTakTak competition, De La Salle Araneta University won the Plate-My-Dish competition and Appetite Magazine's Capture Umami Challenge (Food Photography Contest) while College of the Holy Spirit received the special award "Media's Choice for Best Plated Umami Bento". The top three (3) culinary schools that competed for the 5-Ingredient-Umami-Healthy Dish competition are: Global City Innovative College, American Hospitality Academy and MOST Institute Culinary School.
All winners in the Ajinomoto 3rd Umami Culinary Challenge received cash prizes, medals and various cooking implements from Ajinomoto and valued event sponsors namely Elba, Whirlpool/Fujidenso, PR Gaz, Meat and Livestock Australia, Masflex and Appetite Magazine. Other event partners are GMA 7, Philippine Daily Inquirer and PR Moms Network.