ORIENTAL CHICKEN PASTA RECIPE
SARSAYA® OYSTER SAUCE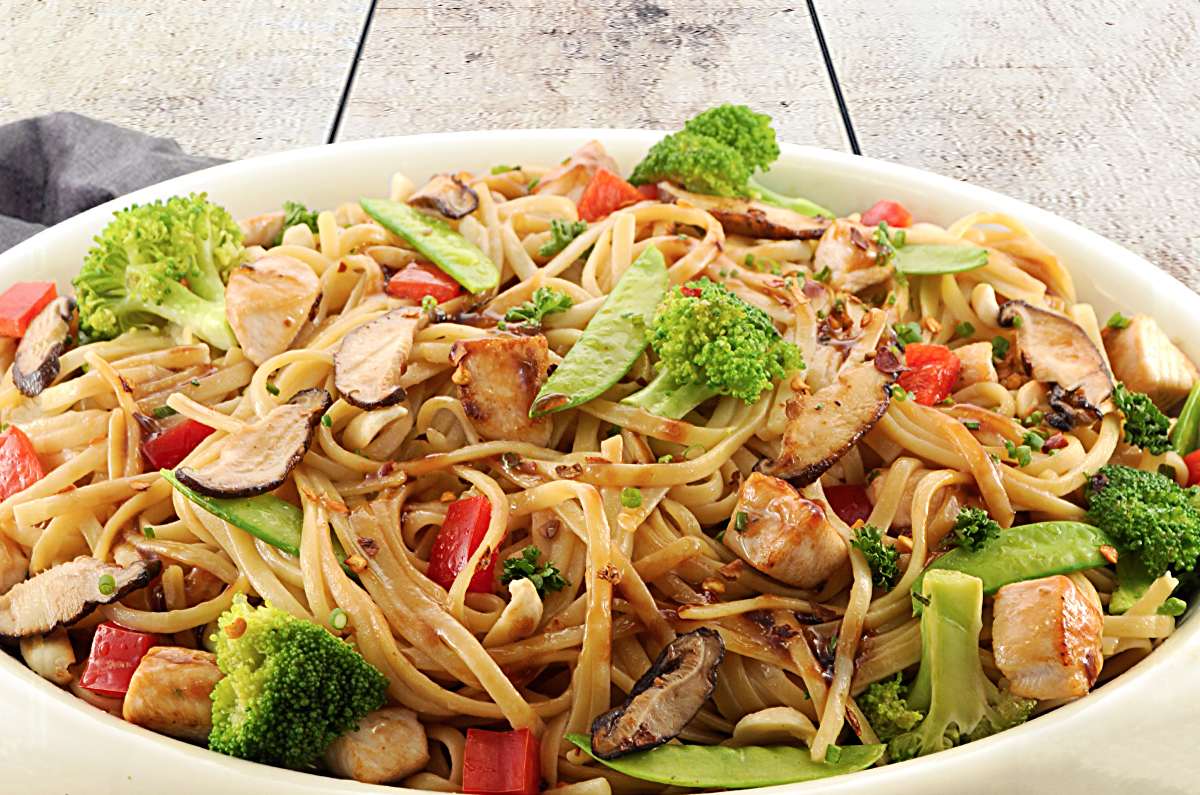 Ingredients
2 tablespoons Vegetable oil
1 cup Onions, chopped
1/4 cup Garlic, minced
1 3/4 cups Chicken breast fillet, cubed
1 1/2 cups Fresh shiitake mushrooms, sliced
1/2 cup Peanuts
1 1/2 cups Snow peas (sitsaro), trimmed
1/2 cup Red bell pepper, cubed
1 cup Water
2 packs SARSAYA® Oyster Sauce (30g pack)
2 tablespoons Cheddar cheese, grated
1/2 cup Honey
900 grams Linguini, cooked al dente
2 cups Broccoli flowers, steamed for 3 minutes
3 tablespoons Spring onions, chopped
1 cup Parsley, chopped
1/4 teaspoon Dried chili pepper flakes
1 tablespoon Sesame oil
NUTRITION INFORMATION
Nutrition Facts
Calories per serving
649
Proteins (g)
 28.4
Fat (g)
17.8
Dietary Fiber (g)
7.1
Calcium (mg)
200
Iron (mg)
5.4
Sodium (mg)
728.9
Preparation & Cooking time: 25 minutes
Procedure
HEAT. In a saucepan, heat oil and then sauté onion and garlic.
ADD. Add chicken and cook until it changes color.
ADD. Add shiitake mushrooms, peanuts, snow peas and red bell pepper.
SIMMER. Pour in water, let boil, then simmer.
ADD. Add SARSAYA® Oyster Sauce, cheddar cheese and honey.
ADD & TOSS. Add cooked linguine noodles and broccoli. Toss and combine well.
ADD, MIX & SERVE. Add spring onions, parsley, dried chilli pepper flakes and sesame oil. Combine well. Mix well and serve.
Makes 5 servings
Cooking Tips
Do not throw away the water used for cooking the pasta and add it to the sauce instead. The starch in this pasta water can help thicken the sauce and give it better texture.
Product Used