ORIENTAL CHICKEN RECIPE
AJI-NO-MOTO® UMAMI SEASONING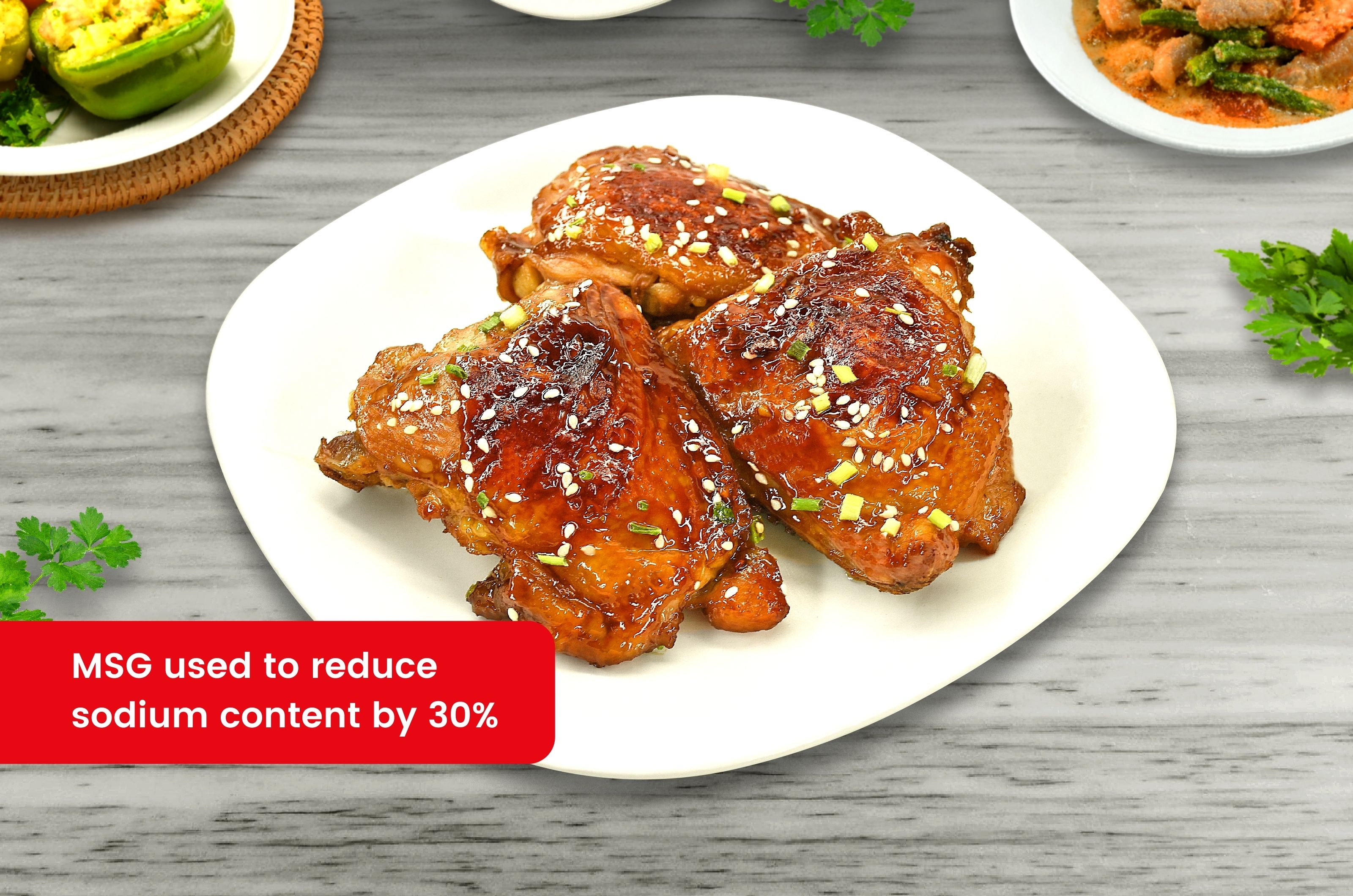 Ingredients
1 kilo (1000 grams) Chicken thighs, bone-in
1/4 cup (60 ml) Soy sauce, light
1/2 cup (100 ml) Honey
1/4 cup (50 ml) Lemon juice
2 Tablespoons (30 grams) Garlic, minced
1 Tablespoon (15 grams) Ginger, minced
1 pack (11 grams) AJI-NO-MOTO® Umami Seasoning
3 Tablespoons (45 ml) Cooking oil
1/2 cup (120 ml) Water
Reduced sodium by 30%
Original sodium content: 1/2 cup (146 ml) Soy sauce
NUTRITION INFORMATION
Nutrition Facts
Calories per serving (kcal)
188.5
Carbohydrates (g)
6.7
Proteins (g)
17.1
Fat (g)
10.3
Dietary Fiber (g)
0.9
Calcium (mg)
16.4
Iron (mg)
1.1
Sodium (mg)
379.7
Good to Know Nutrition Facts!
Chicken is rich in Niacin which may help lower cholesterol, ease arthritis and boost brain function.
Preparation time: 40 minutes
Cooking time: 25 minutes
Procedure
MARINATE. In a bowl, add chicken thigh, soy sauce, honey, lemon juice, garlic, ginger, and AJI-NO-MOTO®. Stir to mix it well. Marinate chicken for at least 30 minutes.
DRAIN. Using a strainer/colander, drain the marinade leaving only the chicken thigh. Reserve the marinade for the sauce.
SEAR. In a pan, heat oil. Sear chicken thigh on all sides until lightly browned.
SIMMER. Pour the marinade and add 1/2 cup water. Simmer for 5-8 minutes.
SERVE. Transfer to a plate. Serve and enjoy.
Makes 12 servings
Serving size: 1/2 cup (104 grams)
Cooking Tips
When simmering, use gradual or low heat in order to avoid burnt taste and aroma of the sauce.
Product Used