Pasta in Squid Ink Sauce
AJI-NO-MOTO® UMAMI SEASONING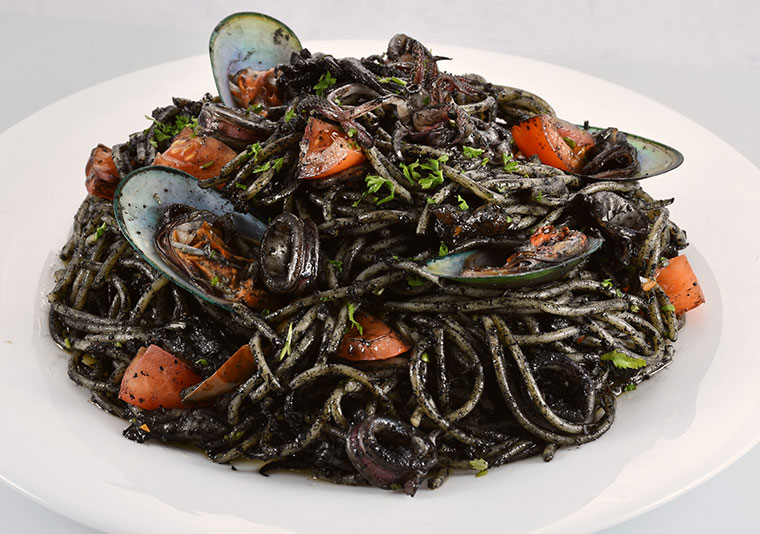 Ingredients
1/2 kilogram Pasta
1 cup (250ml) Oil
1/2 cup (52g) Garlic
1 cup (220g) Tomato
1/4 cup (30g) Coriander
1 pc (1g) Chillies
1/2 cup (60ml) Red Wine
2 tablespoons (30g) Squid Ink
1 cup (185) Squid
2 cups (20pcs, 1200g) Mussel
1 teaspoon (2g) Pepper
1 tablespoon (15g) Fish Sauce
1 pack (12g) AJI-NO-MOTO® Umami Seasoning
Preparation
Makes: 10 servings
Size per serving: 1 cup (150g)
Procedure:
BOIL pasta in boiling water according to the package instructions. Drain and set aside.
SAUTE & SIMMER. In a seperate hot pan, pour cooking oil and saute garlic for 2-3 minutes until fragrant then add tomato, corriander, chillies, red wine and squid ink. Let it simmer for about 2-3 minutes. Add squid and mussel, cover for about 5 minutes until the shell opens completely.
SEASON with ground pepper, fish sauce and AJI-NO-MOTO® Umami Seasoning.
SERVE by mixing the cooked pasta and sauce.
Cost
Recipe Cost: Php 516.94
Cost per Serving: Php 51.69
Cooking Tips
In this dish you can dirzzle lemon juice to remove the fishy smell and it will also add citrus taste.
NUTRITION INFORMATION
Nutrition Facts
Calories per serving
 532 Calories
Carbohydrates (g)
34.7 grams
Proteins (g)
20.7 grams
Fat (g)
34.3 grams
Dietary Fiber (g)
 1.9 gram
Calcium m(g)
249 milligrams
Iron (mg)
5.5 milligrams
Sodium (mg)
792.2 milligrams
Good to Know Nutrition Facts!
Pasta can be a good substitute to rice. 1/2 cup of rice is equivalent to 1 cup of Pasta!
Product Used