PASTIL & LAWOT LAWOT RECIPE
CHICKENSAVOR™ ALL-IN-ONE SEASONING MIX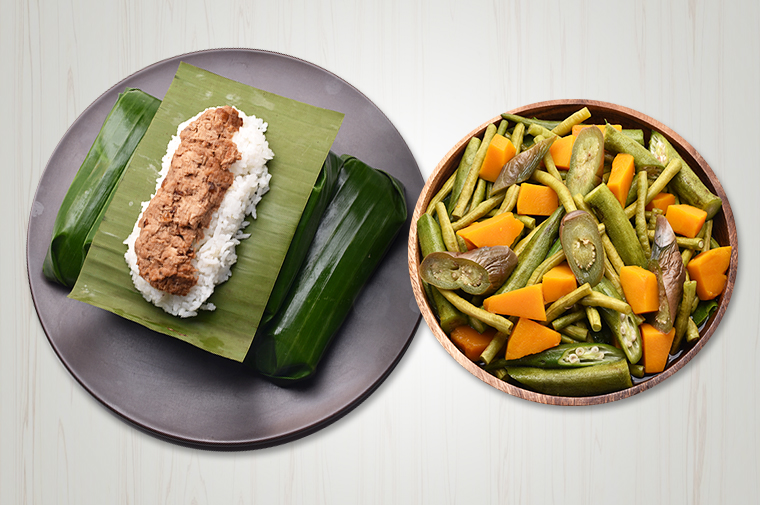 Ingredients
PASTIL
2 Tbsps (30ml) Cooking Oil
2 Tbsps (20g) Red Onion, chopped
1 Tbsp (12g) Garlic, minced
2 cups (400g) Chicken Breast, boiled, flaked
1 Tbsp (15ml) Soy Sauce
1 Tbsp (15ml) White Vinegar
1 pack (30g) SARSAYA® Oyster Sauce
1 tsp (3g) Ground Black Pepper
5 cups (850g) Cooked Rice
5 sheets Banana Leaves
LAWOT LAWOT
1 1/4 liters (1250ml) Water
1 cup (200g) Okra
2 cups (160g) String Beans, cut into 1″ length
1 cup (130g) Squash, cubed
2 cups (160g) Eggplant, wedges
2 cups (70g) Saluyot leaves
1 pack (8g) CHICKENSAVOR™ All-in-one Seasoning Mix
NUTRITION INFORMATION
Nutrition Facts
Calories per serving
456.9
Carbohydrates (g)
64.6
Proteins (g)
24.6
Fat (g)
10.8
Dietary Fiber (g)
 5.1
Calcium m(g)
231
Iron (mg)
4.7
Sodium (mg):
808.8
Good to Know Nutrition Facts!
Using lean chicken meat (chicken breast) provides enough protein with lower fat content.
Preparation time: 20 minutes
Cooking time: 30 minutes
Preparation
SAUTÉ. In a pan, heat oil. Saute onion, garlic, and flaked chicken. Add soy sauce, vinegar and SARSAYA® Oyster Sauce. Add ground black pepper. Simmer for 5 minutes then set aside.
WRAP. On a banana leaf, assemble rice and sauteed flaked chicken. Fold 4 sides to wrap and seal tightly. Set aside.
BOIL. To cook Lawot Lawot, boil water in a pot, add okra, string beans, squash, eggplant and saluyot leaves. Season with CHICKENSAVOR™ 
SERVE Pastil with Lawot Lawot and enjoy.
Makes 5 servings
Meal Serving Idea: Pastil: 1/2 cup chicken, 1 cup rice, Lawot Lawot: 1 cup vegetables, 1 cup soup
Cooking Tip
For a more sticky and firmer rice, you can mix 50% regular rice and 50% malagkit rice.
Product Used