PESANG BANGUS RECIPE
AJI-NO-MOTO® UMAMI SEASONING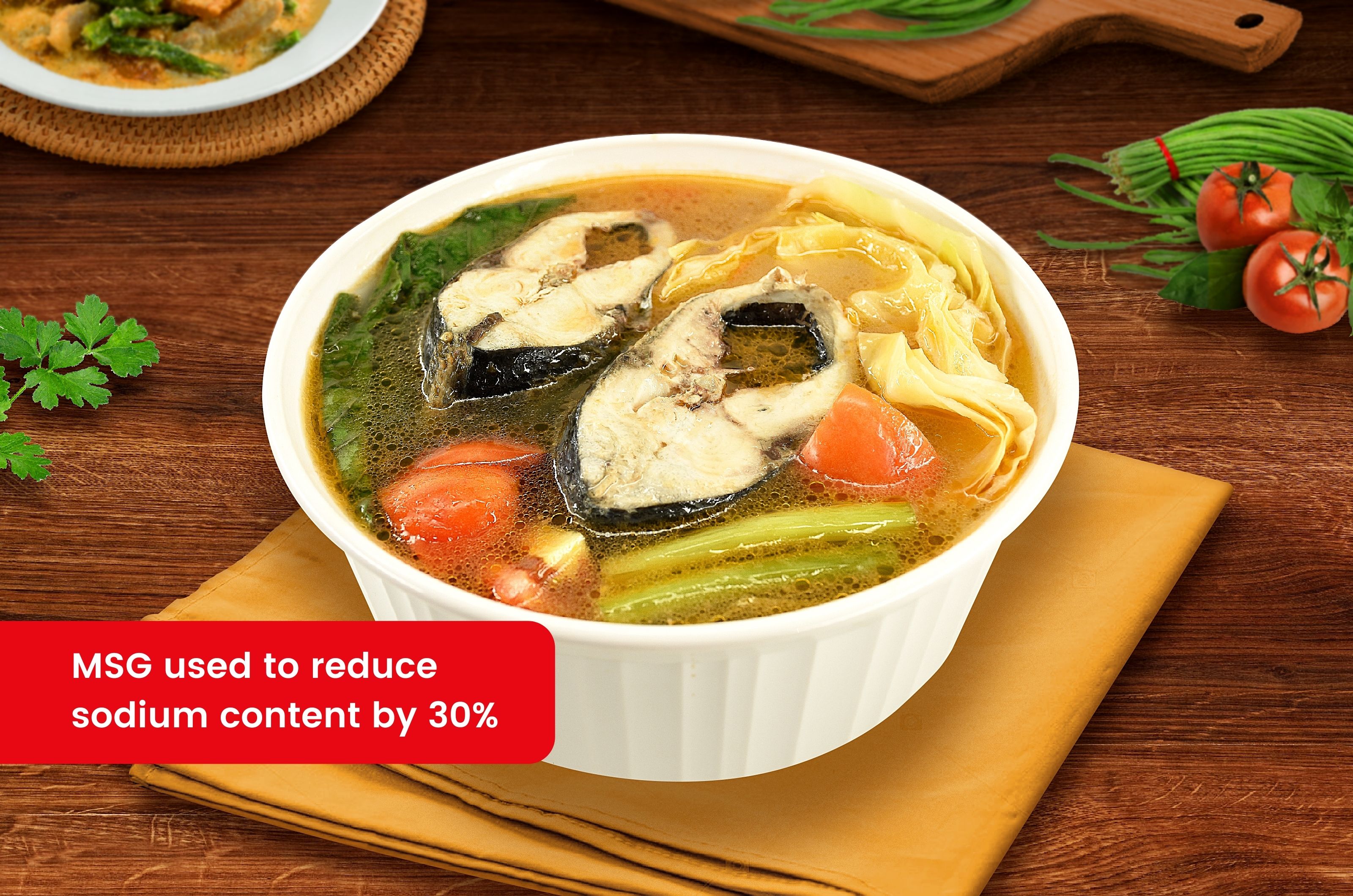 Ingredients
2 Tablespoons (30 ml) Cooking oil
1/4 cup (60 grams) Onions, chopped
2 Tablespoons (30 grams) Garlic, chopped
1 Tablespoons (15 grams) Ginger, sliced
1/4 cup (60 grams) Tomatoes, diced
1/2 kilo (500 grams) Bangus, cut into serving size
1 Liter (1000 ml) Rice washing
1 teaspoon (2.5 grams) Black peppercorns
2 cups (150 grams) Cabbage, sliced
2 cups (50 grams) Pechay, sliced
1 pack (11 grams) AJI-NO-MOTO® Umami Seasoning
2 teaspoons (10 ml) Fish sauce
1 stalk (10 grams) Onion leeks, chopped
Reduced sodium by 30%
Original sodium content: 2 1/2 teaspoons (12.5 g) Salt
NUTRITION INFORMATION
Nutrition Facts
Calories per serving (kcal)
119.7
Carbohydrates (g)
4.2
Proteins (g)
11.2
Fat (g)
6.5
Dietary Fiber (g)
0.7
Calcium (mg)
73.6
Iron (mg)
1.9
Sodium (mg)
339.8
Good to Know Nutrition Facts!
The Omega-3 content of milkfish is excellent for the heart, for arthritis, for the nerves, and for the brain.
Preparation time: 10 minutes
Cooking time: 10 minutes
Procedure
SAUTÉ. – In a pan heat oil, sauté onion, garlic, ginger and tomatoes. Pour in rice washing and simmer.
SIMMER. Add Bangus and peppercorns. Simmer for 10 minutes. Add cabbage and pechay and cook for another 1-2 minutes.
SEASON. Sprinkle 1 pack of AJI-NO-MOTO®, add fish sauce, and mix well.
SERVE. Transfer to a serving bowl, top with onion leeks, serve and enjoy.
Makes 10 servings
Serving size: 1 cup (132 g)
Cooking Tips
You can use bok choy instead of green cabbage or napa cabbage. Napa cabbage has the same cooking time as bok choy's.
Product Used