PESANG TILAPIA RECIPE
AJI-NO-MOTO® UMAMI SEASONING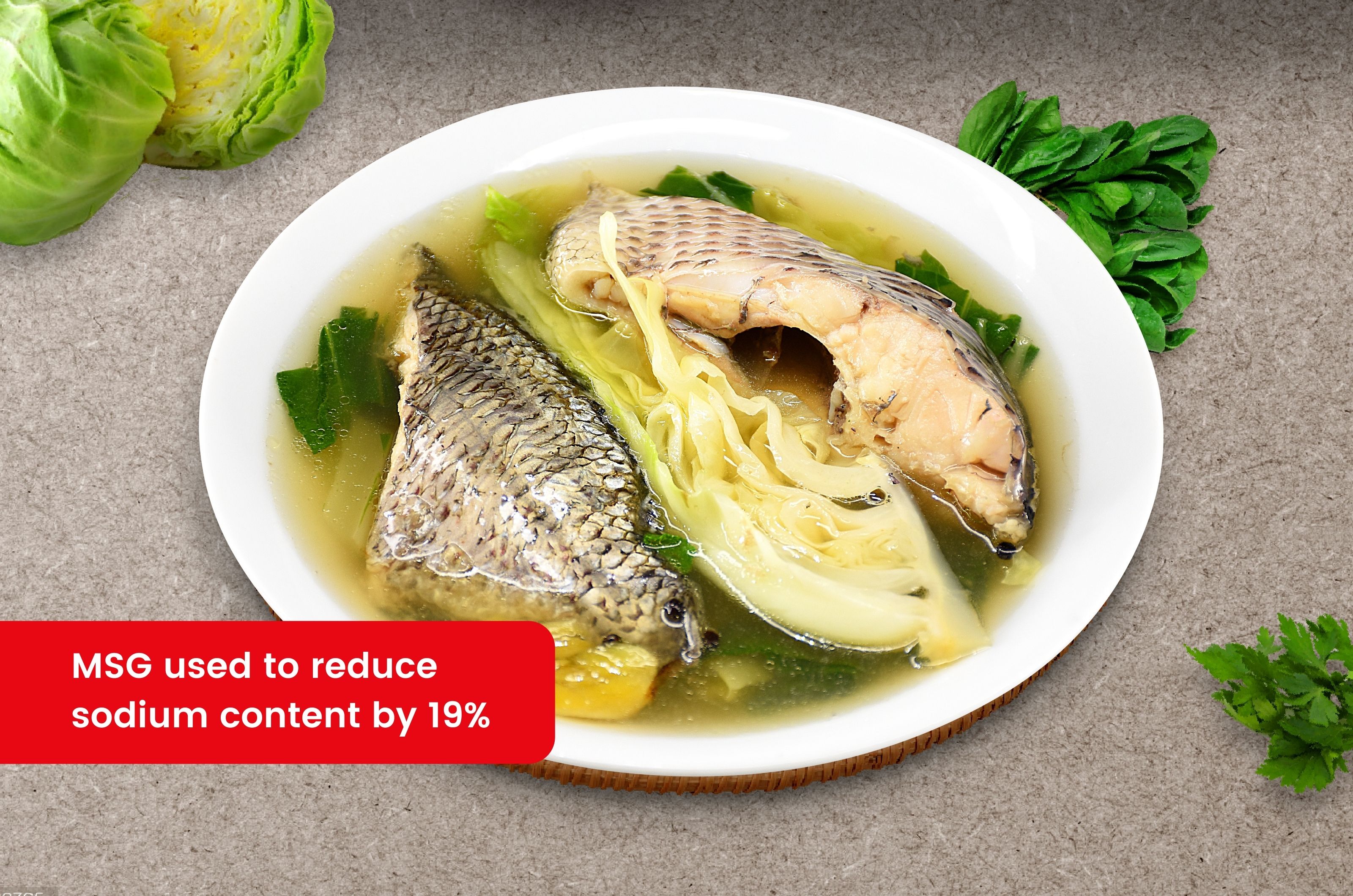 Ingredients
1 Tablespoon (15ml) Cooking oil
1/4 cup (35g) Onion, sliced
1 Tablespoon (12g) Ginger, crushed
2 Tablespoons (30g) Garlic, minced
4 cups (1000ml) Water
1 cup (40g) Onion leeks, sliced
1 kilo (1000g) Tilapia
1 teaspoon (2.5g) Peppercorns, black
1/2 pack (5.5g) AJI-NO-MOTO® Umami Seasoning
3 cups (159g) Cabbage, sliced
3 cups (310g) Pechay, sliced
5 teaspoons (20ml) Fish sauce
Reduced sodium by 30%
Original sodium content: 5 1/2 teaspoons (53 ml) Fish sauce
NUTRITION INFORMATION
Nutrition Facts
Calories per serving (kcal)
235.0
Carbohydrates (g)
5.0
Proteins (g)
33.0
Fat (g)
9.0
Dietary Fiber (g)
3.0
Calcium (mg)
243.0
Iron (mg)
4.0
Sodium (mg)
381.0
Good to Know Nutrition Facts!
Tilapia is a good source of phosphorus which is important for bone health.
Preparation time: 5 minutes
Cooking time: 15 minutes
Procedure
SAUTÉ. In a hot pot, pour oil and sauté onion, ginger, and garlic.
BOIL. Add water, onion leeks, and Tilapia. Cover and let it boil for a few minutes. Lower down the fire.
SEASON. Add peppercorn and season with AJI-NO-MOTO®. Mix well.
SIMMER. Add cabbage and pechay. Simmer for a minute. Add patis to taste.
SERVE. Serve and enjoy.
Makes 6 servings
Serving size: 1 slice (70g) Tilapia + 1/2 cup (45g) Vegetables
Cooking Tips
Tilapia can be grilled, baked, broiled, sautéed, pan-fried or steamed. The bitter-tasting skin should be removed, either before cooking or before serving.
Product Used