PHO GA RECIPE
CHICKENSAVOR™ ALL-IN-ONE SEASONING MIX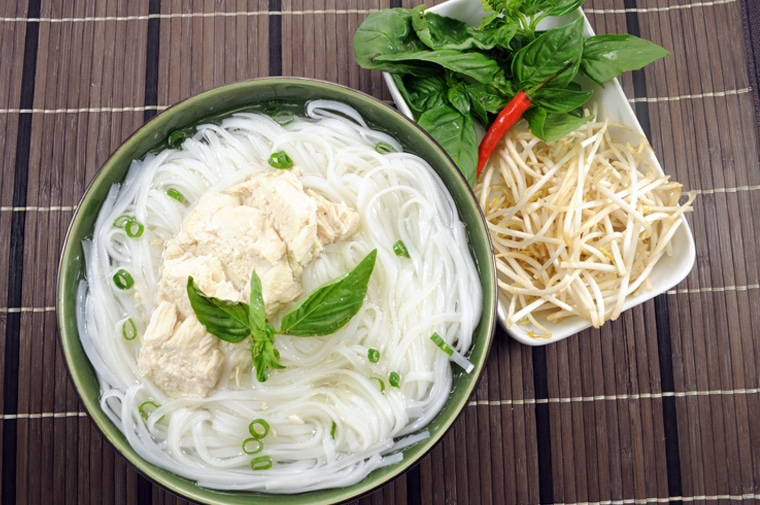 Ingredients
1/2 piece 70g Onion, white
40g Ginger, with skin
500g Chicken Breast, with bones
2 liters Water
3 tablespoons 45ml Fish Sauce
1/8 cup 8g Cilantro
250g Rice noodle, uncooked
1/8 cup 8g Bean sprout, washed
1/8 cup 5g Spring Onion
2 pieces 1g Siling Labuyo
3/4 cup 40g Basil leaves
1 pack 7g Chickensavor® All – In – One Seasoning Mix
NUTRITION INFORMATION
Nutrition Facts
Calories per Serving
305
Carbohydrates (g)
43
Proteins (g)
25
Fat (g)
4
Dietary Fiber (g)
1
Calcium (mg)
102
Iron (mg)
4
Sodium (mg)
1063
Good to Know Nutrition Tips!
This is a low fat noodle dish!
Preparation and Cooking time: 30 – 40 minutes
Procedure
ROAST. Onion and ginger directly on the flame of the stove top until charred and set aside.
BOIL and SIMMER. On a pot, pour water then add in chicken and roasted onion and garlic, bring to a boil and lower to simmer. When chicken is already cooked, remove from the soup and shred the chicken and put it back on the soup without the bones.
SEASON with Chickensavor® seasoning mix and fish sauce.
ADD. in rice noodles, cilantro, spring onion, and siling labuyo. Let it simmer until rice noodles are al dente.
SERVE with basil and bean sprout on the side. Serve hot.
Makes: 51 servings
Serving size: 1/2 cup (100g) Rice Noodles, 1 cup (240ml) Soup, 1/4 cup (60g) Bean Sprout and Basil, & 1/4 cup (60g) Chicken
Cooking Tips
You may add lime in the soup or, serve together with the basil and bean sprout on the side if more sourness is desired.
Product Used