PININYAHANG MANOK
AJI-NO-MOTO® UMAMI SEASONING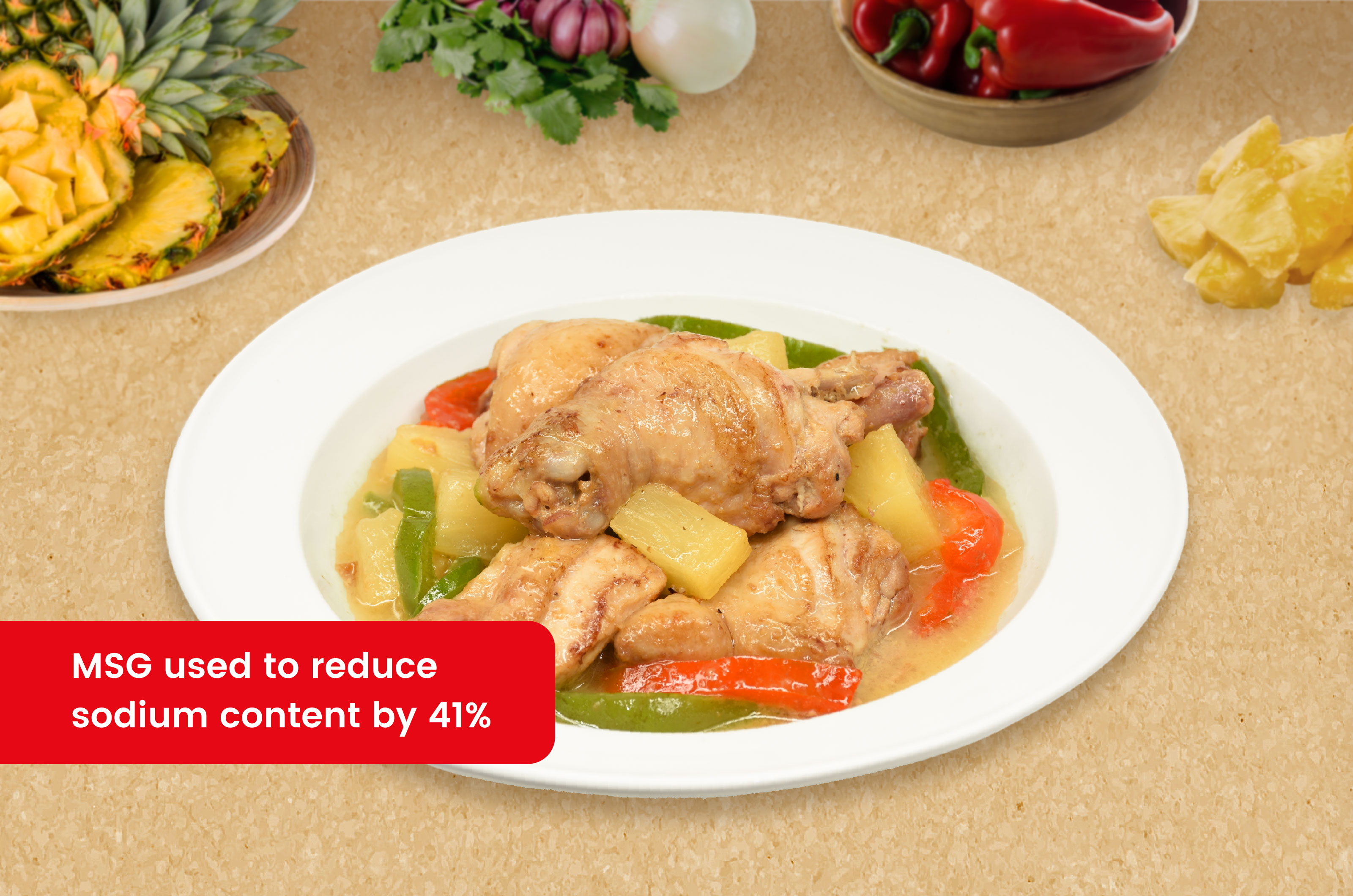 Ingredients
2 Tbsps. (30ml) Cooking oil
1/2 kilo (500g) Chicken, cut into serving portions
1/2 cup (75g) Onion, sliced
2 Tbsps. (20g) Garlic, minced
1 Tbsp. (15ml) Fish sauce
1/4 tsp. (1.25g) Pepper, ground, black
1 1/2 tsps. (7.5g) AJI-NO-MOTO® Umami Seasoning
1 cup (250ml) All-Purpose Cream
1/2 cup (125ml) Pineapple juice (reserved from drained pineapple chunks)
1 cup (100g) Carrot, wedged
1 cup (200g) Pineapple chunks
1/4 cup (40g) Red bell pepper, strips
1/4 cup (40g) Green bell pepper, strips
Reduced sodium by 41%
Original seasoning/condiment: 1 tsp. (5g) Salt, 2 Tbsps. (30ml) Fish sauce
NUTRITION INFORMATION
Nutrition Facts
Calories per serving (kcal)
379.8
Carbohydrates (g)
18.9
Proteins (g)
21.5
Fat (g)
24.2
Dietary Fiber (g)
1.5
Calcium (mg)
45.4
Iron (mg)
2.3
Sodium (mg)
367.4
Good to Know Nutrition Facts!
Pineapple is a rich source of bromelain- an enzyme that helps in breaking down Protein to ease digestion.
Preparation time: 15 minutes
Cooking time: 45 minutes
Procedure
SEAR. In a hot pan with oil, sear the chicken until its surface turns slightly brown. Set the chicken aside.
SAUTÉ. In a hot pan with the same oil, sauté onion and garlic. Add the seared chicken.
SEASON. Add fish sauce, pepper and AJI-NO-MOTO®.
SIMMER. Add all-purpose cream and pineapple juice. Stir to combine. Simmer until meat becomes tender. Add carrots and simmer for another 2 minutes. Add pineapple chunks, red and green bell pepper. Simmer for 1 minute.
SERVE. Transfer to a serving bowl. Serve while hot
Makes 6 servings
Serving size: 1/2 cup (138g)
Cooking Tips
Simmering meats in covered pans prevents meats from drying inside.
Product Used