PIZZA CRACKERS RECIPE
CHICKENSAVOR™ ALL-IN-ONE SEASONING MIX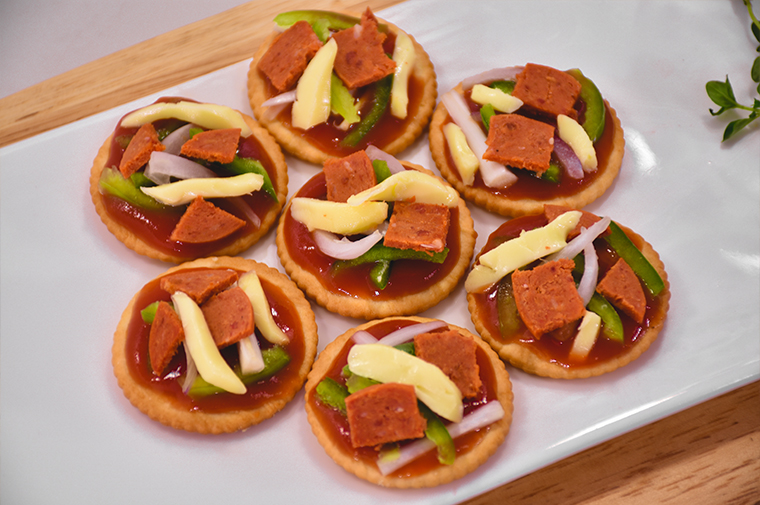 Ingredients
20 pcs (60 grams) Crackers, round, salt
1 cup (250 ml) Tomato Sauce, Filipino style
1 pack (8 grams) CHICKENSAVOR® All-in-one Seasoning Mix
1/3 cup (45 grams) Bell Pepper, green, diced
1/3 cup (47 grams) Onion, white, diced
1/3 cup (42 grams) Pepperoni, diced
1/2 cup (56 grams) Cheese, grated
NUTRITION INFORMATION
Nutrition Facts
Calories per serving (kcal)
148.9
Carbohydrates (g)
15.2
Proteins (g)
5.2
Fat (g)
7.2
Dietary Fiber (g)
0.9
Calcium m(g)
125.9
Iron (mg)
1.1
Sodium (mg)
1071.6
Good to Know Nutrition Facts!
Tomatoes & Tomato Products are the major dietary source of the antioxidant lycopene, which has been linked to many health benefits, including reduced risk of heart disease and cancer. (PIA)
Preparation time: 20 minutes
Cooking time: 10 minutes
Procedure
MIX together tomato sauce and CHICKENSAVOR® in the saucepan and let it simmer for 2 minutes. Set aside to cool down.
PAN FRY pepperoni until cooked and then set aside.
ARRANGE crackers with 1/2 tablespoon tomato sauce mixture, bell pepper, white onions, pepperoni and sprinkle grated cheese.
SERVE and enjoy!
Makes 15 servings
Serving size: 4 pcs (101.6g) Pizza Crackers
Cooking Tips
You can make cold or regular type of canape depending on the toppings that you want. It can be a fruity, meaty, saucy or creamy toppings.
Product Used