PIZZA OMELETTE RECIPE
AJINOMOTO AJI-SHIO® SEASONING MIX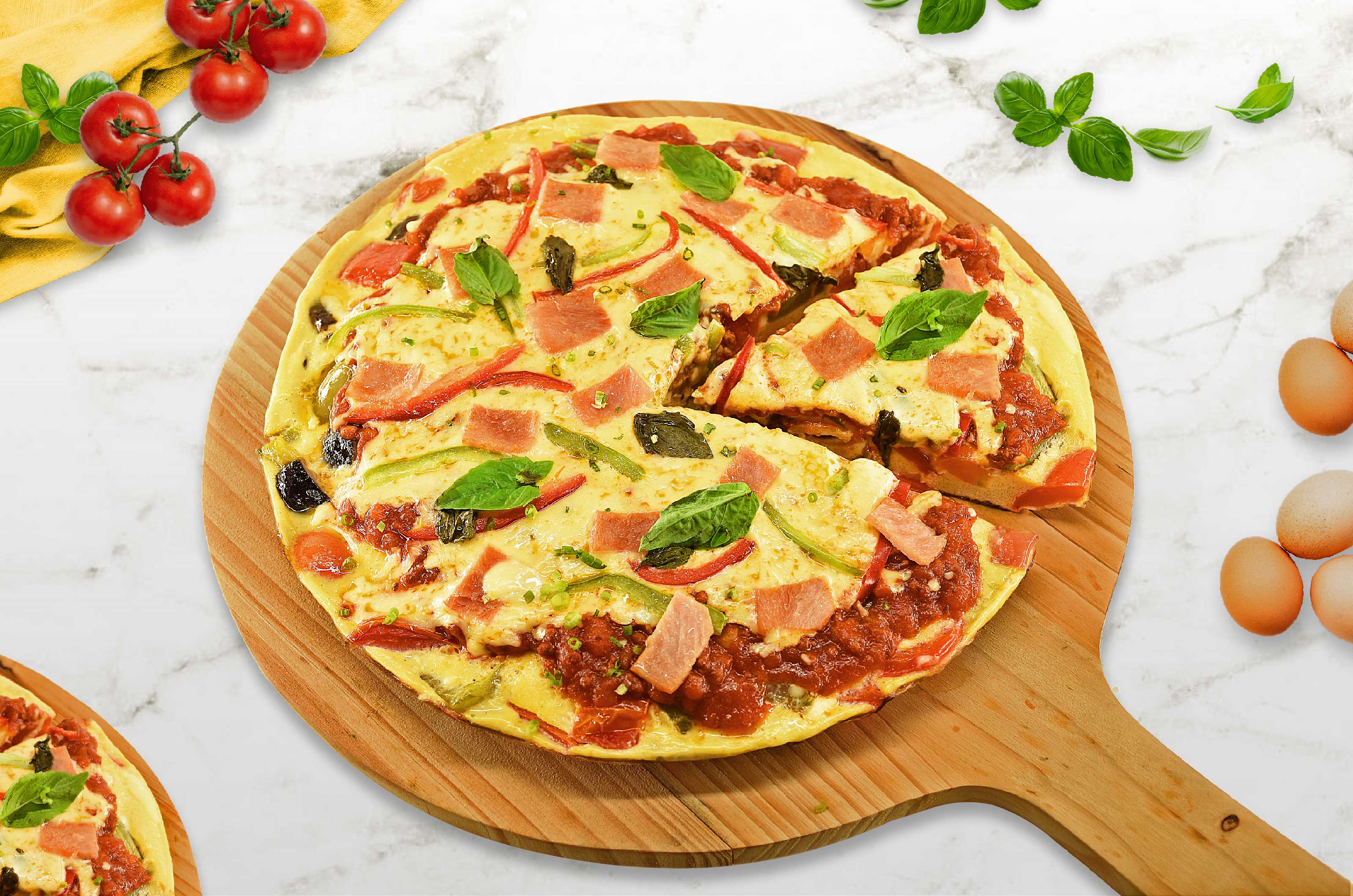 Ingredients
4 pcs (240g) Egg, beaten
1 Tbsp (15g) Red Bell Pepper, chopped
1 Tbsp (15g) Green Bell Pepper, chopped
2 Tbsps (30g) Shiitake Mushroom, chopped
1/2 pack (9g) AJI-SHIO® Pepper Seasoning Mix 
1 Tbsp (15ml) Cooking Oil,
1/2 cup (120g) Tomato Sauce, cooked
1/4 cup (60g) Cheese, grated
2 Tbsps (30g) Ham, chopped
1 Tbsp (15g) Red Bell Pepper, sliced
1 Tbsp (15g) Green Bell Pepper, sliced
NUTRITION INFORMATION
Nutrition Facts
Calories per serving (kcal)
115.1
Carbohydrates (g)
3.6
Proteins (g)
6.2
Fat (g)
8.3
Dietary Fiber (g)
0.3
Calcium (mg)
85.3
Iron (mg)
1.2
Sodium (mg)
663.3
Good to Know Nutrition Facts!
Egg yolks are good sources of Iron, Folate, and Vitamin B12 which maintains healthy red blood cells and prevent anemia.
Preparation time: 15 minutes
Cooking time: 30 minutes
Procedure
MIX. In a bowl, mix egg, red and green bell pepper, mushroom, and AJI- SHIO® (Pepper). Mix well until incorporated.
FRY. In a pan heat oil. Add all of the egg mixture. Cover the pan and allow to cook for 10-15 minutes or until it is fully firm.
ASSEMBLE. When the egg is firm enough, transfer it to a tray. Pour tomato sauce and spread across the omelette. Add grated cheese, ham, and red and green bell pepper.
BAKE. Using an oven or a toaster, bake pizza omelette for 5 minutes or until cheese is melted.
SERVE. Transfer to a plate. Serve and enjoy.
Makes 8 servings
Serving size: 1 slice (68g)
Total recipe cost: Php 99.62
Cooking Tips
Make sure to cook the omelette in low fire to avoid burning the bottom part of the omelette and leaving you with a undercooked, and jiggly omelette.
Product Used