Pizza Roll
CRISPY FRY® SEASONED CRUMBS®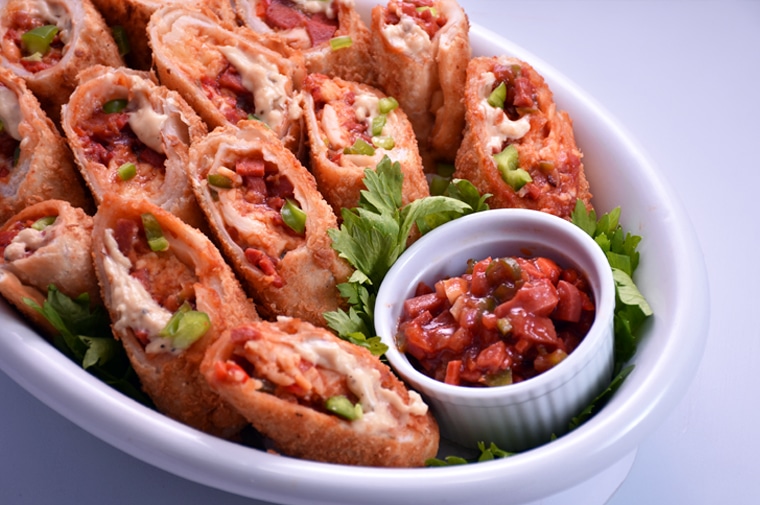 Ingredients
WRAPPER:  
3 cups (350g) All-Purpose Flour
1/2 cup (100g) Water
1 teaspoon (5g) Salt
2 tablespoon (30g) Cooking Oil
FILLING:
2 tablespoon (30g) Cooking oil
4 tablespoon (60g) Onion
2 tablespoon (30g) Garlic
1 cup (175g) German Sausage
1 cup (175g) Pepperoni
1 teaspoon (3g) Salt
2 teaspoon (5g) Pepper
1 cup (175g) Tomato Sauce
1 cup (175g) Carrots
1 cup (175g) Quickmelt Cheese
1 pc (44g) Egg
1 pack (100g) CRISPY FRY® Seasoned Crumbs All-in-One Coating Mix
1cup (175g) Cooking oil
Preparation
Preparation and Cooking Time: 1 hour Makes: 5 servings
Serving size: 290g per serving (2 rolls per head)
Procedure
WRAPPER:
MIX. In a medium bowl, whisk together all purpose flour, cooking oil and salt. Slowly add water into the flour mixture. Gently stir and mix until dough form into a ball.
KNEAD AND SHAPE. Lightly flour your working table and knead the dough for 5 minutes. Then shape the dough into a ball. Cover the dough with an inverted bowl and let it rest for 10 minutes. Cut your dough into 10 equal sizes.
FLATTEN. Using a rolling pin, flatten each piece to create a small pizza dough
FILLING:
SAUTE. On a hot pan, pour oil and saute onion, garlic, sausage, pepperoni then add salt, pepper and tomato sauce. Once sausage and pepperoni are cooked, add carrots. Continue sauteing for about 5 minutes. Set aside.
ASSEMBLE. Place 2 tablespoons of the filling and 1/2 tablespoon of cheese in the center of the wrapper. Fold the wrapper's bottom corner over filling then fold sides towards the center.
SEAL. Moisten the remaining corner with beaten egg and roll up tightly.
COAT. Brush all sides of the roll with beaten eggthen generously coatwith CRISPY FRY® Seasoned Crumbs All-in-One Coating Mix.
DEEP-FRY. In a pan, heat cooking oil then deep fry the rolls until golden brown. Drain excess oil.
SERVE.
Cooking Notes
Not a fan of pepperoni? You may use ground pork or beef as substitute.
NUTRITION INFORMATION
Nutrition Facts
Calories per Serving
1146
Carbohydrates (g)
74.9
Proteins (g)
34.0
Fat (g)
77.9
Dietary Fiber (g)
3.8
Calcium (mg)
423
Iron (mg)
6.6
Sodium (mg)
2732.5
Product Used